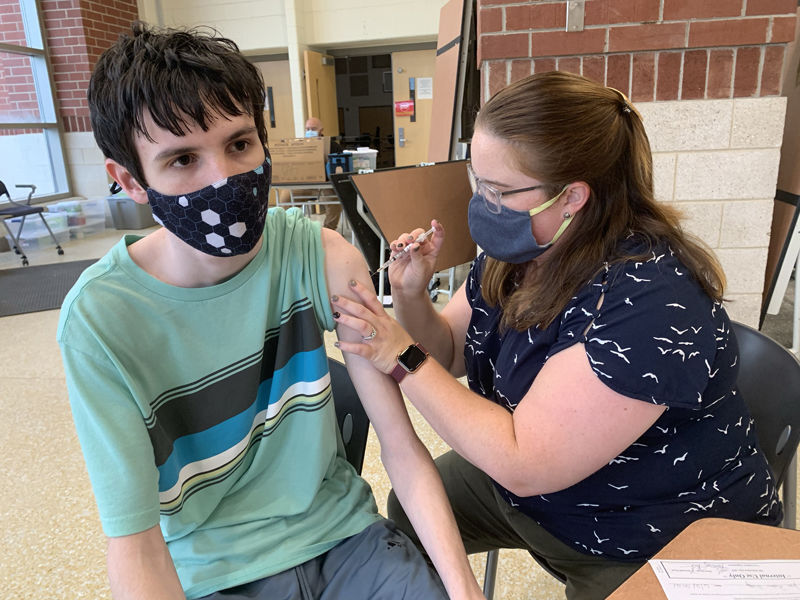 Last week, Powhatan County Public Schools held a COVID-19 vaccine clinic for local youth ages 12 to 18. The school division administered the first of two Pfizer shots to 184 people, youngsters and adults alike.
Among those were teenage brothers William and Matthew Duty, whose mother, Robin, brought them to the clinic.
"They are both traveling for a national bowling tournament in Indianapolis, and I know that is sort of a hot spot right now for COVID. We wanted to make sure they were vaccinated," Robin Duty told Powhatan Today.
She wanted to bring William, 16, and Matthew, 15, at the same time. William said he felt safe getting the vaccine and wanted to be part of the solution of keeping more people from getting sick.
After the federal and state health agencies announced on May 12 that children as young as 12 years old could receive the Pfizer vaccine, the Chesterfield Health District reached out to the school division to see if it was interested in holding a clinic, Lynn Clayton-Prince, assistant superintendent for special education/equity and diversity, explained to the newspaper.
We hope to see more of these clinics. Getting as many people vaccinated against the highly contagious virus is key to containing this global pandemic — and that applies to all ages.
"Vaccinating adolescents and everyone who is eligible is critical in helping to stop the spread of COVID-19 and keep everyone healthy. The vaccine will also help make life a little more normal and prevent adolescents and teens from missing school, sporting events and other activities if they are exposed to someone with COVID-19," Dr. Emily Godbout, an epidemiologist and infectious diseases specialist at Children's Hospital of Richmond at Virginia Commonwealth University, wrote on a blog.
"The biggest things I want parents to know are that this vaccine is safe, effective and our best shot at beating COVID-19."
Vaccines could be available for children ages 5 to 11 later this year and for babies over 6 months, toddlers and preschoolers by early 2022, reported The New York Times.
Nationally, about 42% of all people are fully vaccinated, while about 52% have had at least one dose, according to the Centers for Disease Control and Prevention (CDC). In Virginia, that total stands at almost 47% fully vaccinated and 56% with at least one dose, per the Virginia Department of Health.
While children are less likely to develop severe illness from COVID-19, studies show, they are still at risk. As of June 3, nearly 4 million children in the United States had tested positive for the virus since the start of the pandemic, according to the American Academy of Pediatrics, and more than 300 had died.
The CDC recommends that everyone 12 years and older roll up their sleeves and get vaccinated.
"Children can be infected with the virus that causes COVID-19, get sick from COVID-19 and spread COVID-19 to others," the agency stated. "Widespread vaccination is a critical tool to help stop the pandemic. People who are fully vaccinated can resume activities that they did prior to the pandemic."
We're seeing a growing number of colleges and universities across Virginia require vaccinations for the upcoming year for students. That expanding list includes the University of Virginia, the University of Lynchburg, Virginia Commonwealth University, Virginia Tech and Old Dominion University. That's part of a national trend as more institutions of higher education are mandating coronavirus vaccines.
COVID-19 is not among the list of vaccinations required for public K-12 schools in Virginia. In fact, no state currently requires children to receive the vaccine as a condition of returning to school, according to the National Conference of State Legislatures.
But if parents are having their children vaccinated against such deadly diseases as polio, diphtheria and measles, why not also against a virus that's claimed the lives of more than 3.7 million worldwide?
In general for all diseases, "vaccination is often considered as the most cost-effective public health intervention after clean water," according to a series of articles about the economic value of vaccination in the Journal of Market Access & Health Policy. Between 1994 and 2013, per the series, routine childhood vaccinations in the U.S. prevented more than an estimated 322 million cases of infectious disease, 21 million hospitalizations and 730,000 deaths.
We've experienced more than a year of mask-wearing, social distancing and frequent hand-washing. We've worked and gone to school remotely. Many businesses took financial blows. While coronavirus restrictions are lifting, we're still not in the clear.