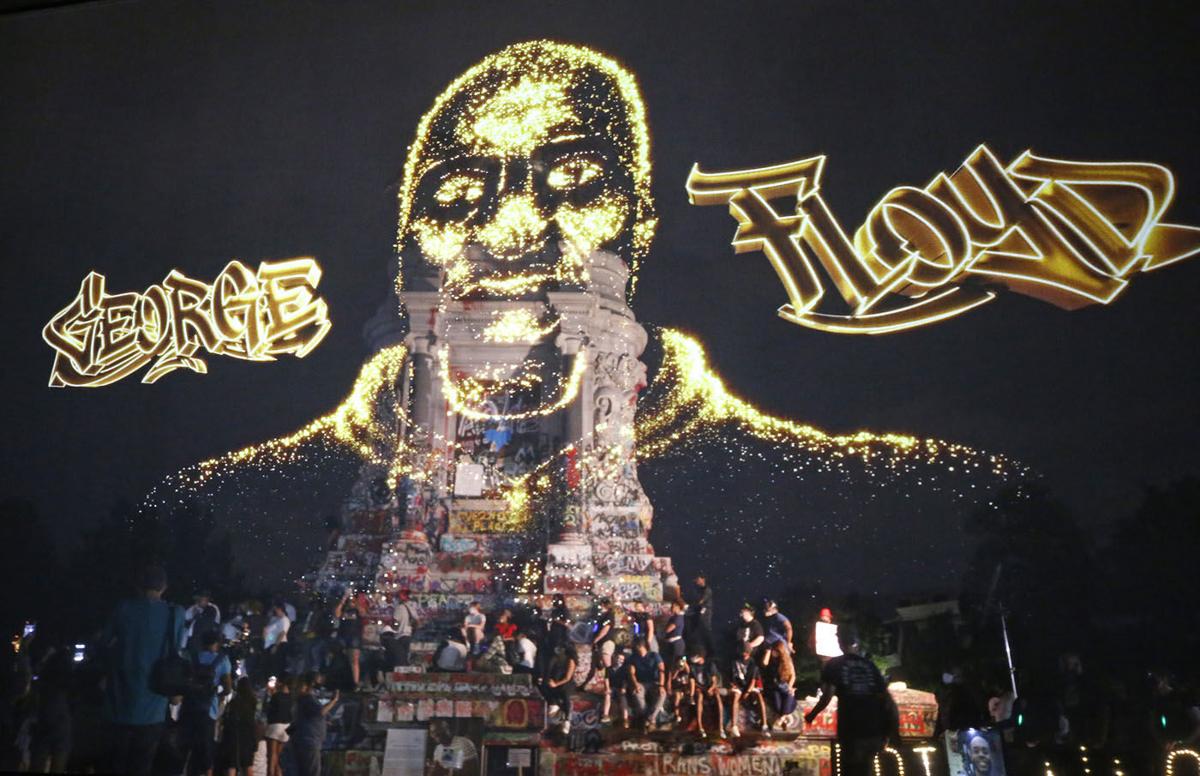 On Tuesday evening, another page was added to Richmond's chapter in the national movement for racial equity.
The George Floyd Hologram Memorial Project was launched at the Lee Circle. Organized by the George Floyd Foundation and Change.org, a national petition platform, Richmond was the first stop on a weeklong tour across the South. The city was chosen because of its history as the capital of the Confederacy.
What about the next local chapter of Richmond's story? The presence of Floyd's face superimposed across the Robert E. Lee statue — the last vestige of the Lost Cause that defined Monument Avenue for more than a century — was powerful. That image should inspire area cultural institutions to seize the mantle of how to frame the history Monument Avenue has failed to adequately show and tell.
Think of the spaces and mediums we have at our disposal beyond a residential tree-lined mall, or bronze and limestone. In a 2016 report commemorating the 60th anniversary of the Virginia War Memorial, the RTD's John Ramsey described how the hill overlooking the James River was reinvented in the 1950s.
A cluster of buildings and a motor oil billboard morphed into the glass and marble walls honoring thousands of Virginians who perished in World War II and the Korean War. To this day, the majestic Shrine of Memory statue and Torch of Liberty flame remind visitors that "patriotism is everlasting," the War Memorial website says.
But as part of its expansion this past February, the War Memorial incorporated 3D technologies into its exhibit, "Military Photography: An Added Dimension." Using archives from the Civil War through the Iraq wars, visitors were offered an immersive experience.
The War Memorial is a true cultural center that has adapted over time, both in the content it showcases and the mediums it chooses to tell the state's military stories. Its location is a public space, with room to evolve or change over time. But the memorial's unifying theme — patriotism — keeps pace with that change.
The next local chapter of Richmond's complex history of race issues cannot be decided in the middle of the street, at all hours, under statues that honor a violent, losing ideology. But it can be told with a better backdrop, a unifying theme and modern mediums as striking as the image of Floyd's face overpowering the graffiti-covered Lee.
Visitors at Tuesday's event rightfully were told to "keep fighting" for racial equity. As Richmonders, we also must keep fighting for a setting that is more complete than Monument Avenue — one that does full justice to our city's rich layers of history, good and bad.