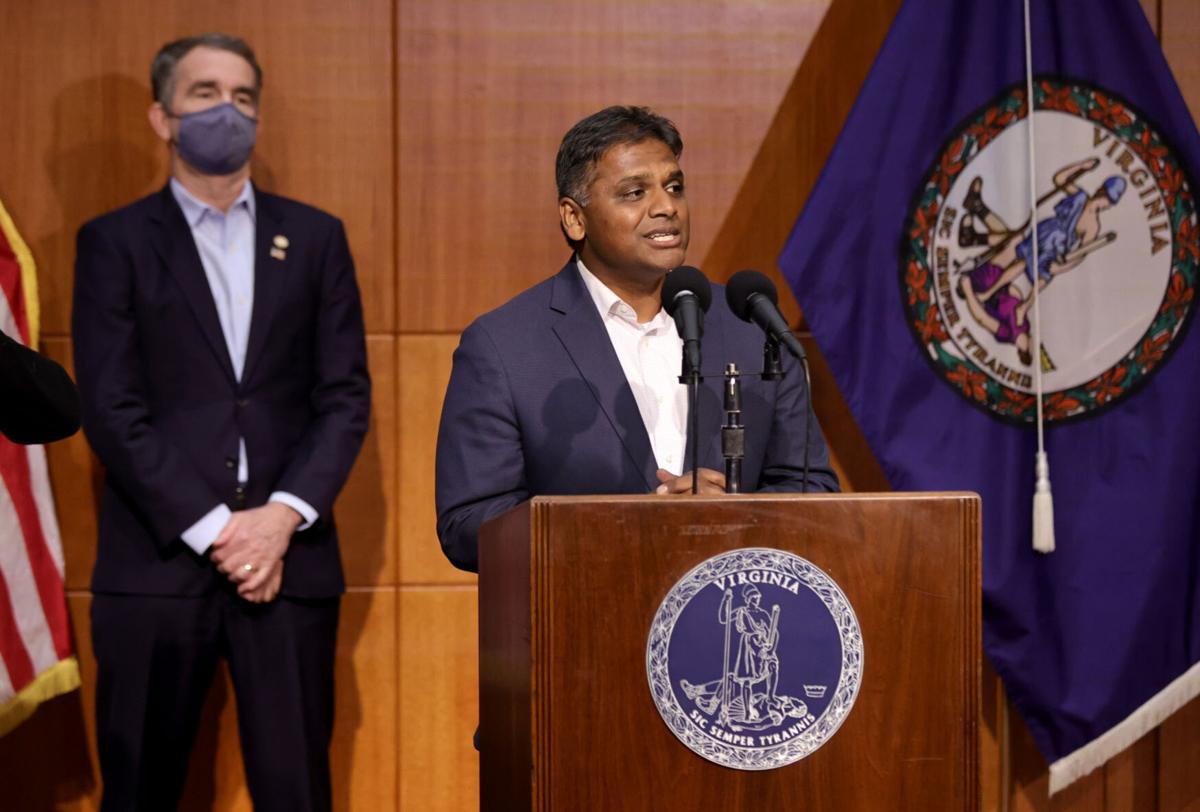 Throughout the course of the COVID-19 pandemic, Gov. Ralph Northam has leaned on his doctor demeanor and calm bedside manner to lead in a time of crisis.
In the early days of combating the coronavirus, Northam was a realist about the disruptions the novel pathogen would cause. An April report by The Associated Press drew national attention to his decisions to close schools early and to institute one of the longest stay-at-home orders.
"If someone comes in and has a life-threatening brain tumor, they don't want me to sit there and say, 'You know what, it's going to be OK,'" Northam told the AP. "People want the truth."
The truth trickled out on Wednesday. There is no time for calm. Virginia must improve its COVID-19 vaccine capabilities.
When inoculations began in mid-December for health care providers, the general public received a dose of hope that a real solution was within reach. But in the weeks since, reality has settled in. Virginia officials have been criticized for a slow-moving rollout of the initial batch of 482,000 doses.
"We're making progress," Northam said during a Wednesday press conference announcing plans to accelerate distribution. "But there's no question that we need to speed the process up. We need to get more Virginians vaccinated."
The spread of the virus is outpacing the administration of the vaccine. The end-of-year holidays and the New Year's Eve celebrations are in the rearview mirror, but the aftereffects of gathering together are appearing in hospitals across the commonwealth. In the two weeks since Christmas Day, Virginia has seen COVID-19 case totals climb above 5,000 per day.
That spike in community spread is placing a strain on medical facilities and their already-exhausted staffs. On Thursday morning, the Virginia Hospital & Healthcare Association reported 3,000 patients hospitalized either with confirmed cases of COVID-19 or with pending test results. Roughly 1 in 5 of those patients (568) was in an intensive care unit.
"The virus is worse now than it has ever been," Northam said.
As COVID-19 surges, the current rate of inoculations is falling well short of the desired timeline. Northam used his Wednesday press conference to lay out the mathematical hurdles. With roughly 8.5 million Virginians and two doses per person, 17 million shots need to be administered.
But until more shipments arrive, the state has a low bar of 14,000 vaccinations per day. The hope is for a stronger short-term target of 25,000 shots daily and an eventual long-term goal of 50,000 daily.
If most of the commonwealth is to be vaccinated by this summer, the pace has to quicken, period.
The appointment of Dr. Danny TK Avula, director of the Richmond City and Henrico County Health Departments, to lead the state's COVID-19 vaccine distribution effort gives us hope that there will be a steadier hand going forward. And the urgency heard in the governor's voice on Wednesday must be maintained until the mission is accomplished.
"You use it or you lose it," was Northam's Wednesday message to health care providers. "So I want you to empty those freezers and get shots in arms. When you have vials, give out shots until they're gone. No one wants to see any supplies sitting unused."
Roughly half of Virginia's 8.5 million people are deemed part of phase one of the rollout. Around 500,000 fall into group 1A, which consists of health care personnel, residents in long-term-care facilities and others who face the greatest exposure risk to the virus. Another 1.2 million sit in group 1B, composed of first responders; teachers; child care workers; other front-line employees in fields such as grocery, transit or postal jobs; and adults age 75 and older.
Then, 2.5 million people sit in group 1C, which involves other essential workers from food service to information technology; adults older than age 65; and adults ages 16 to 64 with high-risk medical conditions. Then, the rest of the general public will be eligible.
We support this plan, but it has to deliver the solution that ends this pandemic: shots in arms. After months of promoting caution, government must pivot toward action.
As elected leaders, Northam and top health officials still will need to drill down on the messaging that has kept people safe. The need to wear masks, practice social distancing, wash our hands and avoid gatherings will not subside.
But telling people to stay home is a lot easier than mapping out who gets a shot when, or who wants or doesn't want one. Enforcing the wearing of masks is a breeze compared to ensuring a vaccine is properly stored at a super-cold temperature, or figuring out how to use extra doses if appointments fall through.
While we respect the complexities of this rollout and we amplify the governor's message to be patient, these vaccines are too valuable. We cannot afford to underutilize them.
"We really feel like we can be more expeditious and get more shots in arms," Northam said. "That's what will put this pandemic in the rearview mirror."
We can't just feel it. We have to know it and show it. There is no time for calm. It's time to execute.