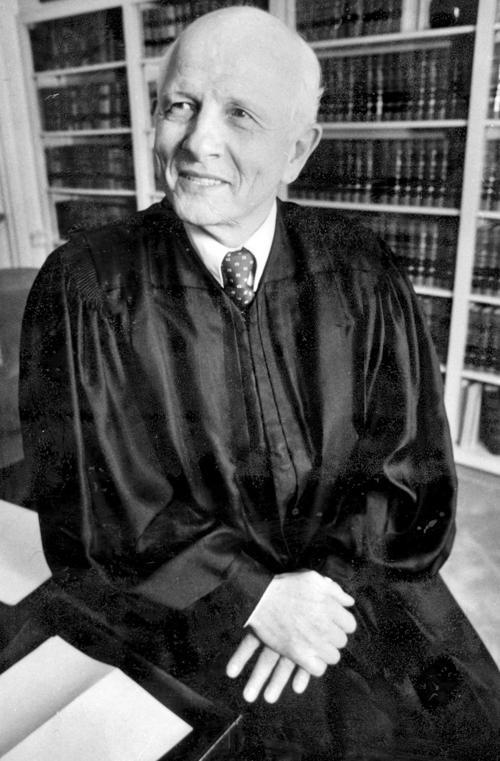 President Donald Trump's hospitalization for COVID-19 has prompted chatter about the line of presidential succession — much of it hyperbolic. A sick president is not a crisis. An incapacitated president would be, but there is no suggestion Trump suffers such a debility. However, Trump's illness has brought back into the news the 25th Amendment — the constitutional amendment that spelled out what to do if a president were incapacitated.
One of the amendment's principal authors was Richard Poff, at the time the congressman from Virginia's 6th District and now the namesake of the federal building in downtown Roanoke. History has a way of putting everything in perspective. When Poff died at the age of 87, he merited an obituary in The New York Times — which mostly focused on how Poff passed up a chance to be nominated for the U.S. Supreme Court (he wound up on the Virginia Supreme Court instead). It never mentioned his role in the 25th Amendment.
Let's put Poff in some historical perspective. He was born in Radford, the son of a railroad worker, and grew up in Christiansburg. He played football at Roanoke College and was a good enough offensive lineman to be named second-team Little All-American. He flew 35 missions as a bomber pilot in Europe during World War II, then came home to finish college, law school and returned home to Radford in 1948 where he joined the law firm of Ted Dalton.
Those who know their history know Dalton as a significant name: He was one of the leaders of the Virginia Republican Party in the days when the GOP counted for little in a state controlled by conservative Democrats. That changed in 1952. Dwight Eisenhower carried Virginia on his way to the presidency — a major breakthrough in what had been the Democrats' "Solid South." If you want to date the origin of Virginia's modern two-party system, 1952 is a good year to begin.
The Democratic incumbent whom Poff defeated was Clarence Burton of Lynchburg — the Hill City has not had a congressman since. Poff also began a tradition of the 6th District representative serving on the House Judiciary Committee. Since then, four of the district's five representatives all have served on that panel — Poff, Caldwell Butler, Bob Goodlatte and now Ben Cline. Only Jim Olin, who wasn't a lawyer, was the exception. It was that assignment that put Poff in a position to work on what became the 25th Amendment.
The original Constitution had been somewhat vague on what happens if a president was unable to serve, saying only that in cases of impeachment, death, resignation or the "inability to discharge the Powers and Duties of the said Office," those powers and duties "shall devolve" on the vice president. What, exactly, does "devolve" mean? That remained an academic question until April 5, 1841, when a messenger knocked on Vice President John Tyler's door in Williamsburg and informed him that President William Henry Harrison had died the day before.
Some believed that while the "powers and duties" of the presidency "devolved" onto Tyler, the title of president did not. They insisted on referring to Tyler as "Acting President." Tyler refused to open letters addressed that way and had himself sworn in as president. That tradition continued after the deaths in office of Abraham Lincoln, James Garfield, William McKinley, Franklin D. Roosevelt and John F. Kennedy.
What didn't get addressed was what would happen if a president were incapacitated — as both Garfield and Woodrow Wilson were, Garfield after an assassination attempt and Wilson after his stroke. A leaderless government might not have mattered that much in 1881 or even 1919 but it mattered a lot more in the nuclear era. Eisenhower — who suffered a heart attack in 1955 and a stroke in 1957 — felt the nation needed a more formal set of laws to deal with an incapacitated president. Then Kennedy's assassination in 1963 made the question more urgent, and gruesome.
The two main sponsors of the 25th Amendment were Birch Bayh, a Democratic senator from Indiana, and Emanuel Celler, a Democratic representative from New York who chaired the House Judiciary Committee. Being a sponsor, though, is not the same thing as being an architect. Bayh certainly was on the Senate side. On the House side, though, it was Poff.
The amendment was passed and ratified in less than two years, which seems like light speed by today's standards. The amendment makes clear that if a president leaves office before his (or her) time, the vice president really does become the president. It provides a process to fill the vice presidency if the office becomes vacant (as it did when Spiro Agnew resigned and then when Gerald Ford become president after Richard Nixon's resignation).
It also spells out a procedure on how to deal with an incapacitated president, a provision that's since been enacted three times — 1985, 2002 and 2007 — when presidents have undergone medical procedures that required anesthesia. Ideally, we'll never need to invoke the amendment in more serious circumstances, but if we do, we have Poff as one of the people to thank for laying out a clear and orderly process.
—Adapted from The Roanoke Times