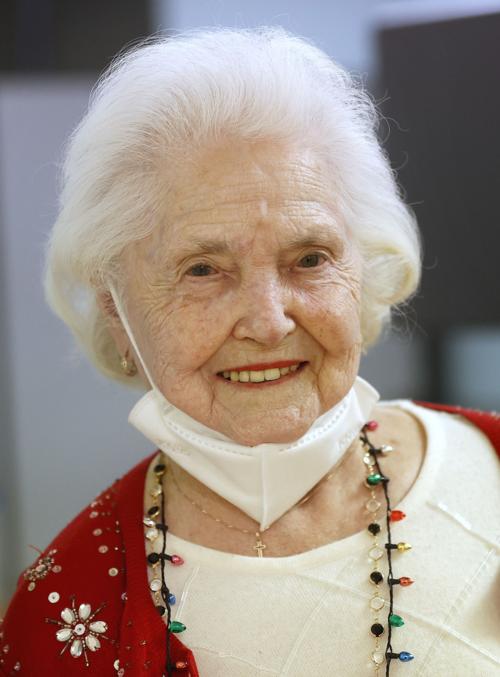 Virginia is blessed with spectacular scenic beauty. And the RTD Opinions pages are fortunate every Saturday to be able to share it through the stunning photographs that Scenic Virginia sends us. The eponymously named conservation group is dedicated to preserving, protecting and enhancing the scenic beauty of the commonwealth. This past Sunday, the RTD's Culture section spotlighted the 10 winners of the group's 2020 Virginia Vistas Photo Contest. Honorable mention photos will be featured on our Saturday editorial page throughout the year. "In a year defined by a pandemic and deep political divides, the scenic beauty of Virginia proved to be both a diversion and refuge for many," Leighton Powell, Scenic Virginia's executive director, said in a statement. "Time and again this year, we heard that Virginia's incredible scenic resources were soothing mind, body and spirit, and providing real comfort." And may they long continue to do so.
Virginia Coleman Abbott shows that 95 is the new 65. This month, Abbott retired after 35 years from her job as a patient service representative with Bon Secours Inpatient Surgical Specialists at St. Mary's Hospital in Richmond. And that was her second retirement. As the RTD's Bill Lohmann described in a column, Abbott first retired in 1985 after a long career with the federal government, and others. A year later, at age 60, she found herself back in the workforce. She thought about retiring this past spring, which would have allowed her to steer clear of face masks, social distancing and potential exposure to COVID-19. But as she told Lohmann, "I needed to come back and do a few things to get everything as straight as I could get it" so people would know "where everything was so they could take over … Also, I like the people I work with. We have wonderful people here." She won't be a stranger. Abbott, who will turn 96 in June, expects to volunteer at St. Mary's. "I'm supposed to stay busy." What an extraordinary work ethic and dedication to duty.
The Navy continues to maintain a strong economic presence in Virginia. In 2019, spending by the Navy in Hampton Roads exceeded $15.4 billion, The Daily Press reported this week, citing information from Navy Region Mid-Atlantic. Even though that represents a slight decrease from the previous year, it still accounts for a chunk of the economy. The 2019 spending total was down about $600 million from the year before, but up $1.3 billion from fiscal year 2017. The Navy attributed the decline mainly due to a drop in construction work, as well as maintenance and repair, according to The Daily Press. The U.S. Bureau of Economic Analysis, which tracks regional economies, says the total value of goods and services produced in the region was $103 billion this past year. That means 15 cents of every dollar spent in Hampton Roads is spent by the Navy. The sum includes salaries as well as Navy spending and contractual payments for services on Navy installations. Active duty sailors, civilian employees and contractors account for about 15% of all jobs in Hampton Roads, a Daily Press review of U.S. Bureau of Labor Statistics data shows. "This report shows the Navy continues to be a major economic driver in Hampton Roads that provides meaningful employment for uniformed personnel and civilians while also supporting private businesses throughout the region," said Rear Adm. Charles W. Rock, commander, Navy Region Mid-Atlantic. We wish our service members the happiest of holidays.
It's the day after Christmas and you want to make a return or exchange. To ensure that goes smoothly, BBB serving Central Virginia offers these common-sense tips. Know store policies, both for online and brick-and-mortar purchases. Many retailers have changed policies during the holiday season and because of the coronavirus pandemic. Will you have to pay shipping fees? Do they accept returns or offer refunds? Also get the details on a product's warranty, and find out how repairs and returns are handled. Keep your receipt and packaging, and be prepared to show an ID when you return an item. That way stores can confirm your identity and avoid what the BBB calls "holiday return scams." And it's good to make your return or exchange in a timely fashion. How long you have to bring back an item varies, so be sure you know the time frame. But most importantly, we hope you thanked everyone who remembered you during this holiday season.