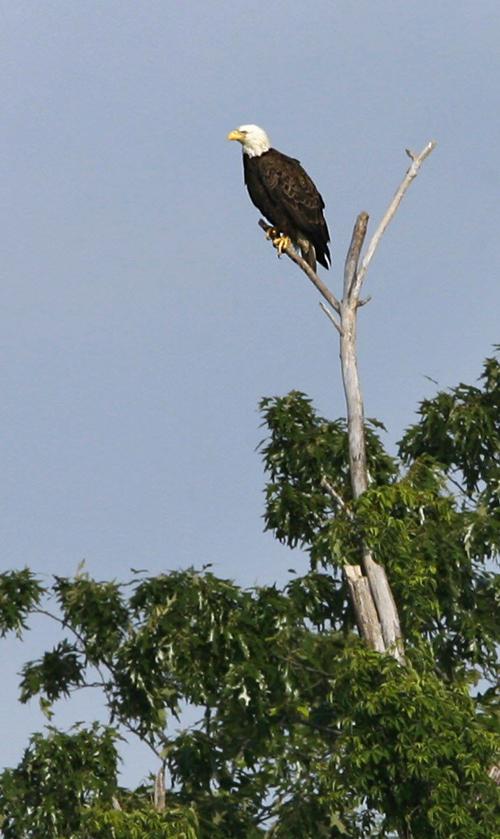 After approaching extinction nearly 60 years ago, bald eagle populations have quadrupled since 2009 in the lower 48 states. A March report issued by the U.S. Fish and Wildlife Service found that bald eagles have flourished in recent years, increasing to more than 71,400 nesting pairs and an estimated 316,700 birds, The Associated Press reported. Consider this: In 1963, the number of bald eagles reached an all-time low of 417 known nesting pairs. Habitat destruction and degradation, illegal shooting, the contamination of its food source — largely as a result of the pesticide DDT — decimated their numbers, according to the wildlife service. Conservation efforts have helped the bald eagles make this remarkable recovery. The regal raptor became the national emblem of the United States in 1782. The bald eagle (Haliaeetus Leucocephalus) was chosen for its majestic beauty, great strength, long life and because it's native to North America. Interior Secretary Deb Haaland, the first Native American Cabinet secretary, said the eagle always has been considered sacred to Native American tribes and the U.S. generally. "The strong return of this treasured bird reminds us of our nation's shared resilience and the importance of being responsible stewards of our lands and waters that bind us together." In Richmond, look for eagles along the James River. Long may they soar.
Virginia doesn't want to be for robocallers. According to a new report, the commonwealth ranks as the third worst state in the nation for robocalls. You know those annoying calls, which use a computerized autodialer to deliver a prerecorded message. Only Arizona and Maine receive more. Nationally, an estimated 45 billion robocalls were placed in the U.S. in 2020. At least it's a drop from 2019, when a whopping 58.5 billion calls were placed. A combination of the coronavirus pandemic and a new federal law designed to crack down on spam calls contributed to the decline, according to WhistleOut.com. In 2020, the average American received around 12 robocalls a month. Arizona and Maine led the list of states hardest hit by robocalls. Following Virginia were Maryland and Delaware, rounding out the top five. The fewest calls were made to Alaska, Mississippi and North Dakota. A way to start reducing these unwanted calls is registering your number of the National Do Not Call Registry: https://www.donotcall.gov/callers
The pandemic has forced many of us into a virtual world for work, school or catching up with loved ones. But as smartphones and other internet-connected devices have become more ubiquitous, 3 in 10 adults in the U.S. report that they "almost constantly" are online. According to a new Pew Research Center survey conducted Jan. 25 to Feb. 8, 31% of adults reported the heavy use, up from 21% in 2015. Overall, 85% of Americans say they go online every day. Not surprisingly, younger Americans rank among the constantly connected: 44% of 18- to 49-year-olds fall under that category, the survey showed. By comparison, about 1 in 5 of those people ages 50 to 64 and 8% of those 65 and older say they're online almost constantly. Even though we live amid masks, social distancing and crowd restrictions, why not call instead of text? Or find information in actual books? Or write a letter instead of an email?
This year's Easter holiday is expected to generate the highest average spending on record. Consumers plan to plunk down an average of $179.70, according to the annual survey conducted by the National Retail Federation and Prosper Insights & Analytics. The survey found that 79% of Americans will celebrate the holiday and spend a collective $21.6 billion, slightly less from this past year's prepandemic forecast of $21.7 billion. "With new stimulus funds from the president's American Rescue Plan, positive trends in vaccinations and growing consumer confidence, there is a lot of momentum heading into the spring and holiday events like Easter," Matthew Shay, the federation's president and CEO, said in a statement. The most popular items are gifts, food and candy (who doesn't love jelly beans and chocolate bunnies?). Consumers plan to mark the holiday by cooking a holiday meal (59%), visiting with family and friends (43%) or watching TV (43%), among other pursuits. But the survey showed that not everyone wants to resume in-person activities: 22% said they will attend church virtually, and nearly one-quarter will connect with their loved ones by phone or video. We hope Americans won't constantly be online during the holiday. Rest, relax and enjoy. Happy Easter!