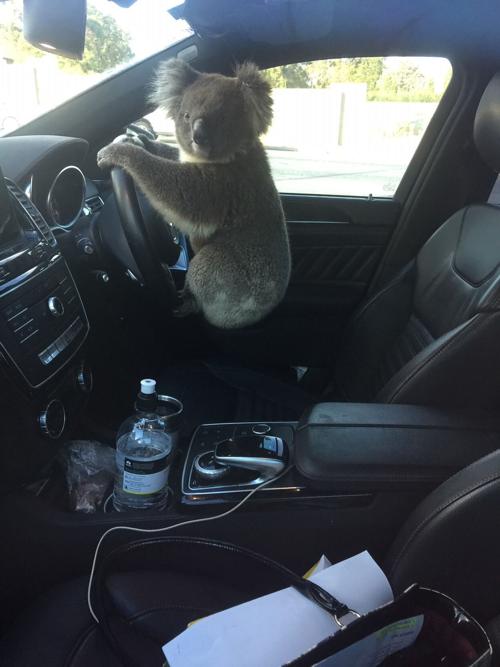 Why did the koala cross the road? To get to the other side of a six-lane freeway in southern Australia — but he didn't. Instead, during the Monday morning rush hour in the city of Adelaide, the marsupial caused a five-car pileup. A passerby stopped to check out what happened, The Associated Press reported, and spotted the cause: A concrete highway divider had blocked the animal's crossing. Coat in hand, she teamed up with a stranger clutching a blanket in an effort to capture the koala. "The koala was absolutely not damaged in any way," the animal's rescuer, Nadia Tugwell, told AP. "It was very active, but very calm." She initially put the koala in the trunk of her SUV on her way to a gas station to turn it over to wildlife rescuers. But the marsupial had other plans. It managed to climb into the vehicle's cabin, eventually ending up in the driver's seat. "It decided to come to the front toward me, so I said, 'OK, you stay here. I'll get out,'" she said. "It started sitting for a while on the steering wheel: (as if ) saying: 'Let's go for a drive,' and that's when I started taking photos." Koala camera at its best.
What's the most romantic garden in Virginia? Lewis Ginter Botanical Garden, according to Lawnstarter.com. The lawn care company scoured dozens of gardens across the United States, also consulting reviews from TripAdvisor and WeddingWire. It picked one garden in each state and Washington, D.C. So what makes for a romantic garden? "These aren't the biggest or most popular botanical gardens in the country. The most romantic gardens have lush greenery, intimate settings, and picture-perfect backdrops for wedding photos," according to the company. Lewis Ginter offers a botanical abundance of those features. "While peak season may be a draw for most garden-goers, Lewis Ginter Botanical Garden promises a memorable experience year-round. Walk through the Asian Valley, see the cherry trees, then kick up the romance in the Cochrane Rose Garden. If it's too cool for an outdoor jaunt, no need to change your plans. The 11,000-square-foot Conservatory houses seasonal displays and exotic plants from around the world." Every day is a good day to visit Lewis Ginter.
Automatic banking and Bitcoin? Yes, and in Virginia. Charlottesville-based Blue Ridge Bank says it's the first commercial financial institution in the country to let users buy and redeem the digital currency at its automated teller machines, the RTD reported this week. On Wednesday, the bank announced that it now provides access to Bitcoin at its 19 ATM locations, both at its branches and off-site ATMs across the Piedmont, Southside and Shenandoah Valley regions. Soon the access will expand: Later this year, ATMs operated by Virginia Commonwealth Bank — which merged with Blue Ridge Bank this month — in the Richmond region and elsewhere will be able to provide the Bitcoin access, according to the RTD. The bank says it's offering the service in response to what officials see as the growing demand for Bitcoin, a type of cryptocurrency developed in 2009 as an alternative to conventional currencies such as the U.S. dollar. As of Friday, one Bitcoin was worth more than $47,000. Amazingly, thousands of Bitcoin-only ATMs operate across the country, typically at convenience stores. But it's new for a bank to offer the service. More retailers are accepting Bitcoin. Tesla, the electric carmaker, announced it will start accepting the digital currency as payment — the first automaker to do so. However, Bitcoin largely is used for speculation, not purchases. Citing data from the New York-based blockchain researcher Chainalysis Inc., the RTD reported that only 1.3% of economic transactions came from merchants in the first four months of 2019. Brave new banking.
In this virtual new world, what are the best strategies for endless Zoom meetings? With an estimated 40% of Americans working from home because of the pandemic, many are finding themselves conferring with colleagues via computer screens rather than in person. Not everyone always feels camera-ready. Inc.com offers some tips for making Zoom calls "less stressful, more effective and — crucially — a little less omnipresent in remote work." First, less is more. Meeting less can result in more productivity. There might be other, better ways to communicate. Second, set up a dedicated spot for video calls. That way, you're not always scrambling for the right location. Check your lighting, background, positioning, camera and headphones. Third, know your responsibilities as host. This includes starting and stopping the meeting on time, sticking to the agenda and keeping the attention of attendees. And fourth, stop staring at yourself. Vanity can kick in when you're looking at a screen full of faces. Focus on the meeting, take notes and engage with your colleagues.