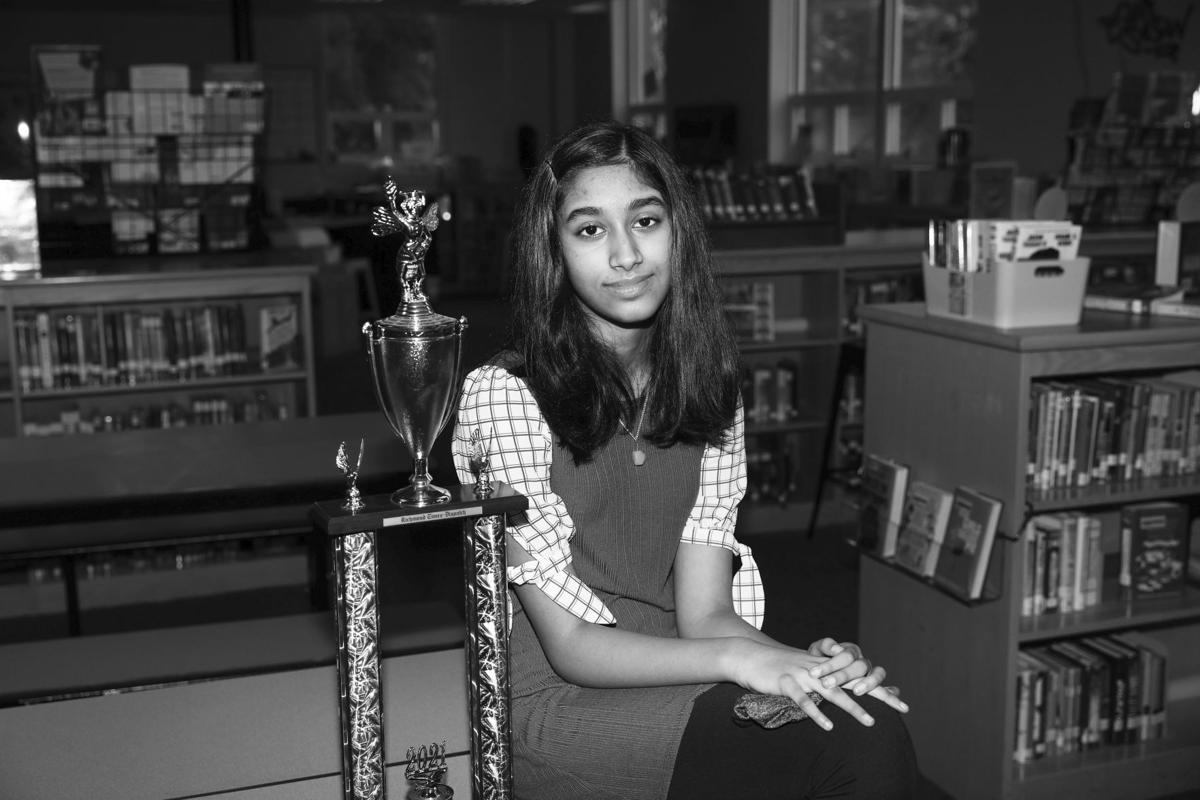 How does Ananya Nanduru spell success? M-a-n-c-a-l-a, which is defined as "any of various games from African and southern Asia that involve competition between two players in the distribution of pieces into rows of holes or pockets on a board." Ananya, an eighth grader at Henrico County's Moody Middle School, won the Richmond Times-Dispatch's 46th annual Regional Spelling Bee this past Tuesday after an intense 25 rounds. As regional champion, she will advance to the Scripps National Spelling Bee, which will be held in July at the ESPN Wide World of Sports Complex at Walt Disney World in Florida. Because of the pandemic, the bee took place virtually over Zoom. The runner-up was Reese Wu, a seventh grader at Tomahawk Creek Middle School in Chesterfield County. The other finalists were OluwaFemi Adebowale, sixth grade, Prince Edward County Middle School; Sita Lewis, sixth grade, Chickahominy Middle School in Hanover County; and Justin Woodcock, fourth grade, West Point Elementary School. Every competitor was a champion, having advanced to the competition through local bees and online tests in spelling and vocabulary. Congratulations, Ananya, and we'll be cheering for you in July.
Monday, March 29, is Vietnam War Veterans Day. Virginia's recognition, proclaimed by Gov. Ralph Northam, coincides with the national observance, which Congress approved in 2017. More than 230,000 Virginians served during the Vietnam era from 1961 to 1975, John Maxwell, commissioner of the Virginia Department of Veterans Services, said in a statement. "Of these, more than 1,300 made the ultimate sacrifice and another 46 are still missing in action. Eight Virginians who served in Vietnam were awarded the Medal of Honor, our nation's highest military honor," he said. "The contributions of these returning veterans as leaders in business, the arts, medicine, science, education, technology and public service throughout our commonwealth is well documented and they deserve nothing less than our highest praise and acknowledgement." We appreciate the contributions of these brave men and women in the service of our country.
Combine lockdowns, stress and scrambled fitness routines during a pandemic, and what happens? The dreaded quarantine weight gain. A newly released study by JAMA Network Open found that Americans living under lockdown have gained about 1.5 pounds a month — which works out to 18 pounds over the past year. For women, that's the equivalent of a dress size. "[S]helter-in-place orders are so ubiquitous that the sheer number of people affected by this makes it extremely relevant," cardiologist Gregory Marcus, the study's senior author, told The New York Times. In another study, by the American Psychological Association (APA), 42% of Americans reported an undesired weight gain, with a median increase of 15 pounds — hence the dreaded term, "quarantine 15." Stress works both ways, though — the study found that 18% reported an undesired weight loss of a median of 12 pounds. "We've been concerned throughout this pandemic about the level of prolonged stress, exacerbated by the grief, trauma and isolation that Americans are experiencing. This survey reveals a secondary crisis that is likely to have persistent, serious mental and physical health consequences for years to come," said Arthur C. Evans Jr, Ph.D., APA's chief executive officer. As society continues to open up, look for people to be more active as they seek to shed pounds to fit into their prepandemic clothes.
Remember the Capital One commercial, "What's in your wallet?" After almost 70 years, Ester French finally can answer — some photographs, coins and other faded papers, lost when she was a high school student in Poquoson. During recent construction work on what later became Poquoson Middle School, a contractor found the wallet in some duct work in the rubble of the gym, which had been torn down as part of a multimillion-dollar renovation project, CNN reported. The wallet was in bad shape, but contained enough clues to allow school officials to track down French, 85, a Connecticut resident for more than 60 years. The billfold contained two faded pictures, Christmas stamps from 1951, a calendar and 85 cents in silver coins, a school official told CNN affiliate WTKR. Other long-lost treasures included a blue address book and a yellowed newspaper clipping asking readers to pray for the Navy sailors serving in the Korean War. French lost the wallet during the 1951-52 school year. She recalled putting it on a ledge in the gym, then realizing it had fallen down a deep hole that fell into the brick building. "There was nothing to do about it when I lost it," she said. School officials found French through a relative who still lives in the area. The call to French came as a surprise, and her family is looking forward to seeing her long-lost wallet: "It was absolutely shocking. It was a surprise and we've had a lot of laughs about it."