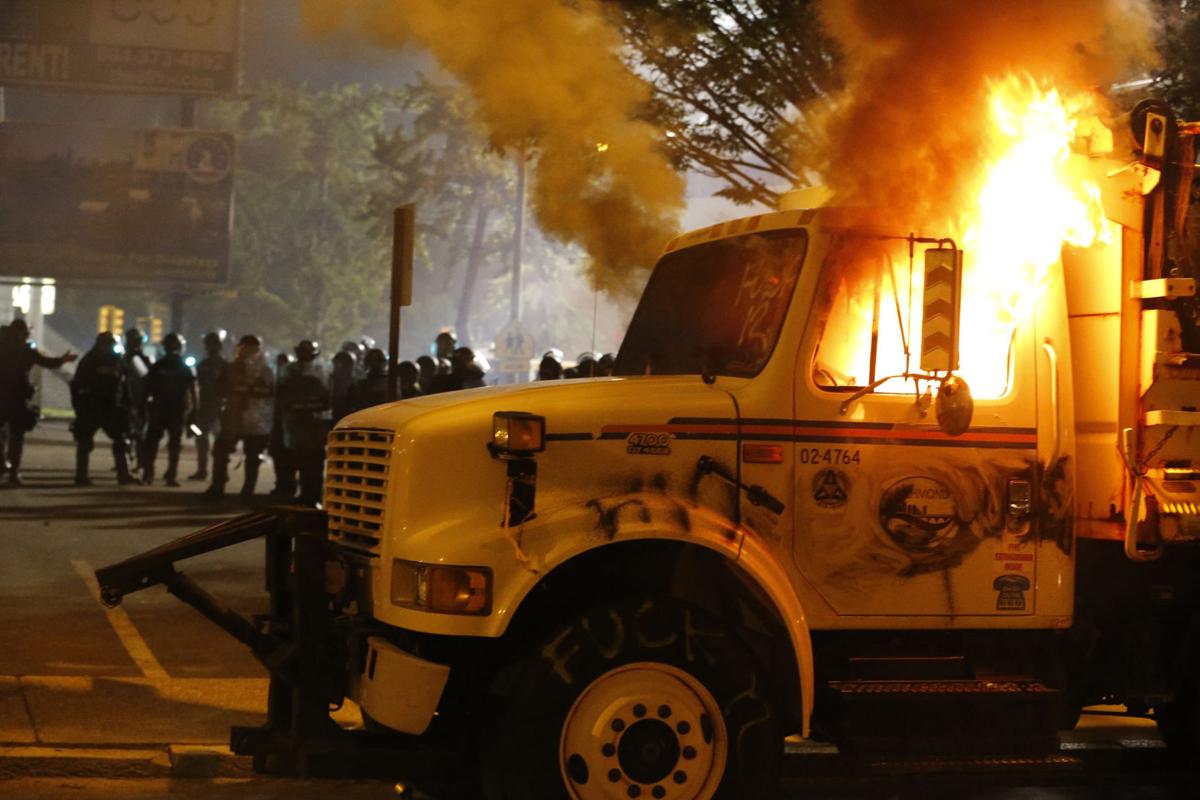 Let us be clear: Saturday night's violence was a planned riot. Before the July 25 event, flyers promoting mayhem under the guise of "Richmond Stands with Portland" circulated around the internet. Concerned citizens forwarded to friends, family and news media the angry, expletive-loaded circular urging people to meet at Monroe Park at 9:30 p.m.
The disarray in downtown Richmond Saturday night should come as no surprise to anyone who has watched this city — and others across the country — overcome by waves of violent unrest over the past two months. The real questions continue to be: Who is behind it — and who will step up to stop it?
And when a flyer advertising a violent event spreads faster than the fires that burned near the Richmond Police Department headquarters, you really have to wonder: Who were the "people" in the first place?
And where is the leadership?
Richmond Police Chief Gerald Smith says the flyer likely came from outside the area. At a Sunday afternoon press conference, Mayor Levar Stoney first blamed the protest on the presence of white supremacists. A few minutes later, Smith seemed to contradict the mayor and admitted that they believe both antifa members and "boogaloo boys" were present. The chief then acknowledged city officials had no idea who protesters were.
Police did take strong proactive measures Sunday evening at Monroe Park, which likely prevented a repeat of Saturday's violence. Authorities arrested by midday Monday 17 people, ranging in age from 17 to 45, who indicated they are from Richmond, Henrico County, Williamsburg, Falls Church and Herndon.
The U.S. Constitution protects the "right of the people peaceably to assemble." The images from Saturday's downtown gatherings did not strike us as placid.
Protesters advanced upon RPD headquarters about 11 p.m. Saturday night. Richmond police arrested six men for unlawful assembly late that evening into Sunday morning after hours of violent protests.
During the attack on the police station, multiple fires were set in dumpsters and a city dump truck was set ablaze. Both police officers and firemen were assaulted with batteries, fireworks, hunks of asphalt, water bottles and other objects.
At 11:06 p.m., the police tweeted the event was an unlawful assembly and called for the crowd to disperse. But from there, the havoc continued down Grace Street, where dozens of glass windows of small businesses and Virginia Commonwealth University offices were shattered.
Public safety is a central responsibility of city government. But when a flyer gets shared over global platforms, there is no way of knowing who is responsible — inside or outside of Richmond — without a thorough investigation.
The fact that Stoney and Smith asked for the media's help with providing footage of the events suggests they have a bit more fact-finding to do. The chief said that they will be watching many hours of video to find out who was behind the wanton destruction.
Here's what we do know: The absence of leadership at all levels of government has compounded these circumstances. We've normalized too many behaviors that make Richmond — and the United States — a less safe and prosperous place to live.
Individuals are desecrating property and being absolved of any wrongdoing. Banks and businesses are boarded up and, locally, a critical public economic engine — VCU — incurred $100,000 in damage to its Monroe Park campus in a matter of hours.
Tear gas and flashbangs have become common policing tools. And the solutions some Richmonders (and Americans) were seeking in the first place — policies to provide more racial equity — are not being addressed.
The public still is looking to Stoney, the Richmond City Council, Gov. Ralph Northam, the Virginia General Assembly and the White House for a way forward. And the solution won't be found in a press conference, a tweet or staying silent. We all have eyes and see what's going on in our city's — and nation's — backyard.
When does this stop? What is the end game to these protests? The violence seems to escalate daily, not just in Virginia's capital city but across the country.
Over the weekend in Portland, Ore., and other cities, gunfire was heard and there were reports of vehicles striking protesters. Demonstrators often are showing up heavily armed, and throwing bricks and mortars at police. There already have been deaths nationally; we fear there could be more. Black Lives Matter officials say they are concerned that militants are harming their cause.
When will our elected leaders say "enough"? Where are business, education and other community leaders in publicly condemning the violence?
When will Stoney and City Council members acknowledge that putting down riots to protect lives and property is a very real function of their elected positions? Keeping mum and refusing to take action in fear of making tough decisions is not governing. It is cowardice. Enough is enough. Show some leadership.
— Pamela Stallsmith, Robin Beres and Chris Gentilviso