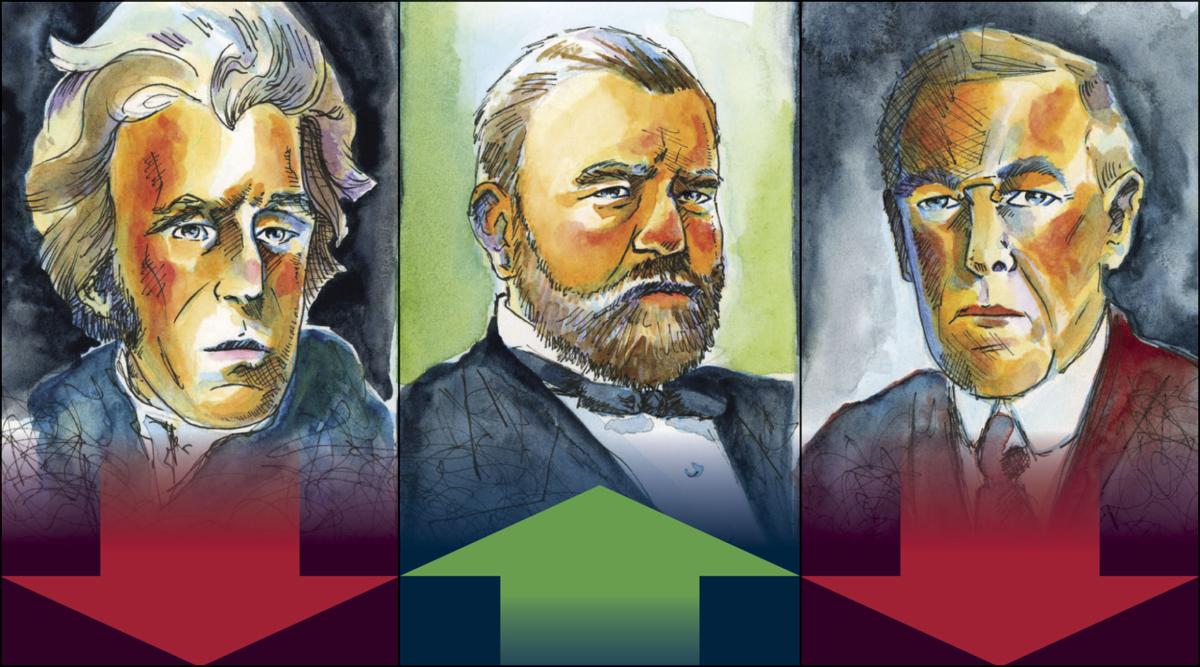 Donald Trump was not the worst president, but he comes close. So says C-SPAN in its newly released 2021 rankings of U.S. presidents.
C-SPAN conducted similar surveys in 2000, 2009 and 2017. Now as a former president, Trump was included for the first time. He tied with Franklin Pierce as third worst. One notable feature of the four C-SPAN rankings is the stability at the top and bottom.
Abraham Lincoln, George Washington, Franklin D. Roosevelt and Theodore Roosevelt consistently are the top four, generally in that order, followed by Dwight Eisenhower, Harry S. Truman, Thomas Jefferson, John F. Kennedy and Ronald Reagan, also more or less in that order. Pierce, Andrew Johnson and James Buchanan consistently have ranked at the bottom, now joined by Trump.
Most interesting, perhaps, are substantial variations in the evaluations of several of the presidents, which in turn reflect changes in the nation and in the minds of historians over the past two-plus decades.
The largest such change is the rise of Ulysses S. Grant, who went from 33rd in 2000 to 20th in this year's survey. He was rated at the very bottom in the earliest such polls. For example, in both 1948 and 1962 polls by Arthur Schlesinger, Grant and Warren Harding were alone in a Failure category. Polls in 1982 and 1996 also put Grant in the Failure category.
But even by the first C-SPAN survey in 2000, Grant had begun to climb out of the bottom. His ranking has consistently risen since then. Now he is in the top half. A clue as to why is suggested by looking at the president who has fallen furthest, Andrew Jackson — from 13 to 22 — and also at Woodrow Wilson, the only president to fall out of the top 10. Wilson dropped from six to nine and then to 11 and 13 over the four surveys.
What's going on? Clearly reconsiderations of these presidents' actions with respect to Black Americans, and then more broadly perceptions of their moral leadership, inform the changes. Before, but especially after the murder of George Floyd, racial justice takes on more weight.
C-SPAN's rankings are based on the assessments of 142 historians, academics and biographers who rated all of the chief executives on 10 different leadership dimensions and then derived an overall score. One of the categories is Pursued Equal Justice For All.
Grant ranks sixth, behind Lincoln, Lyndon B. Johnson, Barack Obama, Truman and Jimmy Carter. On Moral Authority, Grant moved up 14 ranks. He rises even more on ratings of Vision. At the same time Wilson drops 17 places on Pursued Equal Justice For All and 13 on Moral Authority, while Jackson drops 18 places on the latter.
What to make of such judgments? Research by psychologist Dean Keith Simonton suggests that raters, both academics and the general public, pay attention to only a few bits of salient, memorable information. Then they make overall judgments on the basis of those small nuggets of knowledge.
People remember Richard Nixon for Watergate and little else, and Kennedy's assassination is indelible. What is newly notable and memorable about Grant, Wilson and Jackson? For well more than 100 years after Grant's death, conventional wisdom only noted the scandals that his administration was linked to, fairly or unfairly.
But this century's biographies, including the prominent 2017 study by Ron Chernow and new assessments of Grant's presidency, have taken a different look. We see Grant's many efforts for those who then were called Freedmen, including his urging of state legislatures to ratify the Fifteenth Amendment, banning discrimination in voting on the basis of "race, color or previous condition of servitude." We learn of actions he took to put down the Ku Klux Klan.
These explorations then opened the door to reappraisals of Grant's economic and international policies, particularly his success in resolving lingering conflicts with Great Britain relating to British efforts favoring the Confederacy during the Civil War.
At the same time, historians focused on different elements of Jackson's administrations. There was less credit given for his tough stand against South Carolina's nullification efforts and his controversial bank policies. Much more attention has been given to the Indian Removal Act and the Trail of Tears. Jackson soon might be removed from the $20 bill, and replaced by abolitionist Harriet Tubman, who was born into slavery.
Wilson's fall in the rankings might be more dramatic. My colleague Eric Yellin at the University of Richmond has written a thorough analysis of Wilson's segregation policies for federal workers, justified by claims such as "efficiency." It is startling to recall how Black leaders such as W.E. B. DuBois during the election of 1912 actually thought that a President Wilson might do more for Black Americans than Theodore Roosevelt or William Howard Taft. They were sorely disappointed.
It is doubtful that the leadership of Lincoln, Washington or FDR at the top, or Pierce, Andrew Johnson or Buchanan at the bottom, soon or ever will be fundamentally reassessed. But many other presidents — like Grant, Jackson and Wilson — might well get a new look as different aspects of their administrations are studied, and as the nation's fundamental values and priorities are reconsidered.
President Joe Biden might take note that helping to realize those core commitments plays well in historical perspective.
George R. Goethals is E. Claiborne Robins Distinguished Professor of Leadership Studies at the Jepson School of Leadership Studies at the University of Richmond. He studies heroism and heroic leadership, and U.S. presidents. Contact him at: ggoethal@richmond.edu