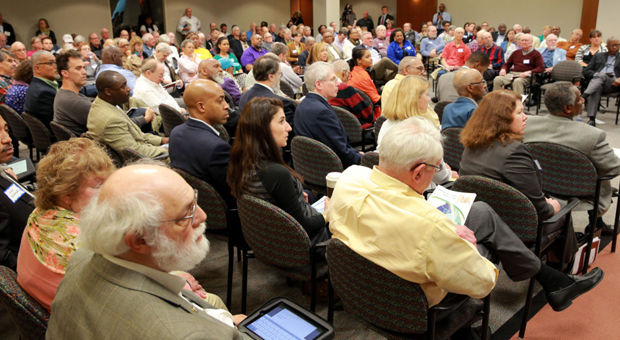 The 56th RT-D Public Square drew a standing-room-only crowd for a dynamic discussion that looked back and forward: Why is Richmond so segregated? Held at The Times-Dispatch building on East Franklin Street, the daytime Square ran past its 90-minute deadline, fueled by a deep but civil discussion about one of Richmond's most confounding legacies.
Moderated by Times-Dispatch Publisher Tom Silvestri, the conversation began with presentations from John Moeser, a senior fellow at the Bonner Center for Civic engagement at the University of Richmond and an eminent professor of urban studies, and by Heather Mullins Crislip, president and CEO of Housing Opportunities Made Equal, a Richmond Region nonprofit that advocates for equal access to housing for everyone. Victor Branch, a member of the HOME board and the Richmond market president for Bank of America, spoke, as did Richmond Commonwealth's Attorney Michael Herring and Times-Dispatch columnist Michael Paul Williams. A vigorous session of questions and comments ensued. Today, we present some highlights. (You can watch a video of the entire event on above.)
Tom Silvestri, publisher: ... We're going to explore, with your help, the issue of modern-day segregation in the region. We coincidentally have picked this topic because April is National Fair Housing Month. ... So in broad strokes today, why is Richmond still segregated? We'll explore the history. We'll understand some answers. We'll take some questions. And we'll explore reasons. We'll start by having a conversation with four speakers. ...
We have a renowned professor of urban studies who's been at this issue for many years. We have an attorney and an advocate for fair housing. We have a banking executive, who's orchestrated programs to reward neighborhood progress. And also with us is probably one of the main reasons you read The Times-Dispatch, a longtime journalist who writes about Richmond from the perspective of being a native Richmonder. ...
So let me introduce our first speaker. ... John Moeser, a senior fellow at the Bonner Center for Civic Engagement at the University of Richmond, and a professor emeritus of urban studies and planning at VCU. ... John will give an overview of what led to Richmond becoming more segregated in the 20th century than it was in the 18th and 19th.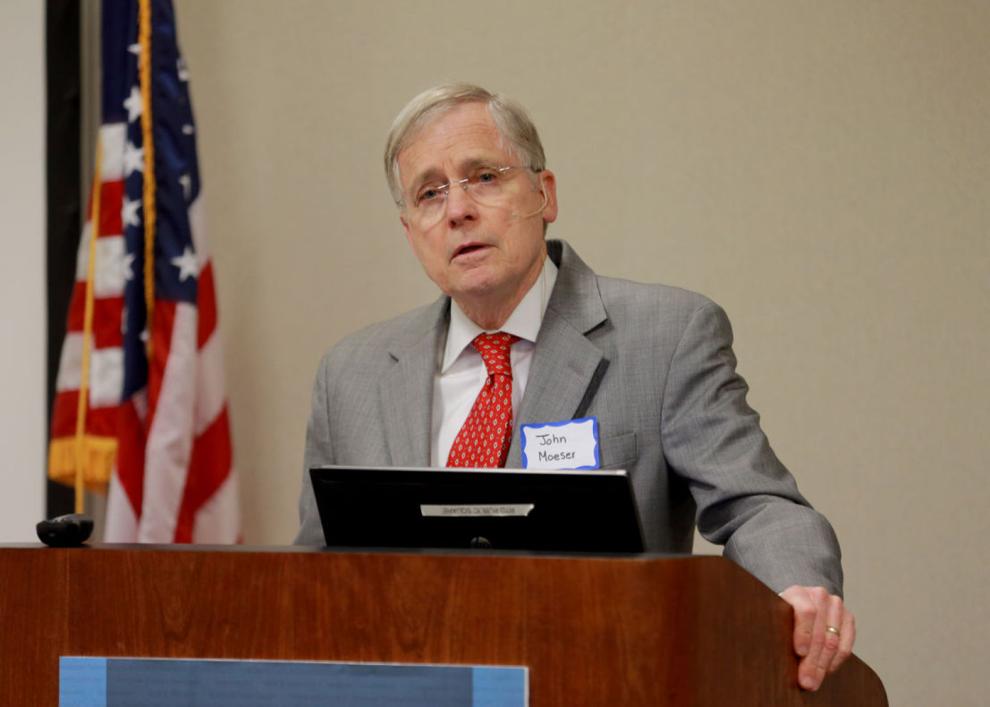 John Moeser: ... Today, Richmond is more segregated than it was in the 19th century. Remember, the 19th century was the period that included institutionalized slavery — and led Richmond to become the largest interstate slave market in the South. Yet when you examine 19th century maps that show where African-Americans lived, both free and slave, one is struck that the spatial distribution of race was scattered. Domestic servants lived near the places where they worked. Sometimes in separate quarters of their master's house. Slave owners who had a surplus of slaves — or slaves who otherwise would have been idled after planting and harvesting — would hire out slaves to work in Richmond's factories. Slaves had to find their own houses in the city, and so they often sought out places closest to work. Fundamentally, however, blacks and whites lived in proximity to each other, because for most of the 19th century Richmond was a small, geographically compact, walking city. That didn't change until the last quarter of the century, when, as you know, Richmond acquired the first commercially successful streetcar system.
The reason we're more segregated today is because of what happened in the 20th century. Blacks were no longer slaves, at least in the legal sense. They were hemmed in ... by Jim Crow laws that for many amounted to slavery. Richmond was the second city in the United States to adopt a race-based zoning code. It's interesting that it was a northern city that first adopted a race-based zoning code. It was Baltimore. In 1910, the city of Richmond zoned neighborhoods by race. Neighborhoods for whites, and neighborhoods for blacks. It was not long thereafter that the United States Supreme Court ruled that zoning law unconstitutional. But that ruling did not affect private individuals or private businesses. And that's when you began to see a reliance on private covenants, which I'll talk about in just a moment. In the 1920s, Richmond tried again to zone neighborhoods by race. But instead of referring to people by race, which they couldn't do now under that Supreme Court ruling, the zoning code referred to Virginia's Racial Integrity Law, that forbade interracial marriage. People could not live in neighborhoods whose residents they could not marry because Virginia forbade interracial marriages. Blacks couldn't live in white neighborhoods, or vice versa.
By the 1930s, Richmond neighborhoods were thoroughly segregated. Though the preservation of segregation now fell to local bankers and realtors, since the Supreme Court decisions forbade city government to use its own law-making authority to separate neighborhoods. Restrictive covenants, which I'd mentioned earlier, which had been used for years, proved to be particularly effective. These were restrictions written into the deeds of privately owned homes that prohibited white homeowners from selling their houses to blacks. And in many instances, to Jews. In 1948, the Supreme Court ruled again and nullified the use of these racist covenants. From the 1930s through the early 1960s, one of the major drivers of segregating neighborhoods was none other than the federal government itself. Urban planners were their accomplices. Redlining the construction of public housing and the location of public housing, highway construction, urban renewal, and economic development projects destroyed or bisected Richmond's black neighborhoods, displacing thousands of low income African-Americans, and squeezing them into East End Richmond, where most of the public housing has been located. Today, Richmond is more segregated than ever. This time by race, but more particularly by class. And the distances separated wealth and poverty are unprecedented.
Silvestri: ... Next up, we welcome Heather Mullins Crislip, who is the president and CEO of Housing Opportunities Made Equal. She'll give an overview ... and a detailed look of what we're talking about from the ground level.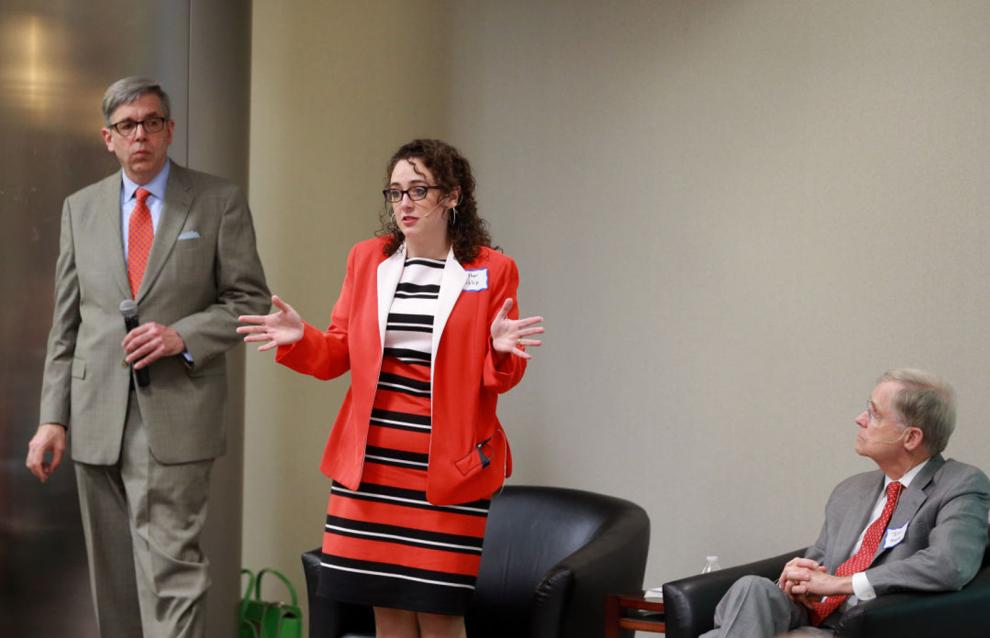 Heather Mullins Crislip: ... I serve as president and CEO of Housing Opportunities Made Equal, also known as HOME. We are one of the oldest and largest private fair housing organizations in the country. And we've made very significant contributions to the national conversation on fair housing and on segregation. ... Segregation isn't an accident of history, or a matter of preference or choice. I hope to illuminate parts of the more modern history that brings this to light, and that afterwards we can discuss how to create a community that offers the same opportunity for housing and wealth creation to everyone. ...
In the wake of the Great Depression, and following a foreclosure crisis just like we experienced recently, the federal government established the Homeowner's Loan Corp., or sometimes known as HOLC. The purpose was to prevent foreclosures and to refinance mortgages. Until that time, mortgages typically were interest-only and culminated in a balloon payment, typically about five years after you purchased the home. And you can imagine how that limited everybody's opportunity for home ownership and wealth-creation, because not very many middle-class or even upper-middle-class families could accept terms like that and be able to manage them. The HOLC provided public underwriting for private mortgages and greatly extended the amortization period: from 15 to 25 years, offering a longer time frame for repayment, and a lower interest rate. The program is credited for saving over 1 million homes during the Great Depression and is the foundation of the 30-year standard mortgage that we come to expect today — and for establishing the home as the wealth-creation mechanism for the middle class.
It also is credited with coining the phrase "redlining." Redlining refers to the practice of denying or charging more for services like banking and insurance in minority neighborhoods. In the case of the HOLC ... in 239 cities used red lines to delineate neighborhoods not fit for investment. So, unfit to receive underwriting for standard mortgage financing. The HOLC graded neighborhoods based in significant part on their racial composition. ...
Areas outlined in red were graded D and were predominantly African-American and found in the inner city. And they therefore were ineligible for government-financed standard loans. Areas labeled type C were classified as working class and contained a larger number of whites. The vast majority of areas graded type A or B were populated solely by whites and were the areas that the HOLC was primarily targeting for mortgage underwriting. The underlying racism of the HOLC grading system, and the resulting lack of private investment in predominantly African-American neighborhoods, set us up with valuation systems for properties that still haunt us today. Neither the income of African-Americans living there nor their social class mattered. ... Jackson Ward, as you know, was considered the black Wall Street of the South. It was home to fabulous housing stock and gainfully employed residents. But it was graded D, and ineligible for public underwriting for mortgages.
Redlining spread to the entire mortgage industry, excluding African-Americans from the most legitimate means of obtaining a mortgage — and the wealth creation and stability that home ownership affords. Every single African-American neighborhood in Richmond was graded D. And only two non-African-American neighborhoods were graded that way. ... Redlining paralyzed these communities, because they could no longer be financed. This meant that they would have lower property values. And others feared the loss of property values in their own communities, if their own communities integrated and financing became unavailable. This financial reality fueled fears of integration.
With plummeting property values in African-American neighborhoods, and private financing not available because it couldn't be underwritten, this is the other half of the U.S. housing policy story in Richmond. ... Instead of privately financed opportunities to create wealth through home ownership, there was the development of public housing. As part of Harry Truman's Fair Deal, the Housing Act of 1949 effectively served to concentrate poverty in the inner city, through the construction of public housing. By and large, public housing units were constructed in neighborhoods receiving a grade D by the HOLC. Since that time, efforts for federal housing subsidies have been relegated largely to the neighborhoods with the greatest poverty rates — in effect, containing poverty to the inner city. ... This focus on providing housing subsidies to residents most in need in receiving them is not misplaced. However, the unintended consequences of prolonged, concentrated poverty, are a serious detriment to the health of the region. ... This concentration is greatly exacerbated by the lack of a regional public transit system, which prevents residents of all income levels from accessing housing opportunities throughout the region. ...
White flight is the next chapter, following the United States Supreme Court's decision in 1954. Brown v. Board of Education declared state laws which established separate public schools for black and white children unconstitutional. While Richmond wasn't home to the worst of massive resistance, instead white families retreated to Henrico and Chesterfield counties and attempted to resist racial and ethnic integration. ...
This was a massive, massive shift. Between 1960 and 1970, the white population in Henrico County increased by 29 percent. For the following three decades, until 2000, the white population consistently decreased in Richmond. There are whole neighborhoods, like Highland Park, that turned over nearly 100 percent in 10 years. Blockbusting, a term for the business practice of encouraging whites to sell simply by implying that racial minorities are moving into the neighborhood, was employed. This fear was fueled by the implication of decreased property values, as established by redlining of financial underwriting in the previous decades.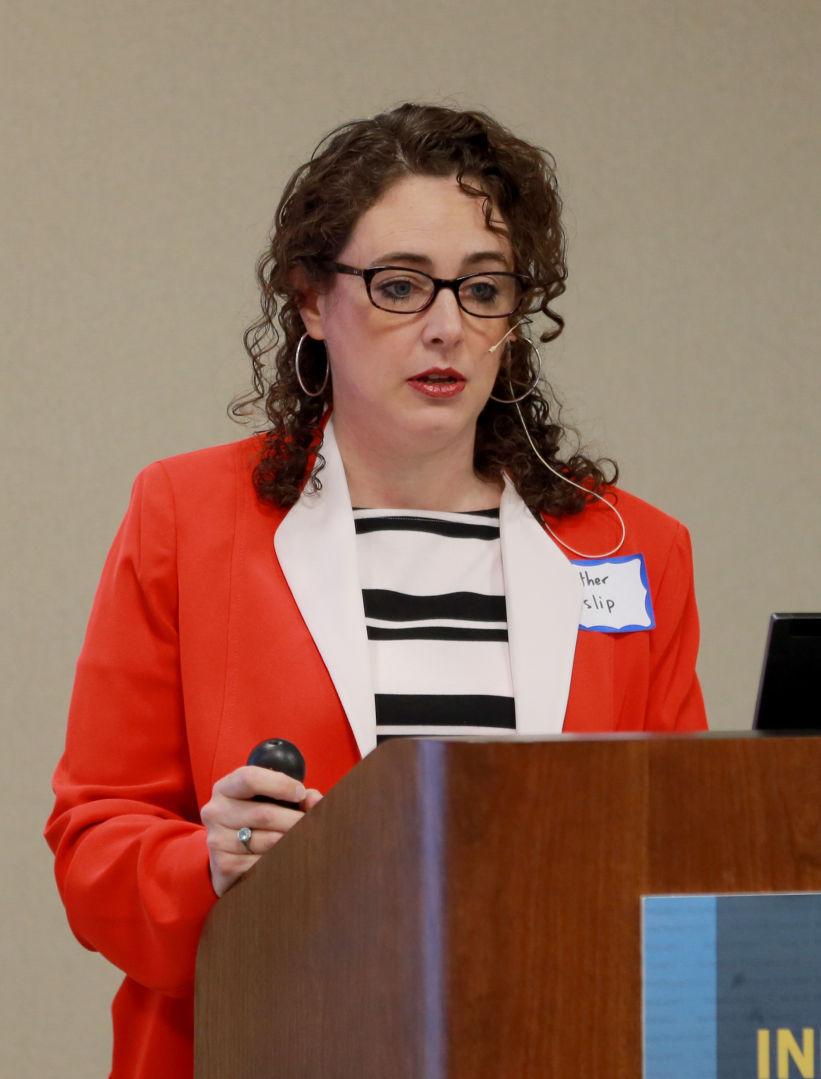 In the period between 1970 and 1980, the percentage of whites in Chesterfield increased 85 percent. And from 1980 to 1990, the percentage increased by 41 percent. During these same periods, the percentage of whites in Richmond decreased by 27 percent and 16 percent, respectively. As Tom mentioned, April is Fair Housing Month. But there's a story behind that as well. This is because the Fair Housing Act was passed in April of 1968, just one week following the assassination of Martin Luther King Jr. Preventing housing discrimination had been proposed for years, but had not had the votes to pass or be included in the landmark 1964 Civil Rights Act. Martin Luther King had been a big proponent of fair housing, and was conducting testing to demonstrate the rates of housing discrimination, in just the weeks prior to his assassination. And Lyndon Johnson thought that the passing of the act was a fitting memorial as the cities rioted. The Fair Housing Act prohibits discrimination in a housing transaction because of your membership in a protected class. And I've listed up there the protected classes. ...
The act made redlining illegal. But the practices continued. And the effects of the decades-long underinvestment left a huge debt in African-American neighborhoods. HOME was founded shortly thereafter, and quickly established itself as an aggressive enforcer of the act. In the 1980s, we won a U.S. Supreme Court case, Havens Realty Corp. v. Coleman, that is largely considered one of the most important fair housing cases in the country. It allows private fair-housing organizations to challenge racial discrimination in court, establishing the private enforcement of the law, which is still the primary way in which the Fair Housing Act is enforced today. And not so long ago, in 1998, HOME also won the only redlining case ever to go to trial in Virginia, against Nationwide Insurance, for redlining African-American neighborhoods in the provision of homeowner's insurance. The jury verdict in that case was the largest award ever in the United States in a fair housing case and was cited for major reforms in the homeowners insurance practice across the country.
I'm going to fast-forward a few decades now, to talk a little bit about the impact in the most recent housing crisis. ... The sub-prime lending spree that precipitated the foreclosure crisis, and the near-collapse of the U.S. economy, had disastrous effects on minority neighborhoods across the country. Touted as a way to expand homeownership opportunities to families that wouldn't qualify for traditional mortgage products, sub-prime lending had the effect of stripping away any remaining wealth in minority neighborhoods. Remember that traditional financing has historically been difficult to obtain in these communities. But now, there is another threat. And that is reverse redlining. Which is the targeting of minority communities for inferior loan products. ...
According to publicly available mortgage data, from 2004 to 2011, 107,000 home mortgages were originated for owner-occupied purchases in the Richmond region. ... Of those 107,000 loans, 12 percent, or about 13,000, were considered subprime. Comparing these loans against the minority composition of the neighborhoods in which they were made reveals startling disparities. Subprime loans accounted for just 5 percent of the total number of loans made in neighborhoods having less than 20 percent minority population. In contrast, subprime loans constituted 31 percent of the total number of loans in neighborhoods having greater than 20 percent minority population.
Not only is it clear that minorities who got loans were more likely to receive a subprime loan than their white counterparts, they were also more likely to be denied outright. In 2006, at the height of the lending frenzy, blacks were denied home purchase loans nearly 19 percent of the time, compared to just 6 percent of whites. Nationally, the Center for Responsible Lending found that even taking into account individual credit scores and other characteristics, Hispanic and African-American borrowers were more than 30 percent more likely to receive a subprime loan, regardless of their credit.
This is the other half of the housing crisis story. With subprime loans, we ended up with large numbers of foreclosures. Subprime mortgages nationally made up for about 60 percent of the foreclosures during the housing crisis. The subprime mortgage lending industry was, by and large, nonselective when it came to originating inferior mortgage products. And the majority of subprime loans made in the region were to whites, because they make up a large majority of the overall mortgage market. However, there are numerous high-profile examples that exist that show that subprime lenders purposely targeted minority neighborhoods and communities throughout country. In Richmond, our segregated housing patterns, subprime lending, the collapse of the economy, and the resultant foreclosure epidemic disproportionately impacted African-American neighborhoods in our region. ...
Given the fact that there are three times as many white homeowners in the region as there are African-American, the concentration of foreclosures in predominantly African-American neighborhoods is reason for serious consideration as to the future of wealth-building opportunities provided to minorities in our region. Even if foreclosures represented nothing more than a one-time cost to the families, these findings would be very troubling. But the costs are extensive, multifaceted and long term, extending far beyond individual families to their neighborhoods, their neighbors, communities, the cities and the states. To have this damage concentrated in the same neighborhoods that we have historically underinvested in is devastating.
I hope that what you can see is that we still have two systems in place. One where private and stable, inexpensive financing is available to allow middle-class families to create wealth, and one where we developed public housing without the opportunity for wealth creation, and private financing and wealth creation still fall short. Both systems took public investment. But the opportunities that they've created for citizens are vastly different. And the lingering financial and social costs are huge.
My final observation is this: Public policy on housing established these systems and the very real fears that integration caused property values to drop. The legacy is much lower home ownership rates for African-Americans in the region. The most recent data shows this isn't changing post-housing crisis. In the city of Richmond, where 40 percent of the population is white, whites received 70 percent of the home-purchase and refinanced loans in 2013. The wealth and prosperity of the region depends on creating opportunities for stability and wealth-creation for our families. And for all of our families. And building a housing system that supports that goal is really critical.
Silvestri: ... I don't know whether this is a good segue for a bank executive. (LAUGHTER) But you're a brave man, Victor Branch, who has a new job of being the market president for Bank of America, and will share his perspective.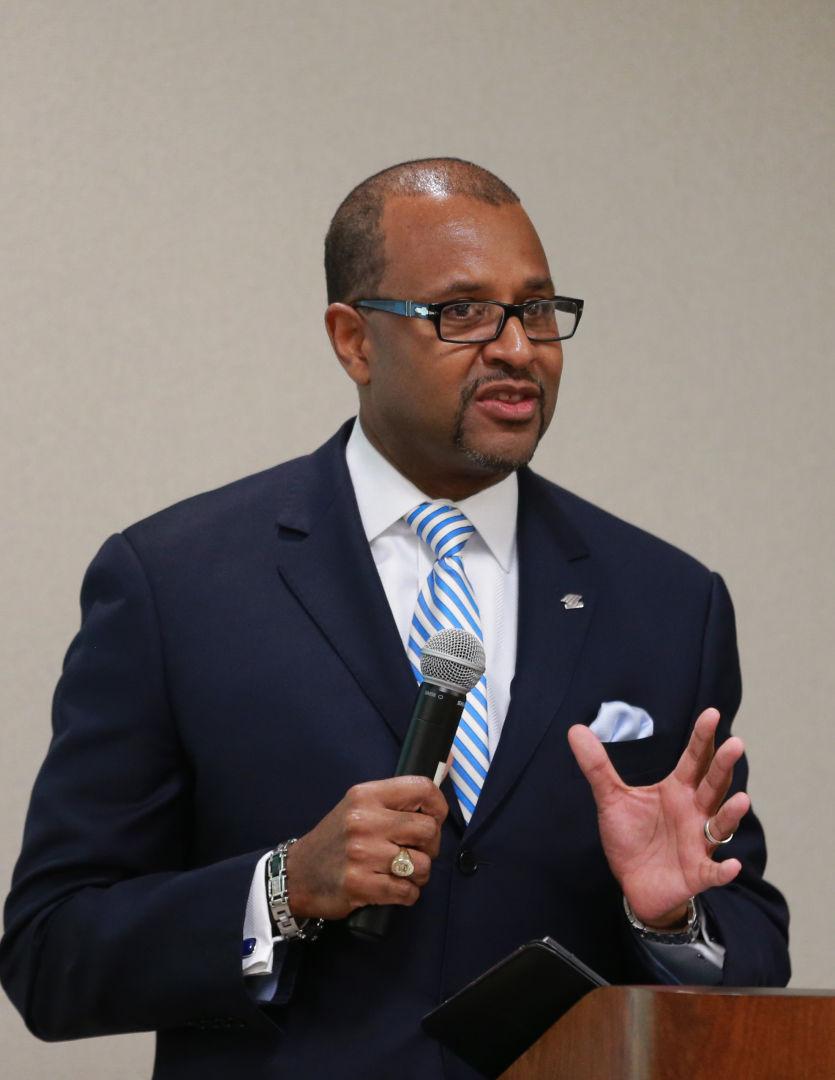 Victor Branch: I am a brave soul to come behind Heather after those sobering statistics. ... I wear two hats today. One as the Bank of America leader in the Richmond region, my paid full-time job. But my other job, full-time job, is serving on the board of Housing Opportunities Made Equal. I have been a part of that organization since the mid-'90s and am so proud of the work that they have produced over these many, many years. ... So I come to you with my passion for fair and equal housing. And I don't carry the whole industry's weight on my shoulders today, given our history in giving those statistics. But I say the future is bright. ... The inspiring thing about realizing that our segregated patterns are the result of policy decisions is that we have the opportunity to change them. We own this, people. There are things that we can do to have a more prosperous and integrated community. Chief among them are the development of more affordable housing in high-opportunity neighborhoods. And for my industry, providing credit and home ownership opportunities to everyone in the community. It makes good business sense. (APPLAUSE). I've been a proud member of the board of Housing Opportunities Made Equal for many years, because fair housing has the power to transform communities. In addition to their critical work enforcing the fair housing laws, they also provide much-needed services to vulnerable populations in our community. HOME provides home ownership education to about 300 low- and moderate-income individuals annually, and also provides foreclosure prevention services with the support of banks like Bank of America, to those 300 individuals.
This work is critical to getting to the inequalities we just heard about. Brandeis University released a 25-year study in 2013 that ... demonstrated why lagging home-ownership rates by African-American and lagging property values in African-American neighborhoods matter. They tracked 1,700 individuals for 25 years and found that the total wealth gap between the white and African-American families nearly tripled, increasing from $85,000 in 1974, to $236,000 in 2009. Their key finding was that the biggest cause of those inequities was from the difference in housing. In particular, they cited as the largest factors as having the ability to live in neighborhoods where values are likely to increase, and the number of years ownership. We have to figure out how to take on these issues as a community. And I know that Richmond, happy RVA, has the ability to do this. ...
Silvestri: Michael Paul Williams, will you please join me and give your perspective? You've been covering this a long time, and you are the native Richmonder here. ... You're an objective journalist but you have a column. You've seen it on both sides. What's your perspective on this issue?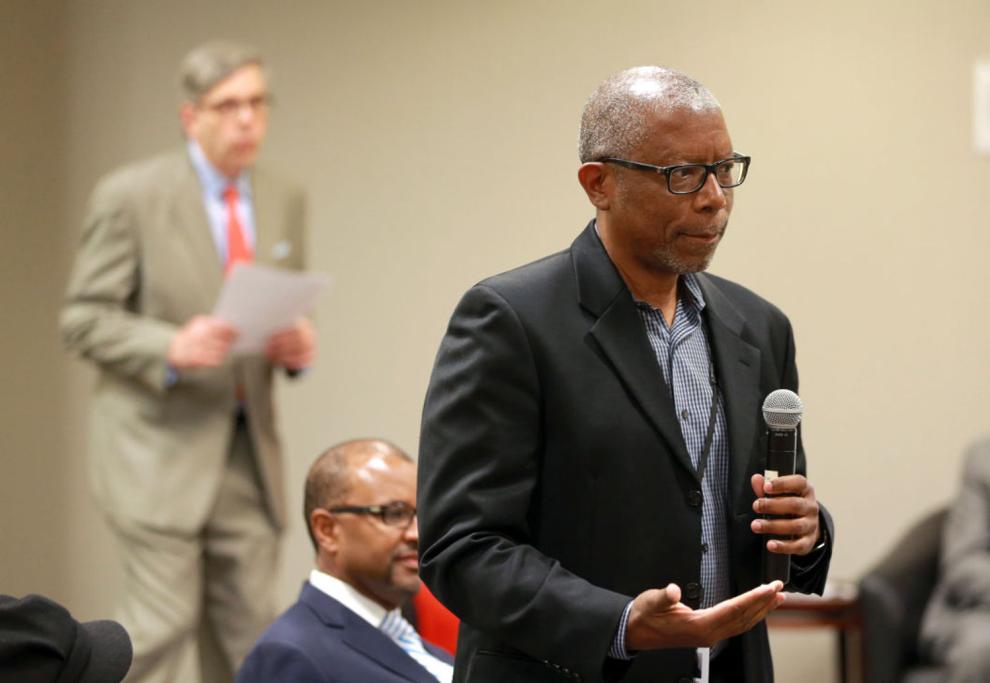 Michael Paul Williams, Times-Dispatch columnist: ... I lived in Byrd Park. Back then, we called it the West End. (LAUGHTER) Yeah, the real West End. I lived in a house less than half a block from Fountain Lake in Byrd Park. And a beautiful neighborhood for a kid to grow up in the late 1950s, early 1960s. Totally black neighborhood. And at some point, my Mom told me that when she moved into the neighborhood in the 1950s, as it turns out not coincidentally after Brown, when a lot of these forces were at work, she was the second black homeowner to purchase a house in that neighborhood. This is Maplewood Avenue. And six months later, it was an entirely black community. So, that speaks to the blockbusting that was going on.
But I didn't know that. I was a kid. I was delighted to live in such close proximity to Byrd Park, Maymont park. I guess probably at one point, I may have wondered, "Why do we have such a great neighborhood? Why would anyone give this up?" So, it was paradise. And I lived this paradise for the first nine or 10 years of my life, and then I was told we were moving. And I was just crestfallen. I mean, for one, I was leaving my friends. But I was also leaving this wonderful environment. And around this time, we just started hearing talk about the expressway. The expressway. They were building the downtown expressway, and it would shave off a good chunk of Byrd Park near the lake, take out blocks of Grayland and Parkwood Avenue. The barbershop that I would go to was on Davis Avenue, between Rosewood and Idlewood. That was gone. Some of the homes were taken out. So our home would have been spared. It was spared. It stays till this day. My Mom's like, "I can't deal with this construction. My nerves are bad. I don't want to be a part of this. We're moving."
So in October 1967, we moved out to Henrico County, out to Glen Allen. Old Glen Allen. The real Glen Allen. (LAUGHTER) But lest you think that this represented some time where, "Oh, OK, we're close to the Fair Housing Act, and they're moving out to this integrated (neighborhood)," no. The neighborhood we moved out into in Henrico was every bit as black as the neighborhood we left in the West End. It was off Hungary Road. So, I moved from one neighborhood to the next. And it was a very nice neighborhood. New homes. Some of the most prominent African-Americans in Richmond. Judge (James) Sheffield lived across the street. ... Just kind of a little post note — a few years after we moved out, what would be one of the few really concentrated public housing communities that I would ever see in Henrico was built right behind our neighborhood. Try to imagine that. Our neighborhood at one point in the 1960s was being pointed to as an example of one of the most affluent black neighborhoods in the South. And here we have a public housing community going up right behind it. Which I guess speaks to the kind of investment and disinvestment that was going on.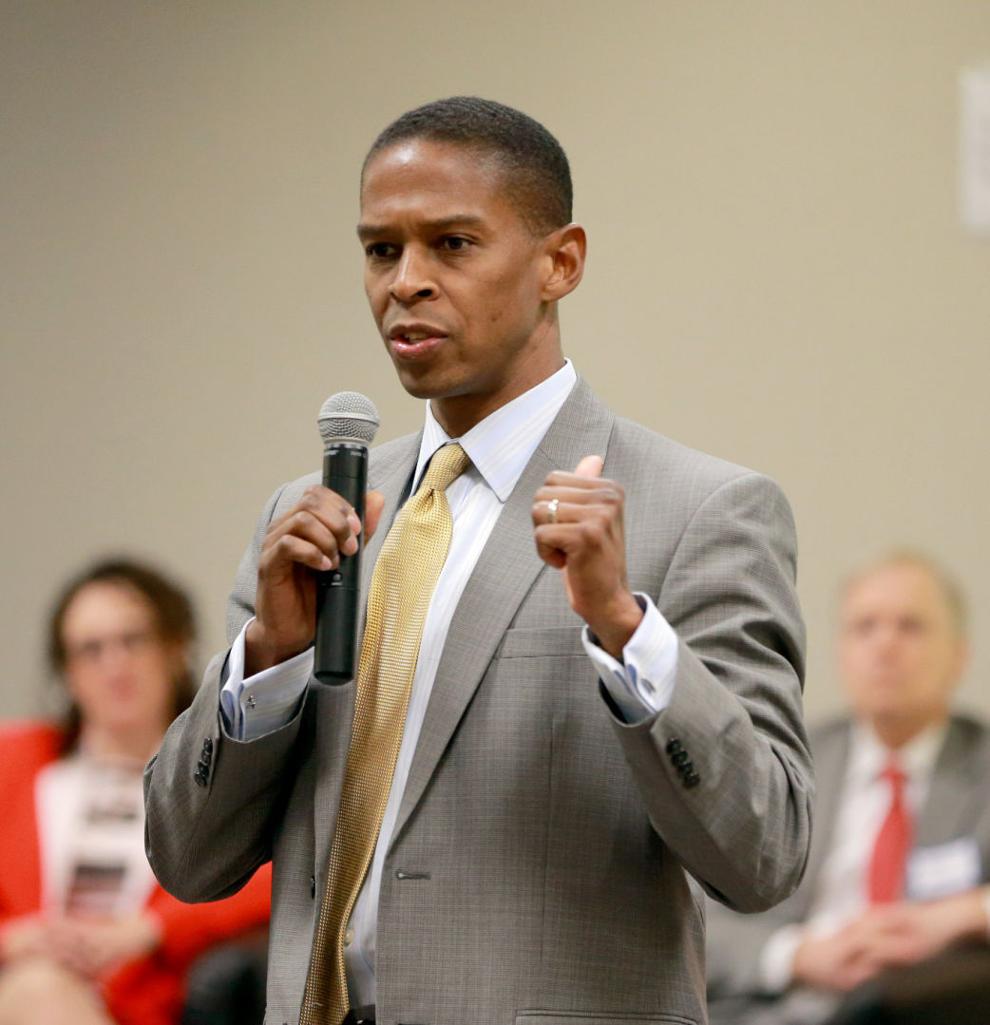 Michael Herring, Richmond commonwealth's attorney: ... The last time I was watching this data (being presented), I have to admit to you, a lightbulb goes off. I'm thinking, "Oh, my gosh. Where have I seen these images before?" And I knew I had seen them through Heather's presentation. But then it occurred to me, I've seen them at intel meetings with the police department. There are two maps (in the booklet that HOME passed out to the Public Square audience). One shows poverty rate and school segregation. The image on page 23 shows what I like to call "opportunity deserts and poverty reservoirs." What's fascinating to me is that the concentration of violent crime, and therefore the disproportionate consumption of taxpayer dollars for crime fighting, is in the same areas where you see the opportunity deserts, and the disparity in income and educational resources.
And so I'm sitting there going, "Oh, my gosh. Oh, my gosh. What is the implication for me?" And what I have come to conclude — and this is probably not going to sit well with a lot of folks in this audience — is that the business that I am in is in a business to nowhere. People grade the effectiveness of law enforcement in several ways. One of them is to eliminate or reduce crime. Another is to eliminate offenders from the community. And the principle way that we do that is to incarcerate them or felonize them.
Felons cost you money. Whether you incarcerate them or support them as second-class citizens down the road, felons are more expensive, because their capacity to yield is significantly diminished as a result of the felony. The felony rate in the opportunity deserts is sky-high. The felony rate in the areas where there's so much disparity in income and educational resources is sky-high. And so I'm really struggling with how to do this. But I've got a feeling that Richmond is going to derive a much higher yield if we felonize as a last resort. Wait a minute, because it's complicated. As opposed to letting felonies be the default.
And you don't have time for me to go on and on about this. But I don't know how to do it yet. Because we don't have systemic alternatives to the crime-fighting model that we have in place.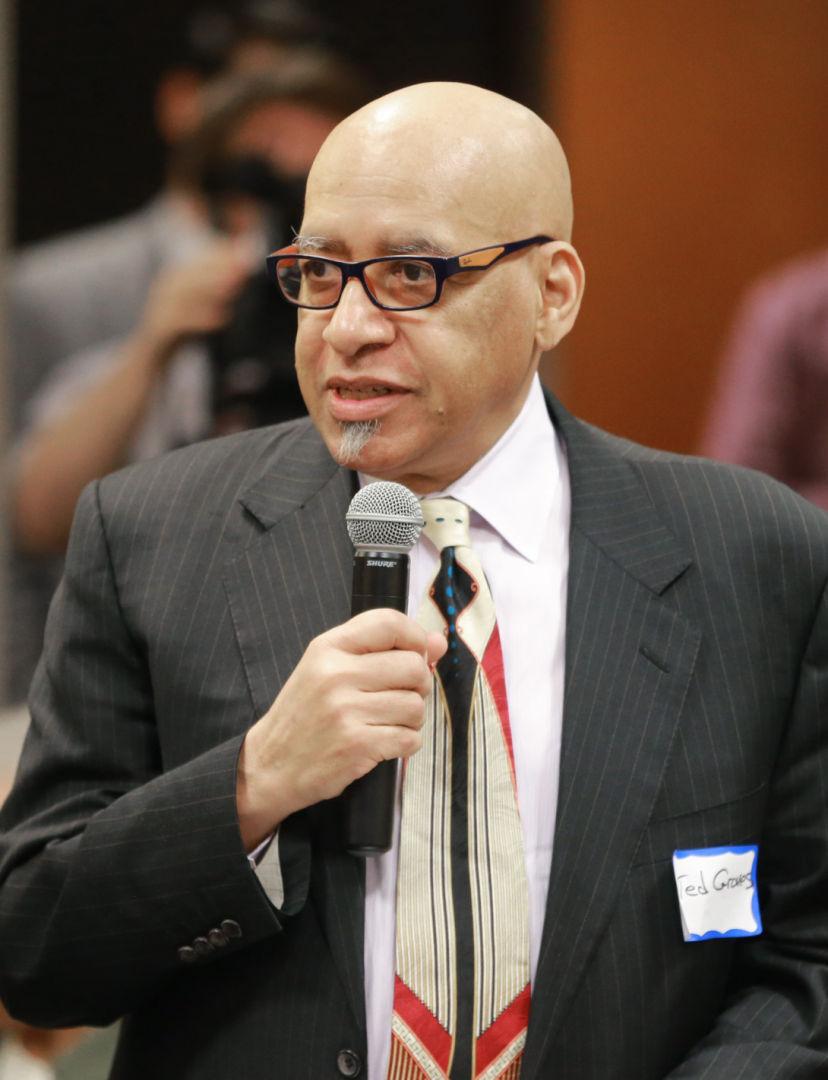 Ted Groves, Richmond: I'm the Kids Count director of Voices for Virginia's Children. ... We monitor the well-being of Virginia's children by each locality over time, on about 100 indicators of child well-being. And we're in the middle of producing a report that looks at the disparity of child economic well-being through a lens of race, place and family structure. And if we look at how children are doing in Virginia overall, things look reasonably OK. But when you disaggregate this data by race, place and family structure, we see these huge disparities — in poverty and near-poverty. And those factors kind of interrelated. One of the areas that we see an effect on children is segregation and poverty. And particularly in education. Education's always been the cornerstone of freedom and democracy, and economic security. But our children are hampered by segregated neighborhoods, with locally controlled schools, largely locally funded schools, that are segregated by race and socio-economic status: 71 percent of the black children of Virginia go to predominantly black schools. That's quite a bit of segregation in this day and age. And those schools are largely underfunded. We have seen segregated urban schools with concentrated poverty. Research shows us that children just do not do well in schools with concentrated poverty. The education research ... says that the largest influence for performance of kids is concentrated poverty in the schools, more so than the individual poverty status of kids.
The children in Virginia, disadvantaged children, have twice the disparity level of children that aren't disadvantaged, in reading at the third-grade level. And we know that reading's important at the third-grade level for long-term success and academic success of kids. To sort of sum it up, ... let me just say that segregated neighborhoods result in segregated schools, which result in segregated outcomes for kids by race and socio-economic status.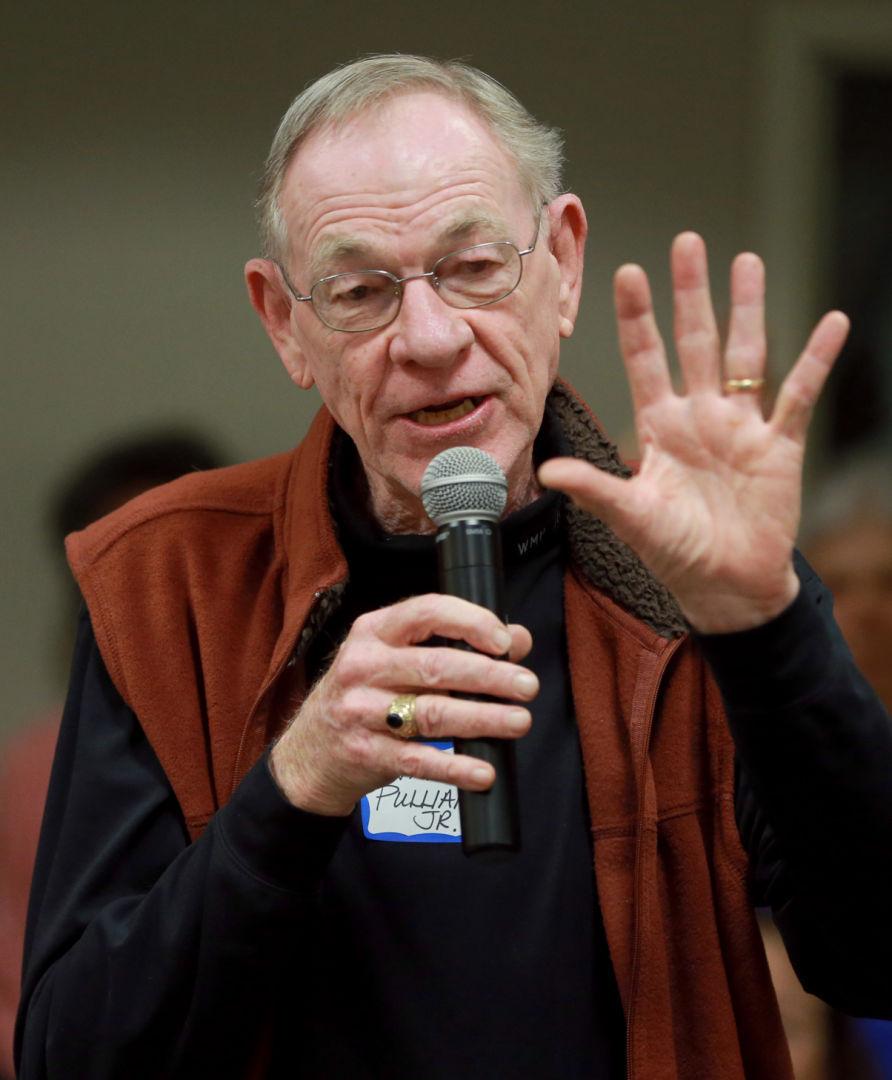 Walt Pulliam Jr., Henrico: How does regentrification, such as Church Hill or Woodland Heights, play into this issue?
John Moeser: Gentrification of neighborhoods is contributing to suburban poverty. The increases in rents in many of the neighborhoods as income goes up — income is going up, in many heretofore high-poverty census tracts. Income is going up, poverty is going down in some of those census tracts. And there are only two places where people now can find any supply of affordable housing.
One place is South Richmond. But most often, and where you have the greatest supply, are the inner suburbs of Henrico and Chesterfield counties. And so what you have is, as the income goes up in the city, and in some cases as poverty begins to go down, it's like squeezing a balloon. The poverty begins to spread out into the suburbs. And in those areas, income just crashes.
The fortunes now between the city and the suburbs have been completely reversed. But to put a positive note on this, I view, right now, gentrifying neighborhoods as a wonderful opportunity, if we will take advantage of it. Fundamentally, in my view, what we need are mixed-income neighborhoods. No more separation, no more segregation. Where people live in community. People of different incomes. Now, if we very purposely develop affordable housing in those gentrifying census tracts, you can achieve that.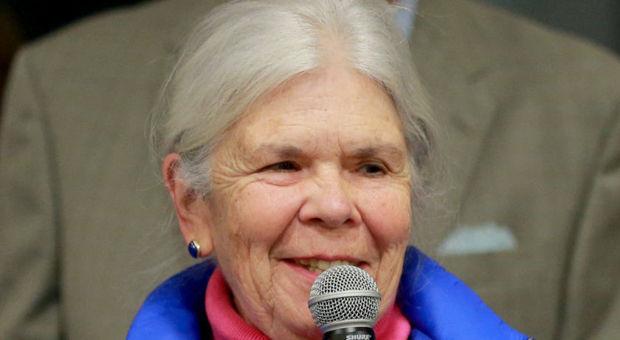 Martha Rollins, Richmond: As I look at the history in this — I live in Byrd Park. Same house for 45 years. Belong to the Carillon Civic Association, which has sort of an exciting history in this housing thing. But looking at the history of our country and our city, so much of where we are today has been intentional, beginning in the 1600s, in money trumping humanity. And I just wonder if it's time for in some way to throw into the mix the question of restitution, in a way that we could not just change policy, but try to make amends for our many, many mistakes.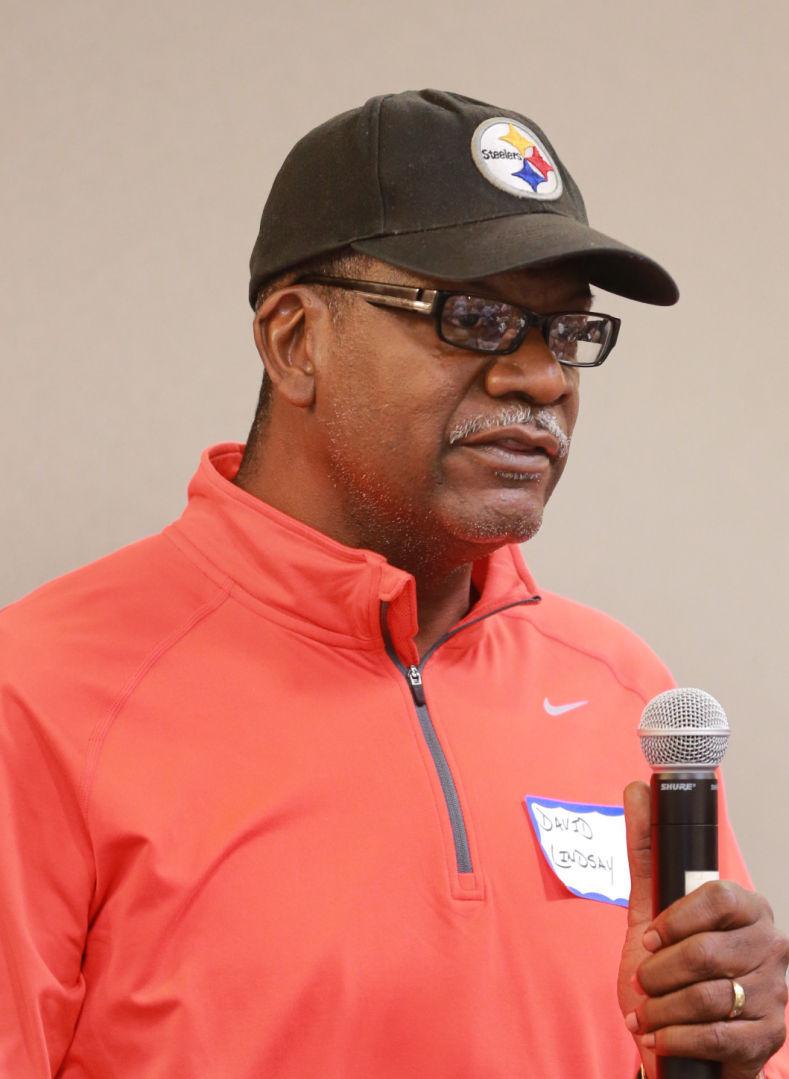 David Lindsay, Richmond: I live in Ginter Park. And I'm a graduate of John Marshall High School. I have a scholarship fund in my name that I give every year for education. ... A better solution to this problem, for me, is educating the kids. And by educating your kids, then you're going to get a better person. And with that better person, they may not stay within that region. They may not be trapped within that region, as we call public housing. And through your education, you have a better person. ... So, I wonder if support — more support toward the education field with our kids, to better them, making better people, so they could have better lives, maybe that would be the solution to this housing problem that we have. Because they brought up the fact about low income. And the low income, that's because of lack of education.
Michael Herring: I think Mr. Lindsay has a valid point. My understanding of the amount of money that we spend to educate a child, as compared to the amount of money you spend to incarcerate a person, is that the latter is multiples of the former. That doesn't make a lot of sense to me, because it says you're spending money on the back end, to correct a harm that is almost irreparable if the person's convicted of a felony. Because it has lifetime consequences. So, I think that we're likely to get a much higher yield if we spend the money on the front end in areas of education. But we have to resist the temptation to grab onto catchy sound bites that it are easy to get behind. And so, it's easy to say, "Put more money in education." It's a lot harder to figure out how to spend that money effectively. As my mother used to say to me, you don't throw good money after bad. Right? I think if people had the solution, we'd be implementing it. There aren't many school districts around the country that have figured out how to correct the harm done by under-performing or low-performing districts which happen to be in areas of low resource.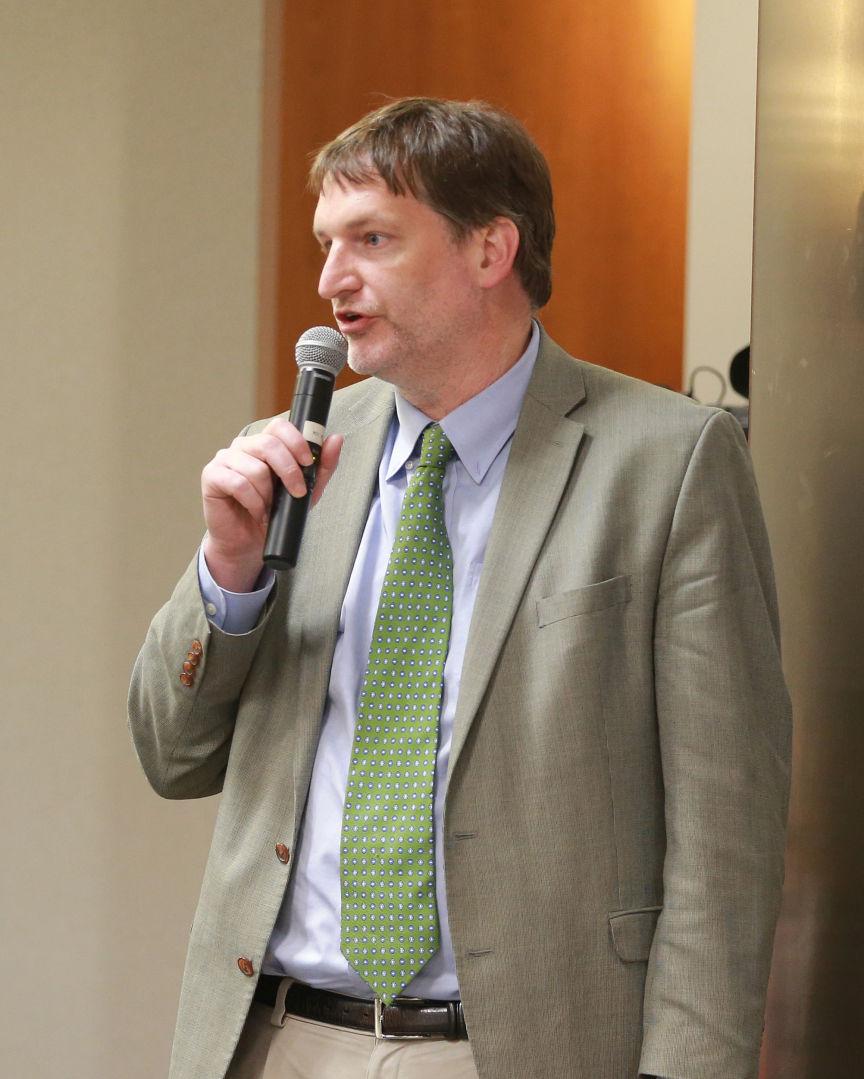 Thad Williamson, director of the Mayor's Office of Community Wealth Building in Richmond: ... What we've learned through this community process ... is there's not a single strategy. It would be misleading to suggest that. It's a holistic picture. All these things are clearly related, between housing, education, economic opportunity. They all have to be tracked at the same time, tackled at the same time. But it's important to know that your city does have an office. It's implementing a strategic plan to tackle these things at once. It's just important for the community to understand the magnitude of what that means. We all understand, this is a long-term effort. And we in the administration that work on this have a heavy responsibility to get it off to best possible start. Which we're doing our best to do.
But there are five pieces of it, I think each one of which are transformational, especially taken together. So, one, the social enterprise piece that Dr. Moeser just mentioned. Second, the start of a potential regional transportation system. ... Third, my office has done a lot of work with the Richmond Public Schools on developing a better plan for early childhood. Clearly that's a key area from any anti-poverty perspective, where a lot more resources need to go, and a lot more intelligent application of what we do have. So we have a collaboration called Richmond Early Childhood Cabinet, already up and running with the schools. Fourth, ... there's this concept of RVA future, which would be the beginning of our Promise Scholarship Program. So if the budget passes in its current form, starting next year in the high schools there will be dedicated future centers to connect students, starting in ninth grade, and have a conversation every year with every student in those high schools about their life after high school. And understanding that there is life after high school, and you have to begin planning for it now. And understanding, what's the difference between a pipe dream and a realistic plan. And understanding that your choices and performance, even in ninth grade, have long term consequences. Again, RPS has fully been on board with that, so we're very excited about that. And we hope to add a scholarship component to that.
The fifth piece, the hardest, most complicated, you'll need many forums: public housing transformation. To directly target the topic. How do you actually undo this legacy? Extremely hard. Because there's a development component, and there's a human-being component. And historically, the human-being component has not been done well at all. So if it's going to happen, as the mayor's committed, every piece of it has to be done well, and especially the first time, so it's a model for the future. Again, a big challenge. A lot of challenging issues involved, both from the resource point of view and strategy point of view. We're going to need the entire community behind it and engaged in it.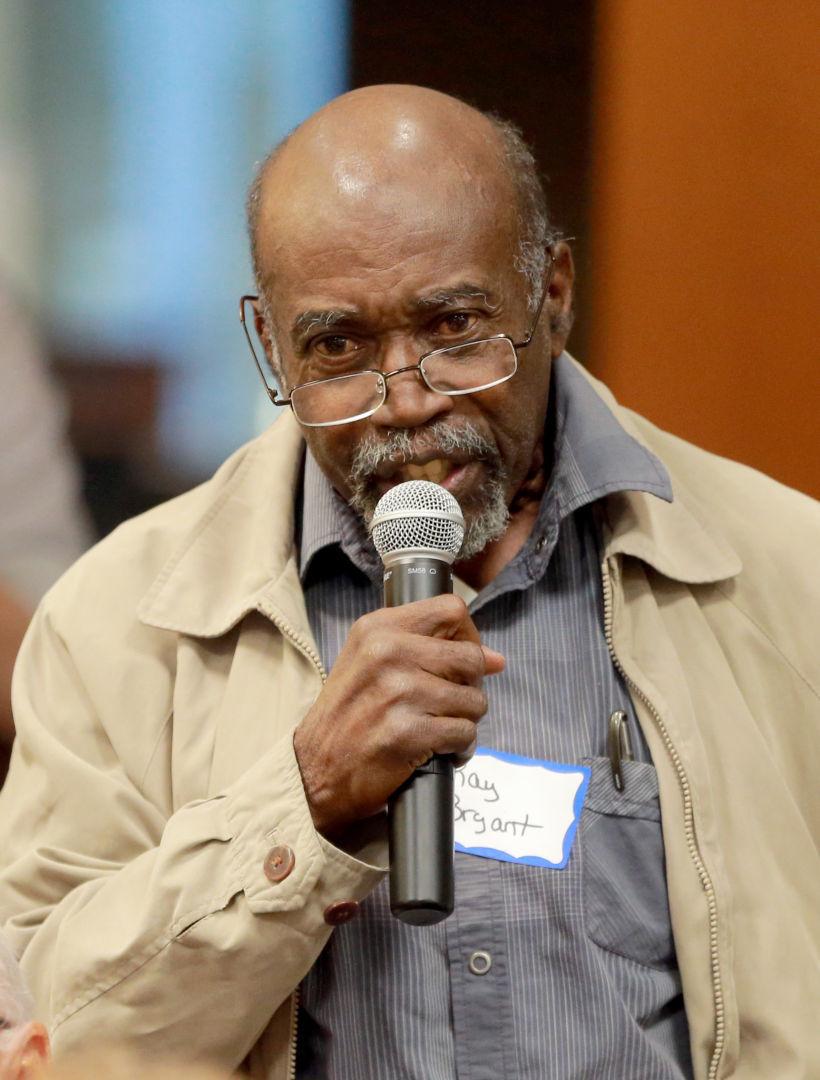 Ray Bryant, Chesterfield: I was raised up in public housing. Thank God for public housing when I was raised up in it. Quite a few people became very successful from public housing. When they were doing what they had to do to guide us and guide the parents to raise us in a way that you attended school and got the education.
But I came here today is to say, a lot of you in this room caused the problem that we are in. A lot of you in this room is causing the problem that we're going to remain in. Yes, it is intentionally being done as we speak right now. How can you de-concentrate poverty, moving people all the way around on the edge of the city, between Henrico and Chesterfield, and then make the place look like a Hostess Cupcake. Chocolate on the outside, and white all in the middle of it? Why are you doing this type of thing? A lot of your universities are the ones that are training the people that come out and do the planning in your cities. And I talk to you, Mr. John Moeser. That y'all need to do something about the universities. This is where a lot of this stuff is coming from. ... I want you to know that, get into your universities and train those individuals that could have some sympathy for the community that is at large. I came down by the home — the elderly home just recently, on the way here. And half of them were sitting on the outside of the elderly home. You talk about bus transportation. You took the grandmamas, and threw them all out there — took them off of Broad Street. And put them down. I just don't understand it. After all these years, I've come back around to see all this stuff coming back again. It's the same thing.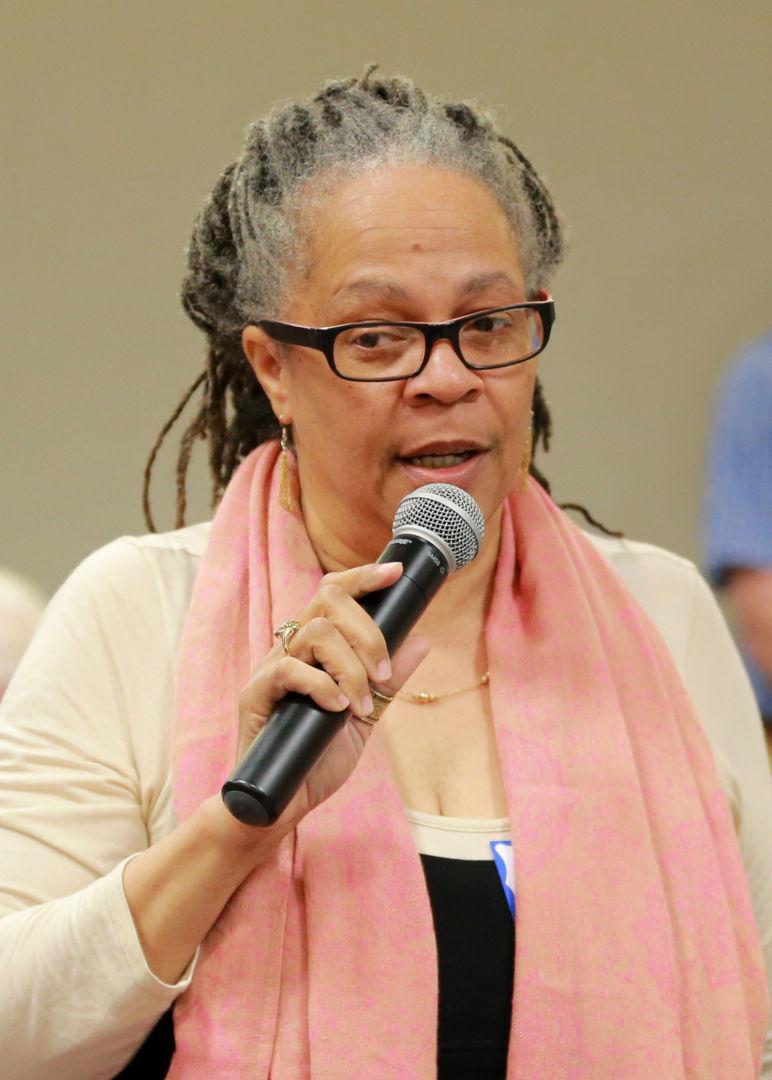 Lily Estes, Richmond: I'm a community strategist. ... Dr. Moeser and I, we agree on many things. But on de-concentration of poverty, we don't agree. I do believe that there is great effort in trying to correct the harm that was done by intentionally moving of African-American people, poor people, into public housing — and how we correct that going forward.
I want to applaud all the people in the room here. But I want to also ask you — I don't like the word "challenge" — but I want to ask you to really do your own homework. You have to really look at what's been happening, and how we apply remedies to time-specific issues. We can't run in front of and try to solve something without the current information on the ground now. De-concentration of poverty — in a community where 26 percent (are in poverty), that's what we are talking about for poverty in this city — people cannot afford. It was intentionally done. We have to tell ourselves the truth about what was done. People in different institutions. This is institutional intention, discrimination, generational neglect, over and over. Mutated, disaffected, whatever other kind of metaphor we want to use to describe this.
And we have to correct it at the fundamental root. ... I worked on trying to get a documentary on the life of Oliver Hill created years ago. And during Massive Resistance, when they closed the schools down in Prince Edward County, we were trying to interview some of the people that were affected by that. But what really struck out with me is that you take somebody who's stopped school in the seventh, eighth, 12th grade. Close the school down for five years, come back, re-open the school. Their life really hasn't been changed that much.
But when you talk about the irreparable harm of closing a school for five years for a child that's been in kindergarten, and they go back to school in his fifth or sixth grade, they don't have the fundamentals. That's what we're looking at. When you fall off the cliff of trying to educate people and then come back and try to repair their remedy with dysfunctional, functional obsolescence kinds of things, we've got to be truthful about what we are doing. And I hope that we can have more of these town halls to talk about solutions of where we go with solving this realistically. It ain't about the money. You know, we can have all concentrated black communities. I ain't trying to move in your community at all. But I want appropriate resources in my community, among my cultural people, that we deserve. That's sort of reparation.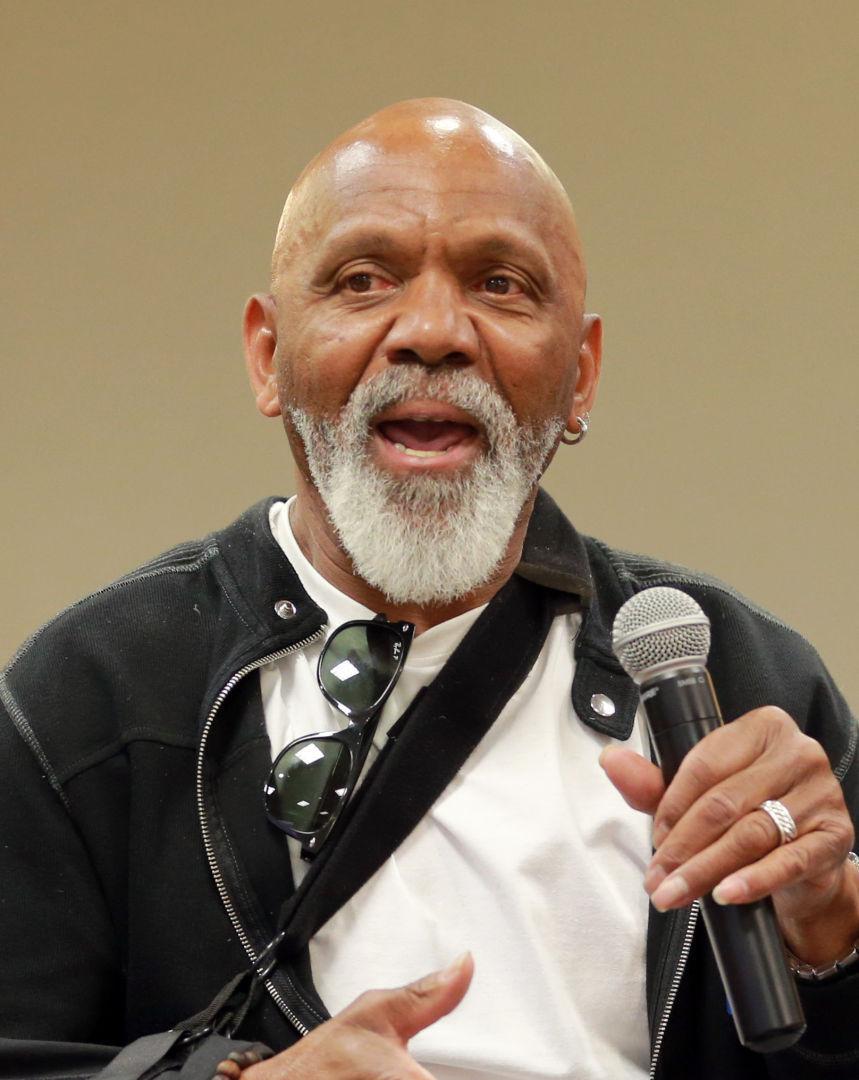 Charles Otey, Richmond: ... I think racism has brought about segregation. I'm not an angry black man. I'm not running around here talking about "white folks this, white folks that." Because that would be unfair to say all white folks are this. If I could say all white folks are something, it would be unfair to say all black folks are something. You can't never say all about anything, because you don't know all.
But what I do know is that I've been around here 60 years. And because of racism, we have subliminal stuff in back of our mind that brings about segregation. I was raised in the West End, I was raised in Church Hill, in Chimborazo. And when I go over to Church Hill now — (LAUGHTER). But I understand the history, you understand? I understand, because at first white people were predominantly over in Church Hill. Then black folks became predominant over at Church Hill. Now, white folks again. You understand. When I go into 7-Eleven in the morning, I may be one or two or three people that speaks English in 7-Eleven. I think I'm a foreigner in 7-Eleven in the morning, you understand? But I know that racism exists in our society. And I think racism exists here, but I think we are getting better as people. I think when the old heads die off, it'll be a little better. Because the young people ain't getting up here and talking about black, white. They talk about economics and how to live and love each other. We're still stuck. The older people are still stuck into that racism mindset. Segregationist mindset. You know, I love all people, man. Because I think if everybody's afforded the same opportunity, we can prosper. …
I'm going to close with this: All the black folks left Church Hill. Well, I can't say all, but a whole bunch of them. I would like to know where they've gone. (LAUGHTER) …
Michael Paul Williams: I might be able to answer part of that. I'm no expert. But there are more black people in the suburbs now than in the city itself. By far. So, that's where they went.
And the question was raised about what one policy I would be in favor of to change things. I don't think you can change things if the structural framework for what got us here is still here. I would blow up this "independent city." I think a lot of what has facilitated what we're talking about is the fact that we have jurisdictions that function like Balkanized nations. There are these artificial walls — and you don't see it in any other state but Virginia. So, I'd blow up the independent-cities thing. Richmond needs to be a part of Henrico. Maybe Southside needs to be part of Chesterfield. But it just doesn't make any sense, and it enables a lot of what we've talked about, in my view.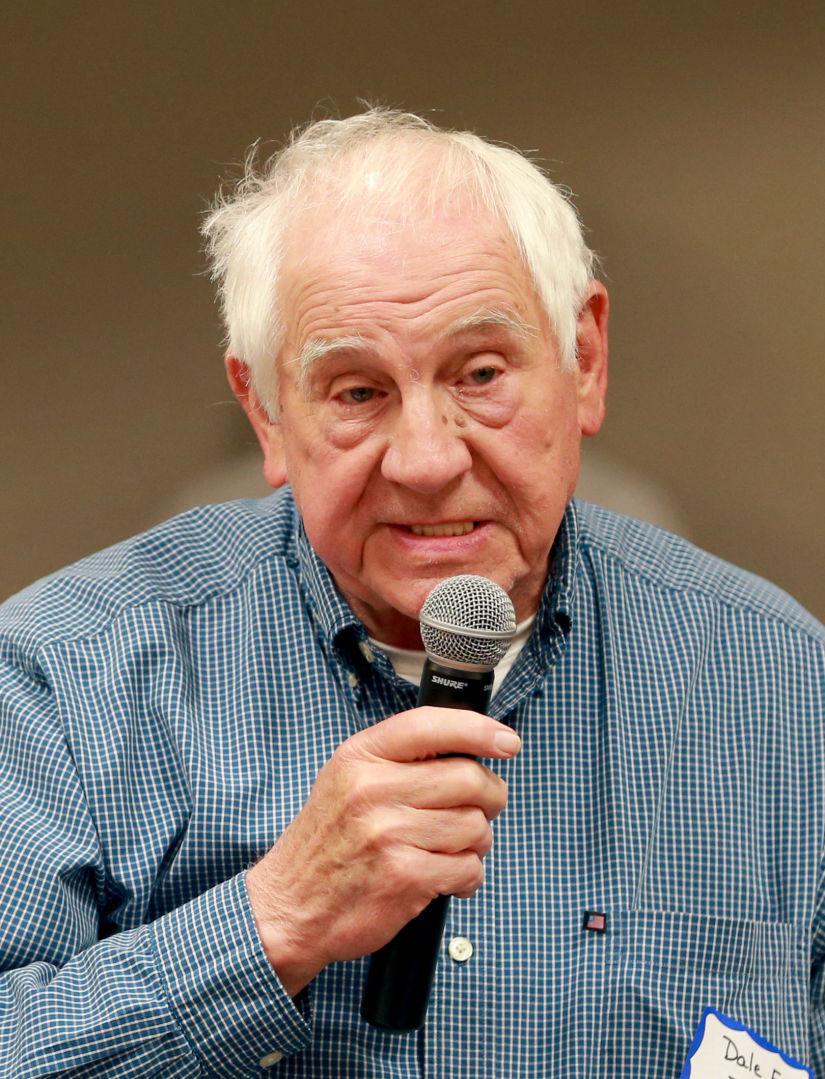 Dale Jones, Richmond: I've lived here in Richmond since 1964. And I have an answer, partially, why is Richmond still segregated. It's very simple. Because the majority of the people want it that way.
Silvestri: Well, what does that mean?
Jones: That means, until you change the heart of the individual — just go out on Sunday morning in Richmond and see where people go to church. They go to segregated churches. And until that's changed, you're not going to change segregation.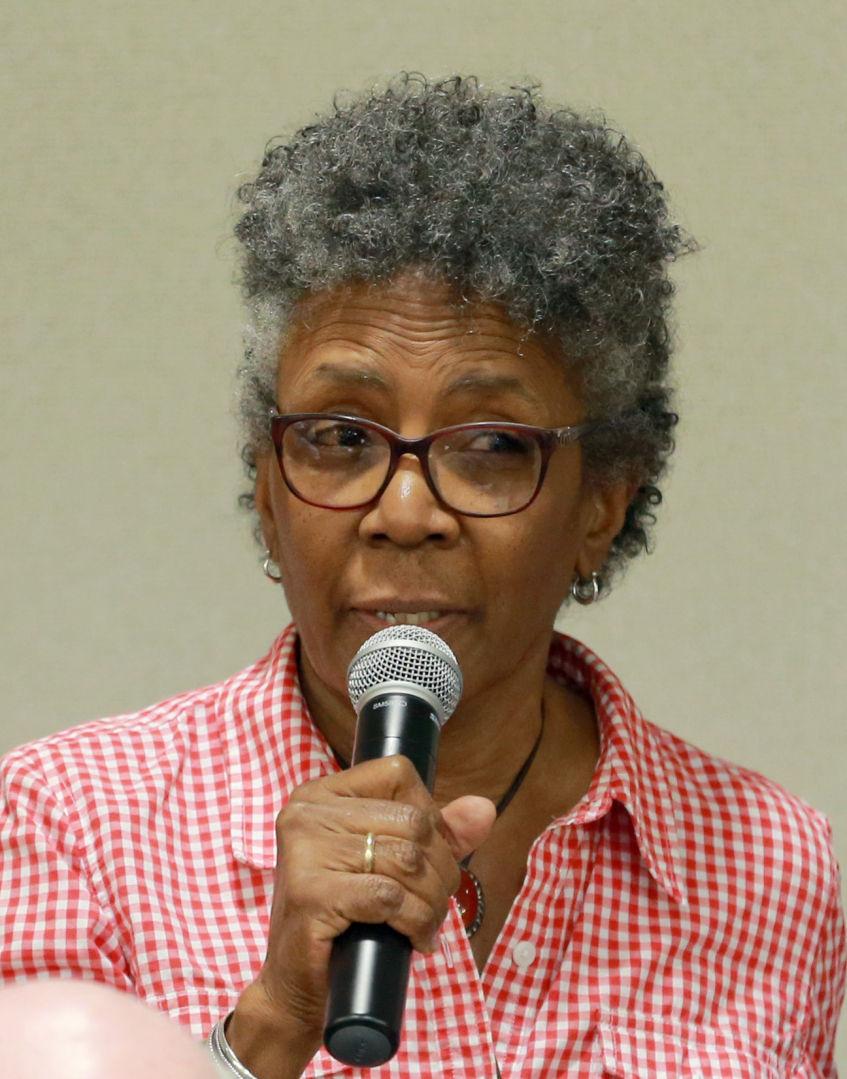 Winnie Westbrook, Richmond: I have lived in Richmond since '76. And I live in a neighborhood that is primarily white. I think that I want to say this as succinctly as I can. And it comes first from what my pastor has said: that you can put perfume on a pig. You can put flowers on a pig. You can put bows and ribbons on a pig. But the bottom line is that it's still a pig. And the pig, for me, is fear. And fear of race, fear of poverty and fear of felons. Moving into your neighborhood. And my question is to Michael (Herring). There is this "ban the box," which I think is good legislation. How do we get folks beyond the pig of fear, poverty and the felons? To just say, "I'm going to take a chance. I'm going to take a chance, or I'm not fearful. I can hire this person." That would certainly have an impact on education. That would certainly have an impact on housing. ...
Michael Herring: The point of "ban the box" and similar initiatives is to ensure against discrimination of felons. In other words, to make sure that a person gets a look, notwithstanding a felony conviction. And I think that makes sense, to be honest. But as you have no doubt figured out with me, I don't have many simple answers. And so, far be it for me to impose my value judgment on another agency or institution. I will hire felons in the Commonwealth's Attorney Office, but I know prosecutors around the state who won't. And I can understand why they aren't comfortable doing it.
Culturally, Virginians — and I think Americans — have a misinformed view of felons. We tend to think a felon is a felon is a felon. And that is not the case. So when we come back, or when you all begin to — when you're ready for a real, substantive conversation about your justice system, and more importantly the impact of felonization, I think that's a better time to take up the question of how we overcome the fear, or live with felons.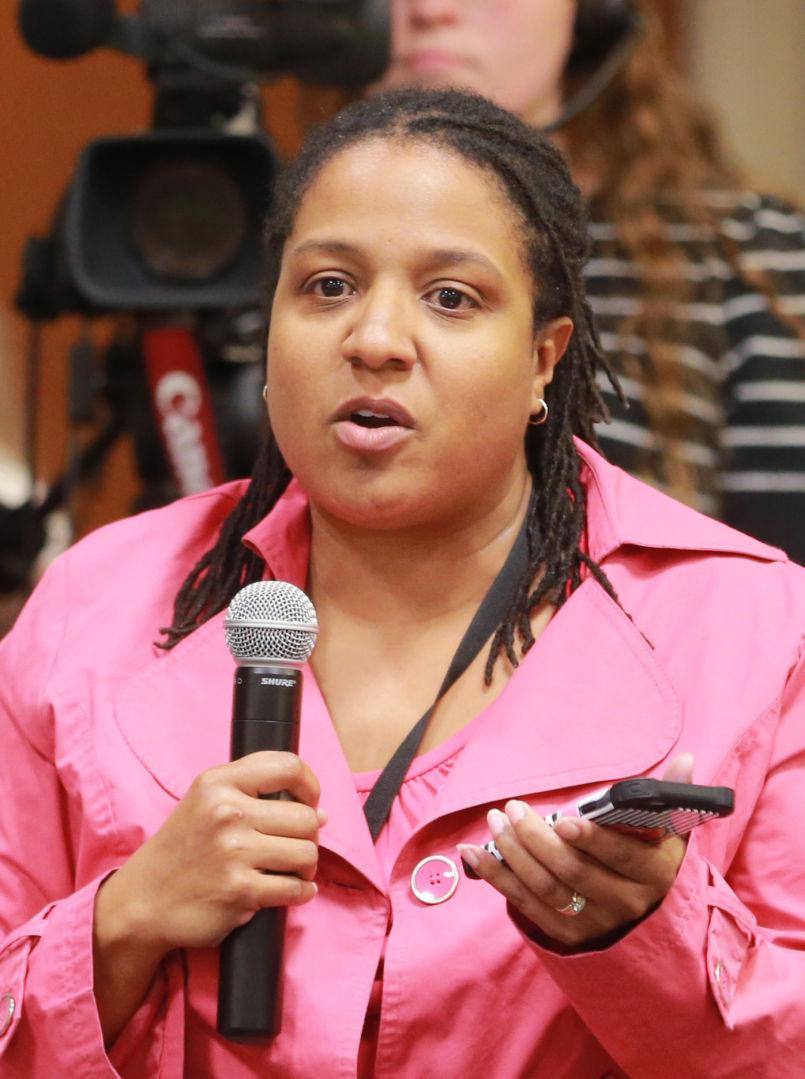 Nichele Carver, Henrico: ... I live in Eastern Henrico, in the Varina area. And I'm in a middle-class suburb that's predominantly African-American. In fact, there's only one family that's not, out of the 300 homes. ... I heard on NPR that just by virtue of my neighborhood being predominantly African-American, our home values are lower. So the same size home in Glen Allen is worth more than my home. My question is: What can we do on a community level, to try to make these assessments more equal, or fair?
Heather Crislip: It's very complicated. The main thing I can do is just confirm that. And I think it's a legacy of inferior financing, and fear. And fear of property values going down. It's very complicated. I think better integration would make a big difference. I think greater awareness of that fact would make a big difference. I think — yeah, we need to change it, and it's true.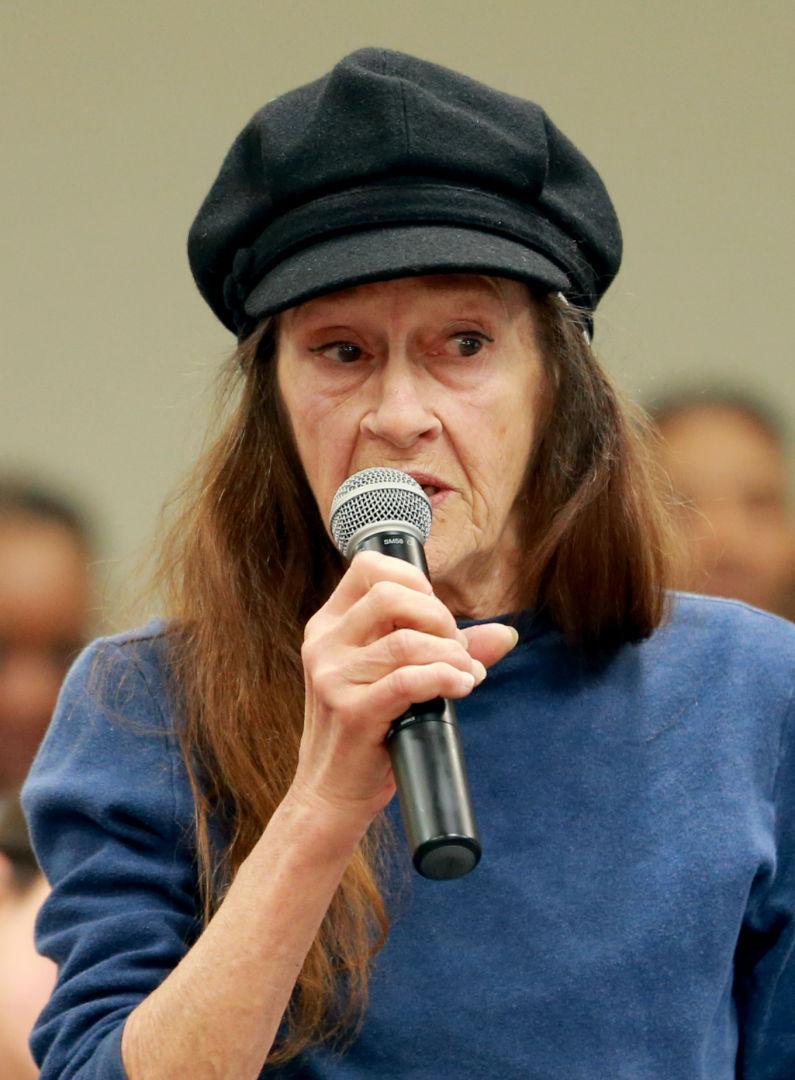 Mary Atkins, Richmond: I'm a citizen of Richmond as long as I can hold out financially. I'd like to see something addressed more about the powers that be helping people keep their homes, instead of rolling out the red carpet for people to shove them out. Anyone who thinks gentrification is a pleasant thing hasn't experienced it from the inside out. In six years, my house — I moved into cutesy-town, aka Carytown, because it was a mixed neighborhood. And it was beautiful. A working-class neighborhood. Now, it's an open air strip mall. I mean, plastic. The neighbors are not. Why are flip sale artists even — why is that even allowed? I mean, 500 percent in six years. I never had a credit card in my 70 years. I never took out a loan, I never bought anything on time. Now, I'm on welfare. I don't think I can stay in this city. I can see why everybody's leaving it. I want my neighbors back. Even the druggies and the shooters are better than what is coming in around me, with their noses stuck up in the air, acting like I'm something that they ought to scrape off their feet. And I'm sorry to be so direct, but it's painful to be on the wrong side of gentrification. And I think the government needs to address that. ...
Crislip: I'm so grateful for everyone for coming out and having a passionate conversation about this. I think it needs to be the start of many more. And about purposefully, how we develop housing, and how we pay attention to how housing patterns underlie our education system, what happens with crime. And how if we make great decisions about housing and where we put it, and what opportunities we give people, we can have the best possible region.