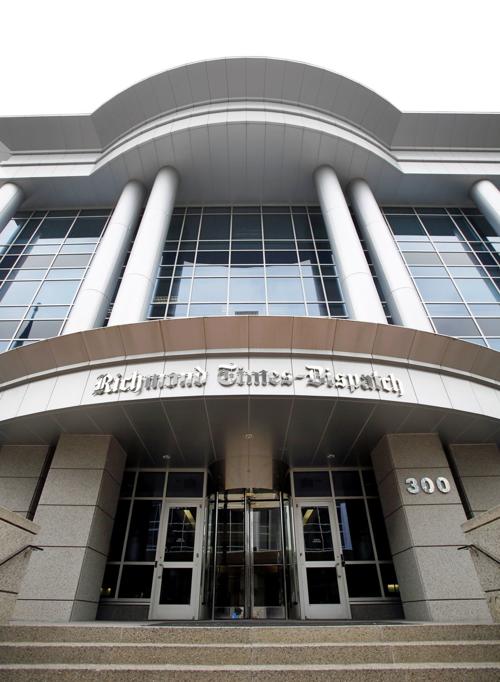 You can't make everyone happy. And if you get criticism from all directions, you know you're doing something right.
But our job here at the Richmond Times-Dispatch isn't to please or anger readers. Our job — to paraphrase former Executive Editor Bill Millsaps — is to find out the truth and put it in the paper.
To maintain the public's trust, we must approach our reporting without agenda or politics. There's a narrative that all media organizations allow their own personal biases to color their news coverage. But we trust our readers not to lump quality local news organizations like The Times-Dispatch in with the shrill, partisan ramblings of cable network "news."
For this newsroom, covering the daily protests in Richmond following the death of George Floyd, Breonna Taylor, Tony McDade and many others has been uniquely challenging. Colleagues who have been in the business for longer than some of our reporters have been alive talk about how they've never seen anything like the daily unrest we've witnessed in Richmond. And each and every one of them has worked tirelessly to cover it with integrity, passion and impartiality.
Out of our protest coverage, voices have emerged that don't usually appear in our coverage, and they're speaking loudly. It's time we hear from them — and listen to them — just as we do for those in positions of power and influence.
But as hard as we try to provide thorough, balanced coverage every day, we still manage to attract criticism from some of our readers, especially with the emergence of these long-ignored voices. We want to address some of that.
The Times-Dispatch for decades had a reputation as being a conservative publication, with an editorial board that, among other things, supported Massive Resistance. We have since apologized for our role in promoting that repugnant policy.
Today, our Opinions pages include more diverse perspectives. The paper has supported same-sex marriage, and more recently, our publisher wrote a front-page column stating we believe Black Lives Matter.
Words and apologies only go so far. Action is what speaks the loudest. We can't just talk about it — we need to be about it.
We need to be about inclusive coverage and diversity. We need to be about better reflecting those who read us on our various platforms. We need to make sure those who are reading us see themselves in our coverage and content. And we are committed to that. We want our coverage to truly and accurately reflect the community we serve — all of our communities.
Like our community and society in general, we're changing. We are changing not only outside the newsroom, but inside it as well. And change is not only good, it's necessary.
Our role is to report on that change, to chronicle what's happening in our community — and inside our building — by reflecting it back to itself. Every one of our journalists takes this seriously. It's not just our job, it's our mission.
And the Richmond community, where the city's past in many ways has shaped its present, arguably has never seen as much change as it has in these first six months of 2020. If we thought the COVID-19 pandemic would singularly define a seismic shift in our culture this year, we were wrong.
Richmond is changing. It's visible as you drive Broad Street downtown or Monument Avenue. But the change is also bubbling below the surface, and we at the RTD strive to capture that each day with stories, photos, videos and more. By way of background, the news editors start each day with a meeting at 9 a.m. to look ahead to the events we know about. We can plan, and we try to plan the best we can.
But it's the events we don't know about until late in the news cycle that make our jobs even more like walking a tightrope each day.
Much of the significant news — police clashes with protesters, statues coming down across the city — has happened at the end of our print news cycle. We have reporters and photographers dedicated to documenting the daily protests, but they can only see so much, write so quickly and capture so many images on deadline.
So we don't go to sleep when the daily paper goes to bed. Our news team is up until the early morning hours updating our website with the latest news. And then we're back at it an hour or two later.
We rely on our team of editors to have honest discussions about what we cover and what stories and photos go on the front page each day. We consider everyone's thoughts on what to prioritize, and we often shift those stories depending on how the news unfolds. But our story selection process is thorough and inclusive.
We also have made a conscious effort in recent years to diversify our news team to ensure our coverage is more reflective of the greater Richmond community. We've made some strides, but we still have a long way to go.
The makeup of our current newsroom staff, including its leadership, does not reflect the diversity in our community, but that's something we are committed to addressing. And the leadership team of the RTD is having regular conversations about how we can improve the diversity of our entire staff.
Some readers have written to us over the past few weeks to criticize our news coverage of the protests, saying we're "anti-police" and pushing the protesters' narrative, or that we're "anti-protesters" and siding with law enforcement. We are here to tell you that we approach each day's coverage without fear or bias. We report what we see and learn, and we publish it in the paper and on our website.
Criticism of our coverage is not limited to local news, though. Over the past couple of years, we have had to guard against national and international news that sometimes includes loaded language that borders on editorializing. Please know that our goal is for all of our news coverage to be just that: Just the news.
The Opinions pages are where our opinions live. More than a year ago, we made the decision to move our local columnists Michael Paul Williams and Jeff Schapiro to the Opinions pages. There had long been confusion among readers about why opinion and news "played in the same space" in the print paper, and that change helped clearly define the two. We occasionally run Williams or Schapiro's column on A1 or with news coverage when they're writing off live events. But by and large, they appear in the Opinions section.
And they appear there alongside a diverse stable of op-ed contributors and regular columnists, including Deputy Opinions Editor Robin Beres. The addition of her voice adds another perspective to our Opinions pages.
And, of course, we publish Letters to the Editor each day. We don't shy away from printing letters that challenge our reporting. That also is part of our charge — to hold up the mirror to ourselves, just as we do to those in power. Accountability isn't a one-way street.
Here in the newsroom, we're naturally cynical people. We ask a lot of questions, and we question everything. So when you ask us questions or offer criticism of our work, we can take it. And we read all of your letters and emails, and we listen to your voicemails — and we take the time to talk to you. Keep that coming. Your questions often lead us to stories we hadn't considered, and they force us to be introspective about our work. That's your job, your role — your charge. And we accept that.
We need to hear from you. And now more than ever, we need your support.
If you're reading this and you are a subscriber to our print or digital products, thank you.
If you're reading this and you value quality local news coverage and want to support community journalism, thank you — and please act now and subscribe.
Paige Mudd is the executive editor of the Richmond Times-Dispatch. Contact her at: pmudd@timesdispatch.com or
(804) 649-6671
Mike Szvetitz is the managing editor of the Richmond Times-Dispatch. Contact him at: mszvetitz@timesdispatch.com or (804) 649-6456