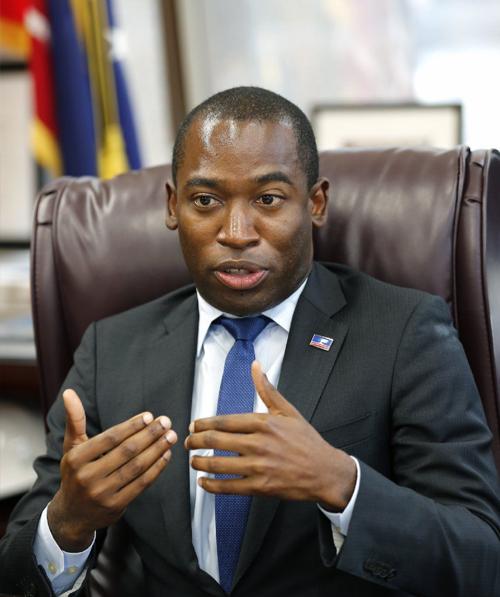 Nobody in his or her right mind would deny the need to repair some of Richmond's aging schools, whose deplorable conditions have been richly documented in this newspaper and elsewhere. But Mayor Levar Stoney's proposed answer — hiking the city's already-high meals tax to pay for it — is not the way to go.
To see why, just look at the comparative annual reports for localities from the state's auditor of public accounts. The most recent one — for fiscal 2016 — shows that Richmond city government is not nearly so lean as it should be.
Example: Richmond spends $381.80 per capita on general government administration — or more than twice the statewide average for cities in Virginia. Norfolk spends only $115.78 per capita; Newport News, $141.39 per capita; and Virginia Beach, $148.80 per capita.
Example: Richmond spends $822 per capita on public safety. The state average is $680. Of course, Richmond needs to spend more than, say, Lexington ($441 per capita). But it also outpaces Norfolk ($647), Newport News ($721), and Virginia Beach ($464).
Example: health and welfare. Richmond spends $823 per capita in this category, which is (again) almost twice the state average, and more than Norfolk ($335 per capita), Newport News ($416), and Virginia Beach ($275).
By contrast, Richmond spends $1,511 per capita on education — less than the state average ($1,666), less than Newport News ($1,784), and less than Virginia Beach ($1,693) — but more than Norfolk ($1,489).
Stoney deserves immense credit for ordering a top-to-bottom review of city operations soon after he took office. In department after department it found inefficiency, low morale, poor communication, "immobilizing" bureaucracy, micromanagement, declining citizen satisfaction in city government, unclear or entirely absent procedures, and much more. But while he might have begun to address some of those problems, they are by no means resolved. Before raising taxes, they should be.
Raising the meals tax from 6 percent to 7.5 percent would scrounge up about $9 million a year (which, to be fair, would help leverage tens of millions more in borrowing capacity). Given the amounts Richmond spends on government operations, and the rampant waste and mismanagement in City Hall, it defies reason to conclude that the administration could not find $9 million worth of efficiencies instead — especially if the city further consolidates by closing some schools and rezoning their students elsewhere.
Consolidation is needed with or without a tax hike: Richmond has thousands of empty seats, and fewer students per school building (568) than Chesterfield (984), Hanover (782), Henrico (768), or any of the localities mentioned above.
Bottom line: The city can easily come up with $9 million a year — and probably much more — without further squeezing its restaurant owners or customers. And it should.