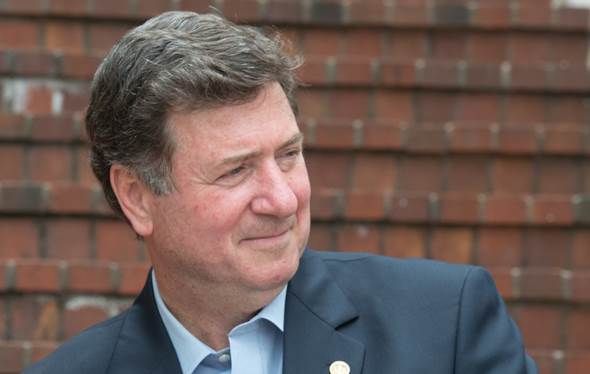 A clear message from last month's elections is that Americans are anxious about the economy. In fact, a look at the Virginia exit polls shows that the economy was the leading issue among half of all voters.
Members of Congress are now deliberating legislation on funding for the rest of the fiscal year — through September 2015 — that has the potential to boost economic growth. As they do, it will be important for them to view investments in international engagement as a way to promote our economic interests around the world and to create jobs at home.
As a longtime champion of Virginia's economy, I've seen firsthand how our economic fate is tied directly to actions and markets around the world.
That is why it is deeply troubling that funding for U.S. international affairs programs, which build a foundation for U.S. businesses to enter these markets, has declined 14 percent in the past four years, though they make up a mere 1 percent of the budget. One especially important program, the Export-Import Bank, has only been reauthorized until June 2015. The Export-Import Bank and Overseas Private Investment Corporation provide some of the best platforms for American entrepreneurs and businesses to thrive selling products or services overseas.
America's prosperity, and our jobs, are hyper-connected to the ripples and waves of the global market. Many Virginians are well-aware of this connectivity. With the Port of Virginia in Hampton Roads being the third-busiest port on the East Coast, Virginia-based companies continue to make substantial sales and profits by exporting around the world. Last year alone, Virginia manufacturers sold more than $18 billion in goods and services, and trade supported more than 1 million jobs in our commonwealth.
Since 95 percent of the world's population and potential customers live outside of the United States, our access to overseas markets is crucial to the future potential of our economy. The fastest-growing markets around the globe, however, are not our traditional trading partners. Surprisingly to some, it is the developing world where more than half of America's exports already go.
Consider the Export-Import (Ex-Im) Bank. As the official export credit agency of the United States, the Ex-Im Bank assists in financing the export of U.S. goods and services to international markets by assuming credit and country risks in order to level the international playing field, especially for small businesses. In Virginia, 96 companies in 59 communities have utilized this self-funded bank, which is used only when private banks are unable to provide the services. If Congress fails to act responsibly with a long-term reauthorization, then employees of Virginia exporters who use the bank — like Optical Cable Corp. of Roanoke, Bristol Compressors and others — may lose future opportunities in overseas markets.
Gatekeeper Inc., a small company based in Sterling was able to create local jobs and expand its initial customer base to seven additional countries with the help of a $750,000 letter of credit insurance from Ex-Im Bank. Gatekeeper is actively involved in preventing global terror through its under-vehicle inspection technologies and remote-access products used to screen vehicles from a distance.
These are just some of many examples that tangibly demonstrate how investments in international affairs programs yield tremendous dividends for U.S. interests on the world stage, including right here at home. They also make America — and Virginia specifically — stronger through enhanced trade opportunities and greater intellectual capacity to drive our future prosperity. Furthermore, these programs build relationships that enhance U.S. standing throughout the world and solidify our position as a competitive global economic powerhouse.
I was pleased recently to address knowledgeable business, veteran and civic leaders at an event organized by the U.S. Global Leadership Coalition that focused on these matters. Held at the Virginia War Memorial, the interactive meeting focused on the importance of our country's international affairs efforts to our well-being here at home. Nobody knows that better than this group did — and they wanted to make sure Washington knew it, too.
As Congress hammers out a budget for next year and hopefully keeps its promises to focus on jobs and the economy, there are many tough choices to be made to get our nation's fiscal house in order. It will take true informed leadership to make long-term decisions that promote economic growth and help to secure our future. Now is not the time to retreat from the challenges and opportunities we face around the world. An engaged America provides a more prosperous, free and safe future for us and our children.
George Allen served as Virginia's governor from 1994-98 and in the U.S. Senate from 2001-07. He is a National Advisory Council member of the U.S. Global Leadership Coalition.