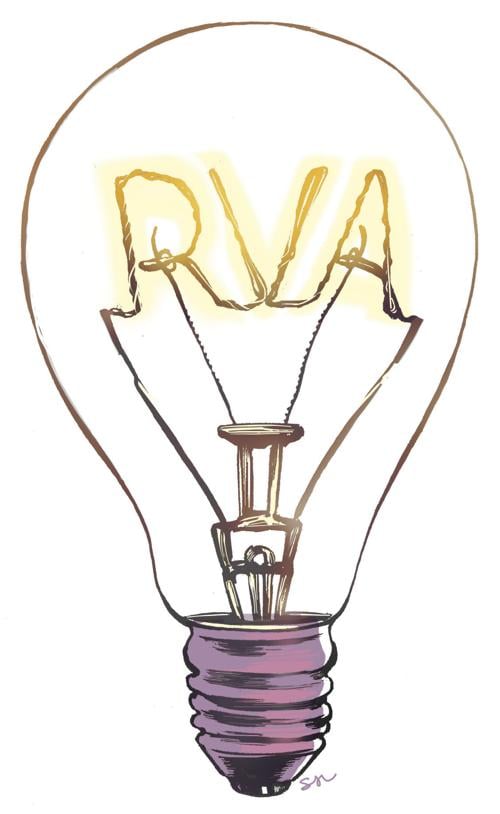 Editor's note: This column was a joint effort by Dr. Joseph P. Casey, county administrator for Chesterfield; Cecil R. "Rhu" Harris Jr., county administrator for Hanover; John Vithoulkas, county manager for Henrico; and Selena Cuffee-Glenn, chief administrative officer for the city of Richmond.
In team sports, it's about working together. You don't want to just play the game well, you want to win. And you want to not just win the game, but instead win the tournament title. Regionalism is no different. For years, there has been talk about how localities should work more together.
But we do already. As local governments, Chesterfield, Hanover, Henrico, and Richmond work together in more than 100 ways to keep the public safe, create jobs, enhance education, promote visitation, and contribute to your quality of life.
While sports teams focus on playing their one sport and honing the players' skills, local governments can't choose to provide only one service. We must work together to provide a vast array of services. Because it's your local government that is responsible for educating your children. It's your local government that makes sure your water is clean. It's your local government that responds to your home or business in an emergency. It's your local government that works to provide and enhance the roads you drive on daily.
Regionalism cannot be defined in simplistic terms by explaining one project or issue. It's everyday decisions that local governments make that impact your life. Whether it's providing water, maintaining highly trained public-safety teams, or offering a variety of health and other community programs, it's this regional approach that receives little attention.
It's our working together to provide these core services that makes it possible for the region to thrive.
And thrive it does, based upon the growing economy of diverse jobs. It is a destination for those who want to work, live, play, or learn here — or stay here as they transition to adulthood or retirement.
High-quality education is a hallmark of any region that defines itself as a desirable place to live and raise a family. The region exceeds this standard because of the joint efforts among localities, businesses, and educational institutions.
There is regional collaboration with the Governor's School, community colleges, and local universities. Our school superintendents share strategies to help children maximize their potential. One current regional effort is the establishment of a Junior Achievement Finance Park that seeks to provide financial literacy to your children, using real-world scenarios.
Generally, around 75 percent of our funding is for schools and public safety. As a region, we are focused on these two functions.
With public safety in mind for you and your family, it is now necessary to replace an aging emergency communications system. We are in the process of overhauling our current systems to improve radio communications for emergency responders with one regional system. We are investing more than $150 million. This partnership is an extension of what routinely occurs in our ongoing public safety efforts to be ready, as a region, for a major incident.
During high call volumes, when responsiveness goals are constrained, or during large-scale emergencies, each fire-EMS department assists other localities by deploying personnel. This mutual aid is provided seamlessly because we hold joint training exercises to be able to better respond when needed.
Recently, mutual aid was provided to fight the fire at the Richmond Yacht Basin, a major house fire in Rockville, and a fire at the Tobacco Company restaurant in Richmond. It was the teamwork between several localities that prevented these fires from becoming worse.
With mutual aid a routine occurrence, we also engage in other long-term regional agreements. Regional water agreements and partnerships are key to providing quality and efficient water and sewer services to your household. Nature and topography has blessed this region with water sources. Our local utility engineers have designed our systems efficiently to share our resources and capabilities based upon common-sense engineering.
Another core service we work on together is transportation. Regional processes help build roads linking localities and people to their jobs and other activities — and create the potential for economic development.
The support of one another's major road projects is what has led to an effective road network. With more than 1.2 million people living in central Virginia, it is imperative we have a coordinated approach to transportation in all its forms and an ability to work out agreements for continued economic growth.
Economic development is a highly competitive team sport for which we compete against the world. On our regional team, we all celebrate when one of us gets a win — large or small. Each business — whether it's a stalwart that has been in the community for half a century or a new multi-million-dollar development — adds credibility to our region and enables us to win at a high rate.
Through the Greater Richmond Partnership, we try to recruit the best business opportunities by promoting the region's strengths. Once a business shows interest in the region, we illustrate each of our localities' strengths for the prospect to make an informed decision.
We also work together to highlight each locality's points of interest through Richmond Region Tourism, which works to attract visitors to the area and promotes what the region offers. This includes working with the Greater Richmond Convention Center Authority to promote the area as a location for business conferences and events.
Part of working together as a region is being willing to learn from our peers, collaborating when challenges arise, and working to stay strong financially.
We know there are many challenges facing local governments that cannot be solved within our own boundaries. We understand by working together, our localities are stronger and can successfully address issues that confront the entire region.
The Capital Region Collaborative (CRC) is the most recent partnership of our local governments, businesses, and community stakeholders facilitating a regional perspective.
The CRC indicators project measures progress against our peer regions within our priority areas, which include education, jobs, health, social stability, transportation, and quality of the area. The region continues to rank well in each measure against our peers.
We are currently collaborating with the CRC to better illustrate the many ways we work together and the manners in which we benefit from the role citizens provide through their volunteer and engaged efforts.
This past spring we traveled as a group to Pittsburgh, a much larger region, as part of Chamber RVA's intercity visit to learn about Pittsburgh's successes.
During this trip, as with other intercity visits, we came away with ideas. However, many peer regions have invested in certain assets, often incurring much higher levels of debt burdens than the levels that exist in our region.
For example, in Pittsburgh, up to 17 cents of every dollar is allocated to debt service compared to our much lower thresholds, which are generally about 5 cents. This low debt service enables us to invest more of our budgets in public safety and schools and keeps the tax burden low.
Your counties have triple-A bond ratings and Richmond is on a path towards AAA, with its recent AA+ rating and a AAA factor assessment from Fitch Ratings. Collectively, there appear to be only two other regions in the United States with a greater number of localities with AAA ratings.
These ratings show our commitment to being good stewards of your tax dollars. Therefore, as administrators appointed by your locally elected officials, when a new idea arises, we must ask: What is the return on investment for citizens, have other funding sources been examined, is there support for this project, and is there a regional benefit?
If the answers are yes, then often the team comes together with a successful result. Often we are presented with good ideas that aren't funded because of the need to provide core services at current funding levels. Every dollar we spend on a new idea invariably is one less towards your core services.
Moving forward, we are committed to working together and making the region competitive and a desirable place to live. As residents of this region, we thank you for all you do to contribute to your community.
After all, we're all on the same team.
Part of working together as a region is being willing to learn from our peers, collaborating when challenges arise, and working to stay strong financially.