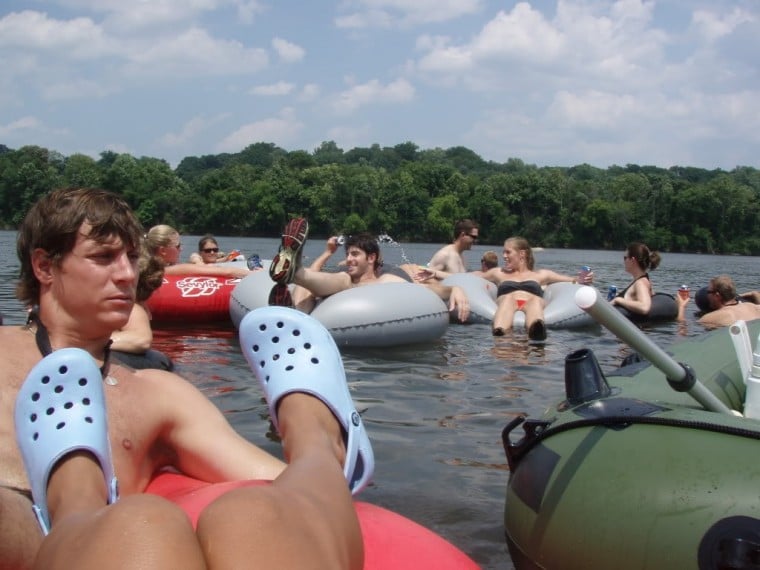 You know it's a great day for tubing on the river when the line for air compressors at service stations on Forest Hill Avenue and Hawthorn Road are backed up.
The James River is beautiful and the scenery is great, but most people who go tubing are there for the party.
Most people start a good day of inner tubing down the James at Pony Pasture Rapids Park with the expectations of getting out of the river in downtown Richmond at Belle Isle or Brown's Island, depending on the river levels.
The run from Pony Pasture starts with a quick set of rapids and shallow water that will help you determine what adjustments to make to ensure you don't lose anything. There are no public accesses for at least a mile down river and once you get to the Powhite Parkway Bridge, one of the Class II rapids you'll bump through for the next mile is bound to get you.
Most trips from there to points downtown should take between two to six hours. Slow at the lowest levels (three feet and lower) and much faster if the river is up. At five feet or higher, you'll need a life jacket.
If you don't think you can make it through white water in your tube, get out on a rock above the rapids and carry your equipment around. That's easy to do on the James, at least when the water is low and slow.
It's best to float in a group, at least when you're relaxing in flat water. As you head down white water, you might choose to go solo.
Inner tube: Securing a quality inner tube might be an obstacle for some people. You want a tube that is sturdy enough to take a beating on the granite boulders and can survive inevitable horseplay. The second worst way to ruin a trip is a tube that goes flat. The worst is drowning. Try an old truck or tractor tube (watch for pointy valves) or consider a rental. A popped inner tube counts as trash, don't leave them behind.
Sun protection: You'll likely be exposed to sunlight for hours on the trip. Consider wearing a hat, shirt, sunglasses and bring a waterproof sunscreen with a high SPF rating, and reapply it throughout the day.
Fluids: Alcohol is prohibited on the James, but if you brave the authorities, at least do yourself a favor and bring some other fluids to replenish and prevent dehydration. Keep track of your empties, no glass containers and always take out what you bring on the river.
Food: Four hours is a long time without food. There is no shortage of rocks to stop and snack.
Drybag: Someone should pack a cellphone and car keys.
Footwear: Barefoot is a bad choice and flip-flops are no good as they will fall off in the first big rapid you hit and certainly will not provide protection from random surprise rocks. Forget fashion and just go for safety and fun. Try aqua socks, sandals you can strap to your foot or old shoes that you don't mind getting wet.
Getting On & Off the River
One of the best ways I heard to tube safely and efficiently is to park your vehicle downtown at your take out, ride a GRTC bus to Stratford Hills and get out at the Hawthorn Road stop. Carry your empty tube on the bus and fill it at one of the service stations before heading down the neighborhood roads to Pony Pasture or The Wetlands. Instead of walking downhill with your gear, have a second vehicle there to shuttle the people and goods downhill. The good thing is that a vehicle is waiting when you get out of the river and you can go home.
How about the fitness program -- a duathalon of sorts? That's where you park at Pony Pasture and hop in the river with the expectation that you'll get out wherever you can and just walk back. That could be a three or four mile hike but it may give your group time to sober by the time you get back to Pony Pasture. I heard that plan from a group of 12, and not one of them had footwear more sophisticated than sandals.
The solution from a one group that lives in Oregon Hill and drove to Pony Pasture was to get off the river at Belle Isle and walk up the hill at Tredegar Iron Works to get home. They planned to carpool back to Pony Pasture to get their vehicles -- once they sobered up a little.