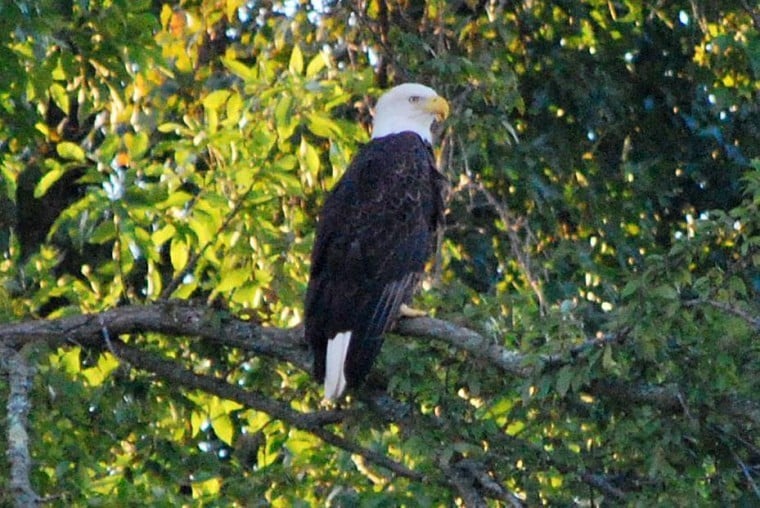 Boating the James River at sunrise on a brisk and foggy early fall morning, we discovered a unique and inspiring water trip and a huge lesson in nature from bald eagles.
The weather was fantastic and the conditions were perfect for photo opportunities, which were constant and plentiful. Nature-loving guide Mike Ostrander takes riders out on two-hour wildlife adventure tours through Discover the James, which launch from Deep Bottom Park in eastern Henrico County. In addition to bald eagle tours, he offers fishing trips, Civil War and other history tours by water, private tours and many others.
During our tour we covered a 5-mile stretch of the tidal James River between Deep Bottom and Dutch Gap in the area of the Varina-Enon bridge that Ostrander calls Jefferson's Reach, named after his friend and fellow river advocate Danny Jefferson, who died in December 2010.
We saw seven out of the expected 10 resident bald eagles nesting in that stretch of the James, according to Ostrander's monitoring. The eagles nest in pairs and are often easy to spot, perched high in the trees along the river banks.
"Eagles are territorial and they know their boundaries," he said. There is less development in this area of the James, and there are slower channels of water in areas, which provide better and safer hunting grounds.
Bald eagles are scavengers and spend most of their time waiting for their next meal. Ostrander often brings along some gizzard shad he caught to toss out for the eagles to snatch up and eat. He has allowed people on the tours to name the eagles and refers to each of them by name.
"I think they've got me trained," he said about the eagles swooping down to get the fish. We got up close to a female he called "Bandit" which had perched about halfway up a tree, lower than usual at about 40 feet above the river. We were able to drift up under the branches to where the boat was under the bald eagle.
We were so close, I joked with Ostrander asking how rare would it be to be pooped on by a bald eagle and he said "I'm blown away by what just happened. To be that up close to an eagle is such an honor...It would be worth it if that happened."
Bald eagles are no longer on the Endangered Species list, but they are heavily protected. So protected that when one of the eagles dropped feathers, Ostrander picked them up, let us make a wish and tossed them back in the water to be on the safe side and avoid any chance of a fine. 
Another rare moment occurred on the trip as we spotted some Atlantic sturgeon jumping out of the James under the Varina-Enon bridge. We sat watching with cameras at the ready to catch a breech and I got lucky enough to catch one, though at a distance (see photo above). Sturgeon are rare and were designated an endangered species in April.
"You have to be totally dialed in to the river to see that," Ostrander said of the huge fish jumping out of the water. "Go to be at the right place at the right time. With all the trying, I've never had anyone get a picture or video of a sturgeon." We saw about eight breeches in five minutes, but only caught one on camera.
If bald eagles aren't a big enough attraction, on a tour you could see osprey, red tail hawks, egret, great blue heron, loon, king fisher, deer otter and if you are lucky (like we were), maybe Atlantic sturgeon.
Ostrander has supported many ecological and river-related conservation efforts for years. He was awarded a River Hero Award by the Friends of the James River Park in 2011. He has helped educate children and adults and has studied the history and ecology of the James River for years.
Tours are offered (weather-permitting) most Thursdays-Sundays at 7 a.m. and 9:30 a.m. year-round and cost $45 per rider. Space on the tours are limited, reserve your spot by calling 804-938-2350 or email Mike@DiscoverTheJames.com.