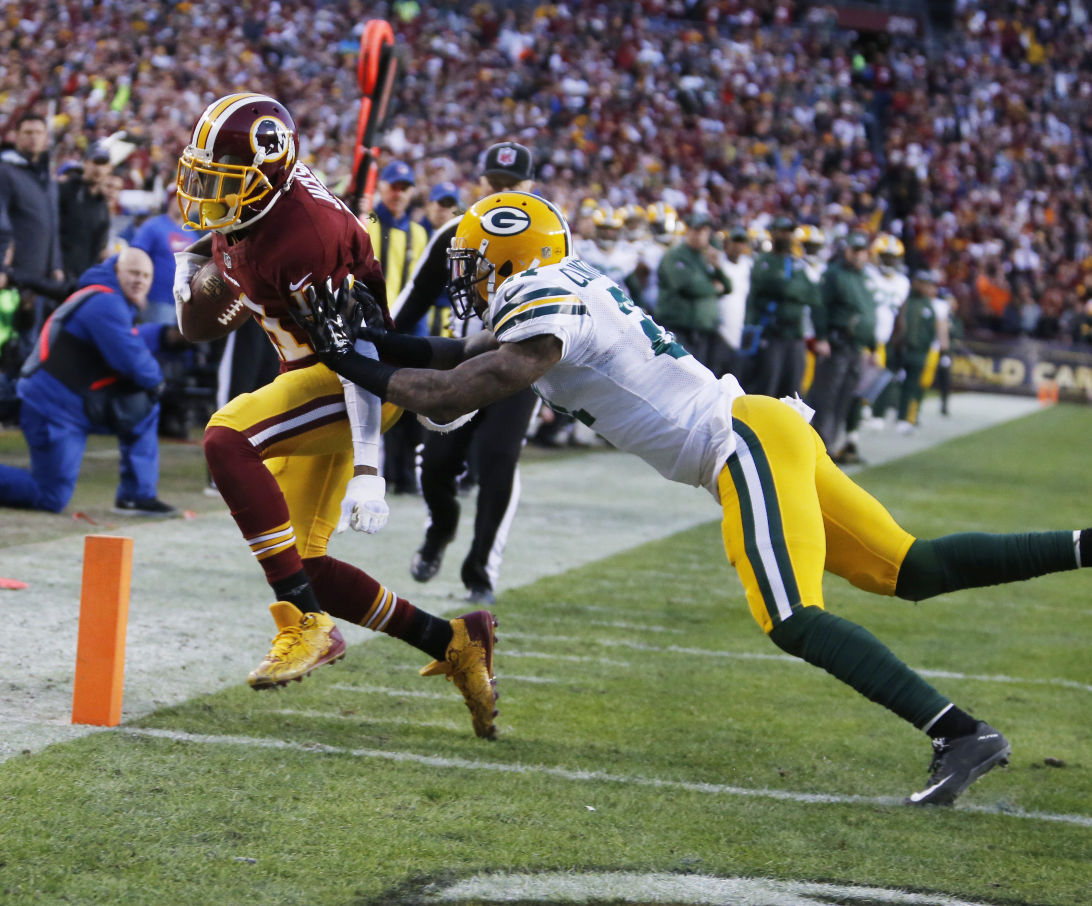 ASHBURN — The Washington Redskins began game-week preparations Monday for the first time since last year's playoff loss to the Green Bay Packers.
After a 9-7 regular season during which Washington did not beat a team with a winning record, the Packers loss exposed a number of holes in the Redskins' roster, ones general manager Scot McCloughan spent the offseason vowing to fix.
McCloughan watched the playoff game from a box at FedEx Field alongside injured pass rusher Junior Galette. Galette said McCloughan lamented the lack of a pass rush late in the game, which could have turned the tide.
Packers quarterback Aaron Rodgers was contained well into the second quarter, but found his stride, and Green Bay delivered the back breaker in the second half when Eddie Lacy ran uncontained through the Redskins' defense.
Now, nine months and two days after that loss, the Redskins again will face a quality opponent, this time hoping they've patched some of those holes.
"We learned a lot," coach Jay Gruden said of the playoff loss. "We learned that we didn't quite play our best game at a crucial time, and it's something we have to try to grow into. We have to mature and get better and better at certain spots, and they were the better team at that time.
"Our goal is to make sure we continue to get better, so when that opportunity comes again, we're ready for it, we take full advantage of it."
The defensive line has been overhauled, with Terrance Knighton, Jason Hatcher, Frank Kearse and Stephen Paea all gone.
However, the pass rush remains a work-in-progress. Galette was supposed to contribute, but tore his other Achilles the week before training camp and will again miss the season (he still has a locker at Redskins Park and is a part of the team).
Ryan Kerrigan seems like a sure thing, with second-year outside linebacker Preston Smith also flashing promise in the preseason.
Beyond those two, though, it remains to be seen whether the Redskins have another player who can reliably rush the passer, whether it's Chris Baker, undrafted rookie Anthony Lanier or somebody else.
On offense, the Redskins' passing attack had no issues, especially in the second half of the season.
Washington has built on that, but the run game, which was 30th in the league last year in yards per attempt (3.7), isn't necessarily in a better spot.
Alfred Morris has left, but in his place is a collection of young players who are unproven at the NFL level, notwithstanding a pair of quality efforts from Matt Jones to start the 2015 season.
Those question marks linger, as the Redskins soon find out if they did enough to push themselves past last year's playoff loss, something Gruden said has stuck with him since the game.
"We're all sick about still," he said. "If you're a competitor and you lose at home in the playoffs, it's something that you'll never forget, and, hopefully, all our guys feel the same way as I do. Moving forward, it's a great motivation for us."
(804) 649-6546
@michaelpRTD