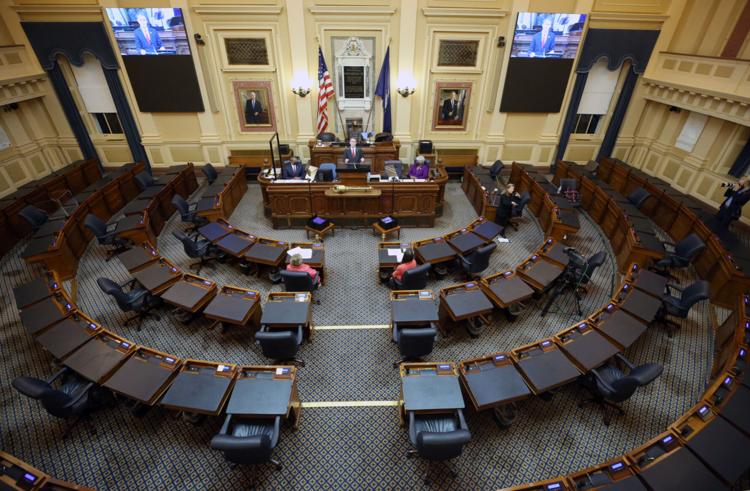 Split screen
On the day that the U.S. House of Representatives made Donald Trump the first president impeached twice, Virginia legislators convened for another General Assembly session haunted by COVID-19. Gov. Ralph Northam delivered a virtual State of the Commonwealth address in an empty House chamber.
Mel Leonor reports that Northam acknowledged a season of hardship, but urged Virginians to look forward. The governor paid somber tribute to the 5,000 Virginians who have died as a result of the coronavirus - including Sen. Ben Chafin, R-Russell - and to the two law enforcement officers who died after violent insurrectionists assaulted the U.S Capitol.
He also urged resiliency and pledged to speed delivery of vaccines, while promising help for Virginians facing evictions and for small businesses. 
Former House Speaker Kirk Cox, R-Colonial Heights, now a candidate for governor, said in the GOP response that the state's distribution of vaccines has been "extremely disappointing" and that Virginians have experienced significant delays in seeking unemployment benefits. READ MORE
Michael Martz reports that a week after a mob of Trump supporters assaulted the U.S. Capitol, Virginia's U.S. House delegation split along party lines in the impeachment vote, with the seven Democrats in favor and the four Republicans against. READ MORE
---
WHAT'S NEXT?
State Capitol closures: State officials say Capitol Square will close Thursday for at least a week as a precaution, Ali Rockett reports. READ MORE
Car rallies: With the state closing Capitol Square and denying permits for Lobby Day ahead of Joe Biden's inauguration, some groups will demonstrate by bringing car caravans to the state capital. A prison justice group plans a car rally Saturday to urge early releases of inmates due to COVID. The Virginia Citizens Defense League, a gun-rights group, says it will bring multiple car caravans to Richmond on Monday.
Vaccinations: On Monday metro Richmond moves into the next phase of vaccinations. 
---
WHAT WE'RE TALKING ABOUT
Marijuana: Mel Leonor reports that legal marijuana sales could start in less than two years under Northam's proposal, which would impose a 21% state tax on the drug. READ MORE
Schapiro: The politics columnist writes that the outside world is intruding on Virginia politics again. READ MORE
Capitol punishment: Mel Leonor and Michael Martz report that House Speaker Eileen Filler-Corn stripped key committee assignments from three GOP delegates who backed overturning election results. READ MORE
Raises: Michael Martz reports that Northam says improving revenues bode well for teacher raises. READ MORE
COVID: Sabrina Moreno reports that Virginia is approaching nearly a million COVID vaccines distributed, but has administered 24% of shots. READ MORE
---
A SPLIT-SCREEN HERO
Those of us of a certain age, particularly folks from the Washington area, vividly remember another split-screen news day 39 years ago today.
On the afternoon of Jan. 13, 1982, an Air Florida flight left what was then Washington National Airport in a snowstorm. The plane hit the 14th Street Bridge, struck six vehicles and wound up in the icy Potomac. Only five of the 79 people aboard survived. Four people in the vehicles suffered fatal injuries.
Later that same afternoon Washington's Metro subway system sustained its first fatal accident. Three passengers were killed when an Orange Line train derailed.
In that era before cellphones, our dad was among thousands of federal workers who streamed out of Washington early in the afternoon hoping to beat the bad weather home. To our family's relief, the inclement weather caused such a traffic tie-up that Dad and a carpooling friend pulled off and went to get a drink instead of snaking toward the bridge ahead of the plane crash.
Among the bystanders at the 14th Street Bridge that day was federal worker Lenny Skutnik, who dived into the icy river and saved the life of Priscilla Tirado, whose husband and young son were killed in the crash.
Days later President Ronald Reagan invited Skutnik to his State of the Union address. Reagan told the nation that "in the midst of a terrible tragedy on the Potomac we saw again the spirit of American heroism at its finest."
In this season of somber news  - and as more video emerges of valiant U.S. Capitol Police officers who tried to hold back the mob - it's good to remember the literal saving grace of everyday heroes.
---
IN OTHER NEWS
• Amy Friedenberger of The Roanoke Times reports that colleagues paid tribute to Sen. Ben Chafin, R-Russell, who died Jan. 1 of COVID-19. READ MORE 
• CNN reports that a rioter who stormed the U.S. Capitol while wearing a sweatshirt marked "Camp Auschwitz" was arrested Wednesday in Newport News. READ MORE
• Mike Allen of The Roanoke Times reports that federal authorities have charged two officers from the Rocky Mount Police Department who were inside the U.S. Capitol Jan. 6. READ MORE
• Henri Gendreau of The Roanoke Times reports that Virginia Tech will hold 6% of spring classes fully in-person, much as it did in the fall. READ MORE
• Kenya Hunter reports that three state senators want to require schools to open in person to receive state funds. READ MORE
• Frank Green reports that Northam-backed bills to abolish the death penalty were introduced in the House and the Senate. READ MORE
---
PHOTO OF THE DAY
---
QUOTE OF THE DAY
 "Tonight I say to every elected official in Virginia, you can be part of our democratic institutions, or you can use falsehoods to try to destroy them, but you can't do both. Words have consequences. Inflammatory rhetoric is dangerous. This is not a game."
---