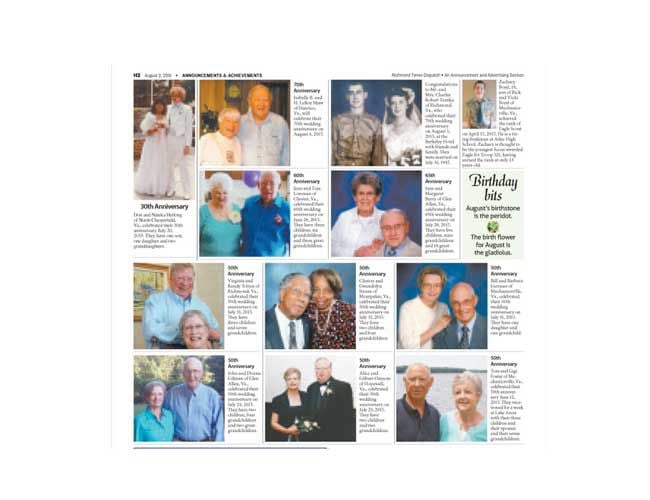 If you would like to place a paid announcement of a wedding anniversary in the Richmond Times-Dispatch, here are the steps to follow:
Go to Richmond.com/Contact-Us
Go to the section titled SEND US SOMETHING. Click on the milestone anniversary announcements link.
Complete the form on our site and attach any photos you wish to use. E-mailed photos should be at least 500KB at 200 DPI in resolution.
You may also mail information to 300 E. Franklin St., Richmond, VA 23219. Or you can deliver material to the front counter of our downtown office.
Special for RTD Subscribers: Milestone anniversary announcements for 50, 55, 60, 65 and 70 years will qualify for a free standard announcement of 2 column x 2.25" (measures 1.56" width x 2.2" length) with a photo and approximately 25 words. Must be an RTD subscriber to qualify. Private parties only.
For a larger announcement, subscribers receive a 50 percent discount.
For non-subscribers, standard announcements start at $109.
Our deadline is at noon, two Thursdays before the Sunday you want an announcement to appear in the newspaper.
If you'd like a photograph returned, please include a self-addressed stamped envelope with your submission.
Questions? Feel free to contact us at Richmond.com/Contact-Us or call (804) 649-6825. By the way, what's your secret to a long, happy marriage?