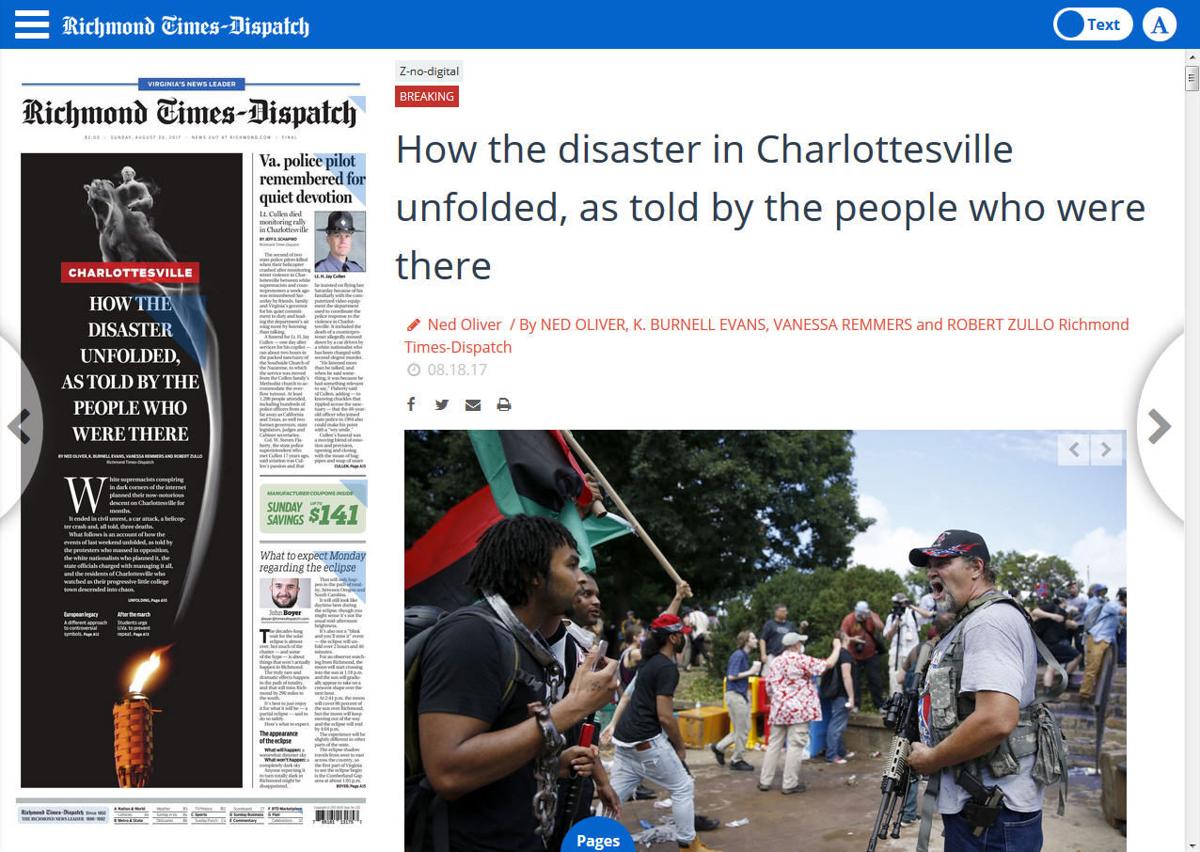 An electronic replica, or e-edition, of the Richmond Times-Dispatch is available to all digital subscribers.
To read the e-edition, use an Internet browser (e.g. Internet Explorer, Firefox, Safari, Google Chrome) to visit Richmond.com/Eedition. Subscribers must be logged in to the website to read the e-edition. (Click here to learn more about logging in to Richmond.com.)
From Richmond.com/Eedition, click on the front page of the edition you wish to read. The current day's edition displays in a large image. Previous days' front pages are pictured in smaller iamges below. Click on a page to launch the e-edition for that day.
Reading and navigating the e-edition
There are two modes for reading the e-edition
Page mode allows you to read the newspaper page just as it was printed. You can select the page from the thumbnail images under the Pages link at the bottom.
Text mode allows you to click on articles on the left and read them in a panel in the middle of the page. Since Text mode pulls articles from our website, the headlines often will include more description, and information in the article could be updated. There also are links to related stories.
To change modes, click on the toggle switch at the top.
To read each page in order, use the arrows on the sides of the page.
Navigate e-edition using the arrows on the side to browse in order or click the Pages button at the bottom to see the thumbnail images of pages.
To jump to a specific page, click the blue Pages button at the bottom of the screen and thumbnail images of each page display. Scroll through the pages by clicking and dragging right or left to get to the desired page. Click the page you want to read and it displays in the main section of the screen.
E-edition page thumbnails display when you click the blue Pages button. Click and drag right and left to scroll through the day's pages.
If you're using a desktop or laptop that does not have a touch screen, double click on the image in order to zoom on a photo or article.
If you're using a touch screen device, double-tap on your screen.
Click the A button in the upper right and choose from small, medium and large font sizes.
The three horizontal bars at the top left launch a menu.
Return to the Richmond.com main e-edition page
Choose a different day's edition to read
Download a single page or an entire edition for off-line reading
Search for a specific term
Sign out