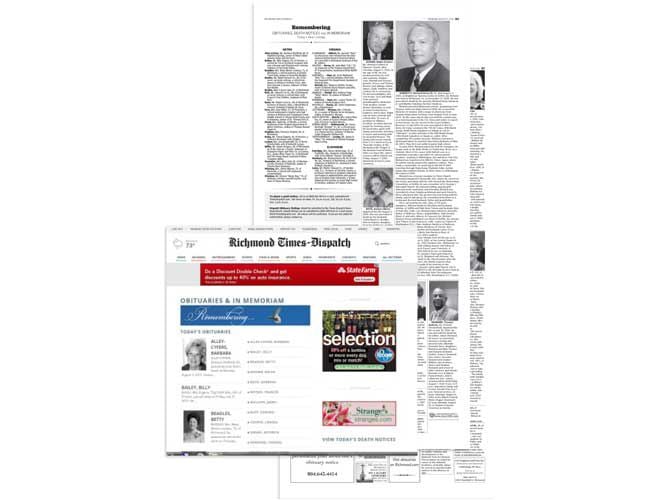 The Richmond Times-Dispatch can help you celebrate the life of a loved one on our "Remembering" pages. Our paid and free notices are explained here.
The RTD offers paid obituaries as well as paid In Memoriam notices. Our classified advertising department handles these notices. Your funeral director normally places these paid obituaries as a service, but we also accept notices directly from family members.  Please use the following online link if you prefer to submit the notice yourself.  Please request a price before publication. For those who have served in the military, a photo or military emblem can be included in paid obituaries at no additional charge.
• If you don't already have an account, create one. This is separate from your RTD All Access account.
• Once your account is created, choose "Obituaries and Related Notices" from the category options.
• Select the appropriate classification then click Continue.
• Select a template if options are presented.
• Fill in the content as requested on the site and Continue.
• At this point, you will see a preview of your notice. Once you approve, hit Continue. Select what day or days you would like the ad to appear.
• Enter your payment information.
• This self-serve site is for private individuals only. Funeral homes should contact their advertising representative to have an account set up on our commercial self-service site.
If at any point you need assistance, please call our classified advertising department at (804) 643-4414
These should be submitted to The Times-Dispatch news department. Free notices are limited to name, age, locality, profession and spouse. All notices will be confirmed. If you place a paid obituary with the newspaper, a free notice will be included automatically.
These notices can be placed on our "Remembering" pages for special occasions, such as a person's birthday, an anniversary or an anniversary of a death. Special holiday In Memoriam pages are published on Easter, Mother's Day, Memorial Day, Father's Day and Christmas. Photos and special emblems can be included with In Memoriam notices.
If the obituary is from June 26, 2013 to present, it can be found on our web site at Richmond.com/Obituaries. The obituaries are free to view.
If the obituary is from 2002 to June 26, 2013, it can be found on Legacy.com
If the obituary is from 1903-2002, you can search our digital archives. See Access Archives for instructions.