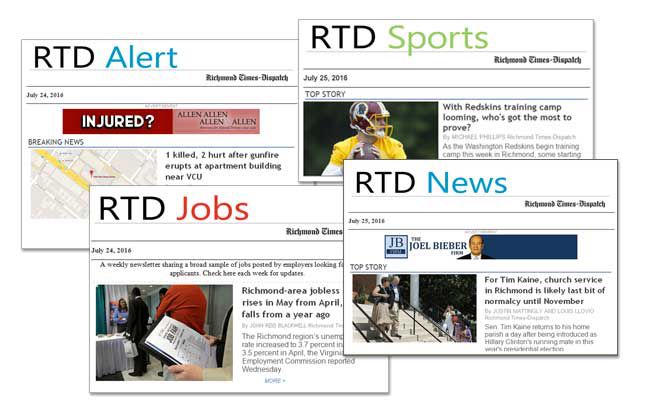 You can sign up for our e-mail newsletters at Richmond.com/Subscribe-Email to receive information directly in your inbox . You will need to create a free newsletter account if you don't have one already. This is separate from your All Access account.
If you click through headlines to our website, locally written articles count against your 11 per month limit. Remember, to have unlimited access to Richmond Times-Dispatch content online, become an All Access subscriber.
Here is a list of RTD e-mail newsletters:
RTD Alerts - When breaking news happens, you'll be among the first to know.
RTD Morning News - Receive the top local stories by 9 a.m.
RTD Business - Your daily briefing on the region's business scene at 8 a.m.
RTD Afternoon Update - Get the latest on restaurants, events and entertainment weekday afternoons on your lunch break.
RTD Afternoon News - Your first source for the day's events delivered around 4 p.m.
Advertising Promotions - Get big savings from area businesses.
RTD Jobs - Career opportunities plus useful job search information delivered each Sunday afternoon.
RTD Obituaries - Daily morning summary of obituaries.
RTD Contests, Promotions and Events - Daily morning emails with special opportunities from the Richmond Times-Dispatch.
Daily Deals Richmond - Daily morning emails with great deals for pre-purchase on local activities and dining.
RTD Sports - The top national, college and local sports news delivered around 10 a.m. everyday.