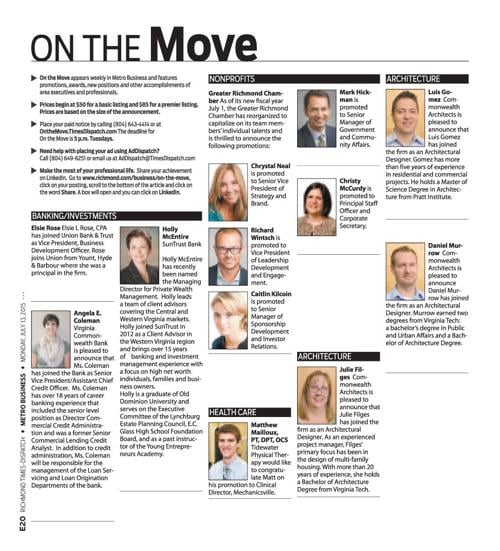 Each Monday, the Richmond Times-Dispatch prints job announcements in the popular RTD Metro Business section. The announcements, for which the RTD charges, also appear online at Richmond.com. Here is how to place announcements for your company's hires and promotions:
Go to OnTheMove.TimesDispatch.com.
Click on ON THE MOVE.
On the next page, choose the job category and the size announcement you want. Then hit CONTINUE.
On the next screen, you'll be able to choose from a number of templates within the size you've chosen. Pick a TEMPLATE and hit CONTINUE.
On the next screen, you can enter text as well as upload an image.
At this point, you can proof your job announcement.
Once you've approved your announcement, you can schedule it for the date you want. Remember, job announcements run on Mondays in the RTD Metro Business section of the Richmond Times-Dispatch. The announcement also will appear on Richmond.com beginning on the date it is published in the newspaper.
Finally, you will be asked to log in or register. Please note, this is not the same as your All Access log-in. This will be a separate account. During this step, payment will be processed.
If you have any problems, employers may contact their RTD account executive or call (804) 775-8188.
Deadline for job announcements is 5 p.m. on the Tuesday before a Monday Metro Business section publishes.