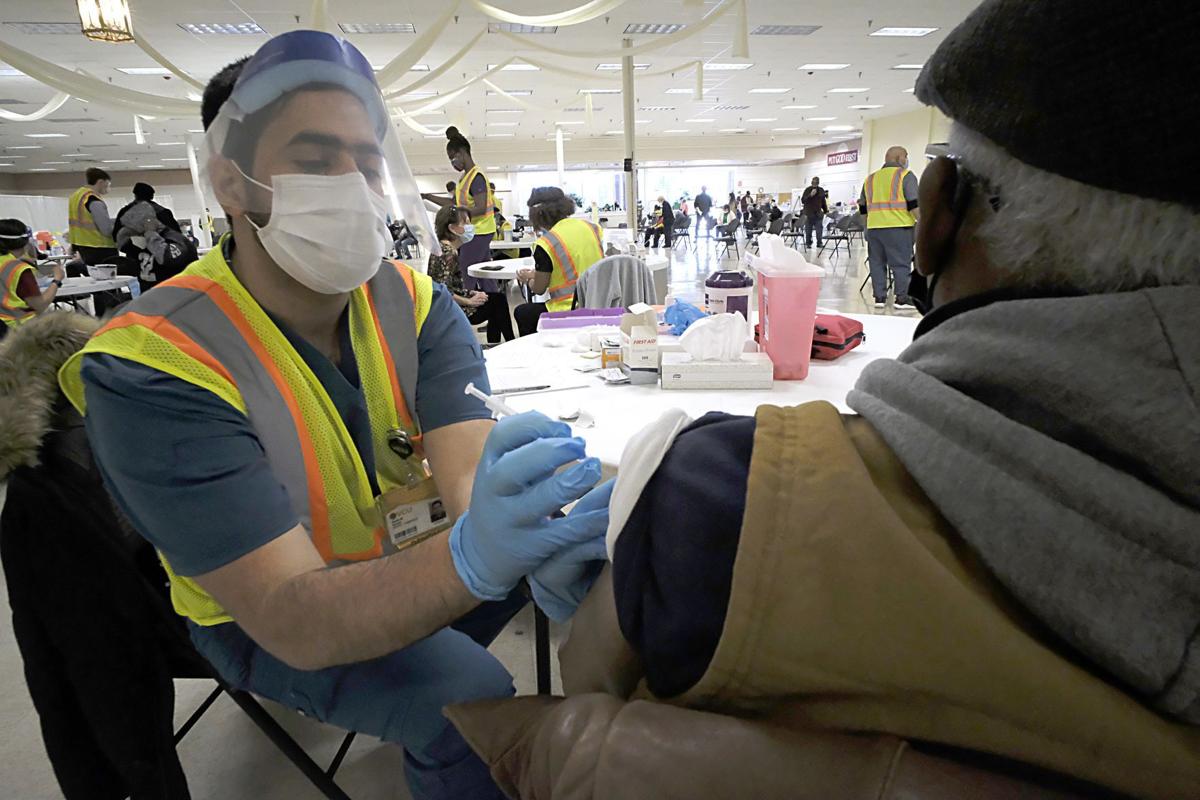 One year after COVID-19 hit Virginia, the Richmond Times-Dispatch is looking back at how the pandemic has shaped, changed and challenged all of us.
Saleh Smadi begins by rubbing an alcohol swab in a circular pattern on the patient's upper arm. He squeezes the deltoid muscle twice and gently inserts a thin needle. With his right thumb he pushes down on the plunger, inserting 0.3 milliliter, about one-twentieth of a teaspoon, of one of mankind's greatest scientific achievements into the shoulder of 65-year-old Tim Dumas.
Ten seconds after the needle entered his skin, it's already out, and Dumas is still smiling. "Do it again," Dumas quips. This moment, for Dumas and hundreds more, was the beginning of life returning to normal and finally feeling safe again.
Smadi, a second-year dental student at Virginia Commonwealth University, learned the technique during vaccine training. With any luck, he'll finish injecting the COVID-19 shot before the patient realizes he's started.
One day last week, he and nine other volunteers vaccinated hundreds of people at Second Baptist Church in South Richmond. Smadi delivered more than 50 vaccines that day, putting them in the arms of mostly older, Black recipients. He has wanted to help since the pandemic began, but for the first nine months, there was little a dental student could do.
Then an opportunity came. A call went out to VCU students and staff to volunteer. Smadi immediately put up his hand. Nearly 2,400 VCU students and employees have expressed interest, a school spokeswoman said, and more than half are students.
By virtue of his status as a health sciences student, Smadi received his second shot of the Pfizer vaccine last month. Though he's 27 years old and healthy, he received a vaccine before countless older, sicker people. The way he sees it, he doesn't deserve a shot if he can't use it to help others.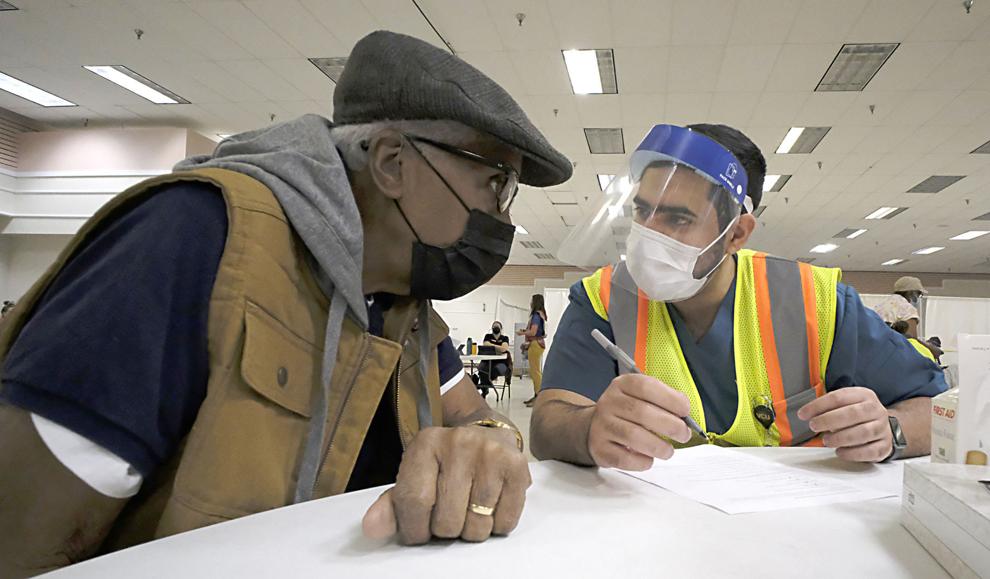 As vaccine distribution ramped up, public health experts in Virginia realized they would need tens of thousands of volunteers to distribute the vaccine. VCU started an organization called the VCU Vaccine Corps and asked its community if people would donate their skills. Dr. Alan Dow, the program's director, said there have been few moments in his career where he's seen people so excited.
"It's great to see that kind of enthusiasm of people getting vaccinated," he said. "That, in turn, has really motivated our volunteers."
A law approved last month allows the vaccine corps more flexibility. Dental students can work under the supervision of medical doctors or pharmacists. The law erased any doubt that once trained, Smadi could legally distribute vaccines.
Smadi completed three hours of online preparation, learning how to use EpiPens in the event of an allergic reaction and maintain a sterile environment. He attended a workshop in which students took turns injecting one another with saline. There he learned about squeezing the deltoid muscle as he inserted the needle and talking while doing so in hopes of distracting the patient.
Each of his vaccine recipients at Second Baptist kept their eyes straight ahead as the needle entered their flesh.
"You're going to have Pfizer today," Smadi said as he took the syringe in his hand. "You'll feel a very small pinch. I'll do my best that you won't feel it."
One woman grimaced and groaned as the needle was inserted. Far more told Smadi they felt no pain at all.
"I didn't feel a thing," one woman said. "Child, I'll take you home with me."
"That's a very good technique you used," said another, a trickle of blood running down her arm. "I didn't feel anything."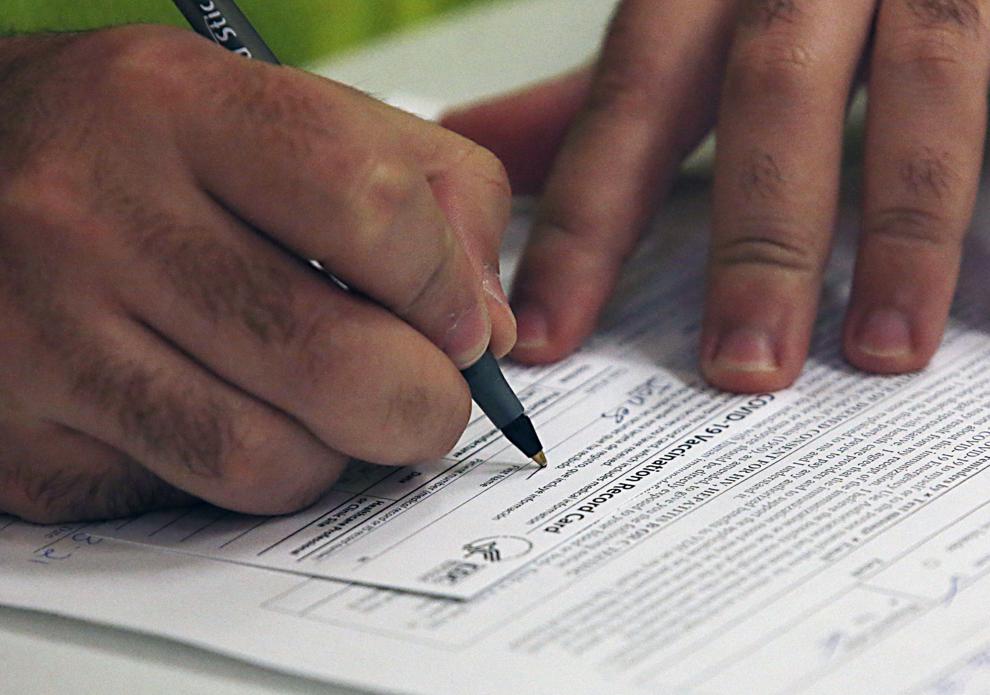 Smadi was born in New York City, but when he was 27 days old, his parents moved back to their home in Jordan. He grew up with six sisters and three brothers. His dad worked at a grocery store, and his mom stayed home.
When he was 18, he moved back to New York. Speaking only Arabic, he enrolled at City University, learning English while working various jobs — grocery store cashier, luggage transporter, taxi driver and truck driver. He later tutored undergrads in various subjects. When he earned his degree in biology, he became the first member of his family to graduate college. The rest of his family has stayed in Jordan. During the pandemic, his siblings lost their jobs and had to stay home.
During college, he shadowed a doctor and a dentist. Realizing he had good dexterity, he pursued dentistry and got accepted to VCU. He likes the fact that he can boost a patient's confidence by fixing their smile. With his parents unable to pay for his education, he has taken out $500,000 in loans.
Smadi hasn't decided what kind of dentist he'd like to be. He's considering dental surgery, and he likes the idea of being called to emergencies and reconstructing the faces of people who suffered bad accidents.
He chose dentistry to help people, but when the pandemic began, he felt helpless. He chose to give vaccines because it was an opportunity to serve the community around him and learn a new skill at the same time.
"It's such a unique experience," he said.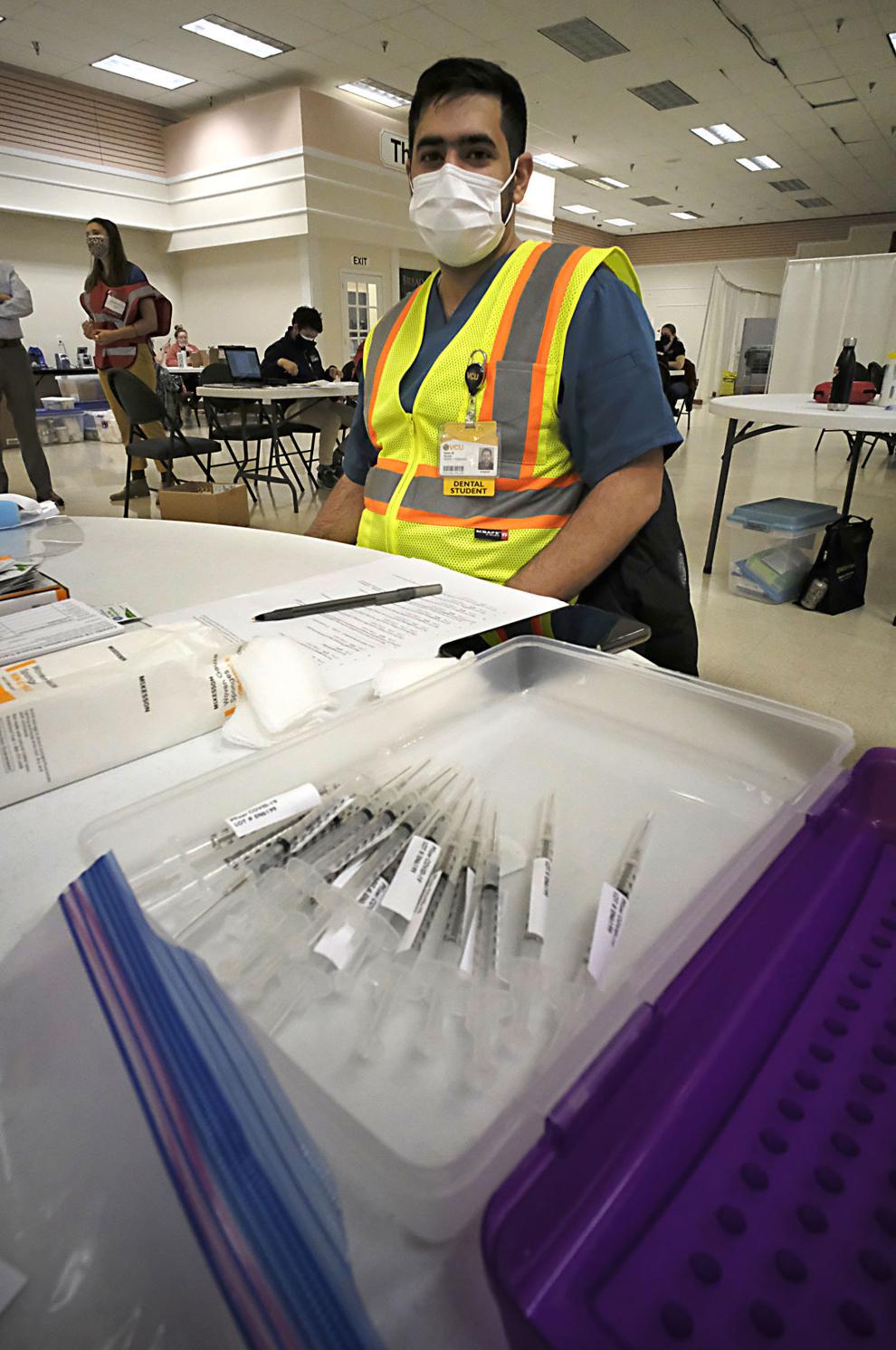 Smadi's day began at 7:30 a.m. inside the Lyons Dental Building downtown for an early morning test. He had to install two dental crowns and a bridge of replacement teeth on a mannequin. Three hours later, he arrived at Second Baptist on Broad Rock Boulevard, which was once a Winn-Dixie grocery store.
The vaccinators worked in the church's giant common area under a banner that read "Put God First." He wore his blue scrubs, a neon reflective vest, a mask and face shield. A bright yellow name tag identified him as a dental student.
Smadi took his seat at table number 10, and a dozen or so syringes filled with Pfizer waited in a pink plastic box ready to go. The line of recipients ebbed and flowed. One man in a Dallas Cowboys hat said he waited 90 minutes to get his vaccine. But really, he's been waiting since last March. By the afternoon, the line shrunk to less than 10 people.
Before injecting the shot, Smadi asked each patient 12 questions, such as, "Have you received a dose of the vaccine before?" "Are you immunocompromised?"
When Tim Dumas, the smiling 65-year-old vaccine recipient arrived, Smadi asked every question, including No. 2: "Are you pregnant?"
Dumas paused. "Are you pregnant?" he responded. Smadi checked the "no" box. Dumas couldn't help but enjoy his vaccination experience.
At 1:30 p.m., the score from Smadi's dental test arrived on his phone. He pulled up an image and the number 100, a perfect score. "Yes!" he said, clenching his fist. He expected a good score, but not that good. Smadi didn't have much time to celebrate. His next test was in two days.
An hour later, the time for his lunch break came. He had been working for four hours now, but taking a break meant making people wait longer. He would keep going, he decided. His shift ended at 4 p.m. and by 5, more than 10 hours after his last meal, he bought a gyro for dinner.
Smadi practices Islam, praying five times a day, fasting during Ramadan and attending prayer services at the Islamic Center of Virginia or the Masjid Al Rahman mosque in South Richmond.
There's a line in the Quran that says to take one life is to take the life of all mankind. To save one life is to save the life of all mankind. Maybe, Smadi said, he saved one person's life today.