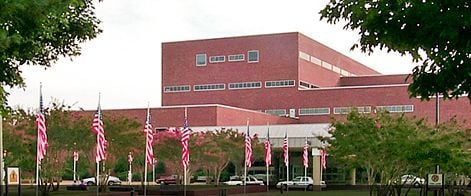 Nearly two dozen employees of the McGuire Veterans Affairs Medical Center in Richmond have tested positive for the coronavirus, and an additional 45 were in isolation as of Friday awaiting test results.
Four nurses — including one who tested positive after caring for COVID-19 patients — said the hospital put them at risk by giving them surgical masks instead of respirators that offer better protection.
A union that represents many of the hospital's 4,000 employees raised the issue with management starting March 30. And U.S. Sens. Mark Warner and Tim Kaine wrote to the U.S. Department of Veterans Affairs on Monday to say they had heard from constituents who work at VA hospitals and fear for their safety.
Management at McGuire said the hospital follows guidelines from the Centers for Disease Control and Prevention for rationing supplies during a shortage and has kept employee risk to a minimum.
As of Thursday, 23 employees at the hospital had tested positive, according to an update emailed to employees by the hospital director; 45 more employees are home awaiting test results. The hospital declined to say how many of the employees who are positive or are awaiting results are nurses, or name which parts of the hospital they work in.
The state Department of Health has reported 18 outbreaks in inpatient and outpatient health care settings including medical facilities and doctors' offices that account for 64 total cases. The state department did not respond Friday to a question about whether that total includes the 23 cases at McGuire. Hospital spokesman David Hodge said the VA has not seen any clusters of cases among employees in the same hospital department.
Three VA nurses said they were given N95 respirators for several days early in the crisis in March, but after that they were given surgical masks, which provide less protection from the coronavirus. Another nurse reported wearing only a surgical mask the entire time caring for coronavirus patients.
The nurses, who work in a unit that treats COVID-19 positive patients or patients awaiting test results who are suspected to be positive, spoke on condition of anonymity because they were not authorized to speak to news media and their job security could be at risk if they spoke publicly.
Hospital Director J. Ronald Johnson declined a request for a phone interview but answered questions by email through a hospital spokesman. He said the hospital has adhered to guidance from the CDC throughout the crisis.
The hospital had 73 confirmed coronavirus cases among patients as of Friday, and four inpatient deaths.
"Currently every health care system is taking steps to conserve PPE. VA is no different," Hodge wrote in a series of responses by email to questions.
Hodge also said the hospital is issuing surgical masks to all staff who work in non-COVID-19 units.
"Those staff are provided one surgical mask weekly to assist in protecting high-risk patients who are asymptomatic," he wrote.
The concerns over masks at the McGuire VA hospital are similar to problems at other VA and community hospitals nationally after the virus caused shortages of personal protective equipment, or PPE.
Warner and Kaine, both Democrats, in their letter to the Department of Veterans Affairs, asked about PPE at facilities and questioned whether current CDC guidelines were sufficient to protect employees.
"We have also heard from a number of our constituents who are employees at VA facilities, who think they are not being provided adequate PPE in their jobs and fear for their personal health and safety. Employees report being asked to use one N95 mask for up to a week, which manufacturers recommend be changed each shift at a minimum," the senators wrote.
The N95 respirator and a surgical mask, or face mask, are the two most common protective face coverings used in health care, according to the CDC.
The N95 is designed to protect the health care worker by removing at least 95% of particles from inhaled air, according to the CDC.
"Surgical masks, on the other hand, are not specifically designed to protect the wearer from airborne hazards. These devices limit the spread of infectious particles expelled by the wearer," according to the CDC.
Mintina Minto, executive vice president of the American Federation of Government Employees Local 2145, which represents bargaining unit employees of the hospital, including nurses, emailed with Johnson between March 30 and April 2 with concerns about the lack of PPE.
She wrote in the emails that nurses caring for patients who have tested positive for COVID-19 were concerned about not being given N95 respirator masks, and that a doctor told employees the masks were being conserved for an expected peak of cases in May. Minto referenced CDC guidance saying N95 masks should be used beyond their shelf life before switching to surgical masks.
Johnson responded, "N95 masks are not necessary except in limited circumstances, and we are following CDC guidelines for health care workers."
Dr. Leroy B. Vaughan Jr., the hospital epidemiologist, also responded to Minto's email.
"N95 masks have been designated essential personal protective equipment for health care workers who are performing or participating in an aerosolizable procedure or event," he wrote. "The CDC has designated a surgical mask as an acceptable alternative to N95 masks when no [aerosolized] procedure is taking place."
Those procedures include things like CPR, intubation and techniques that generate potentially infectious aerosols from a patient's mouth and nose.
Hodge, the hospital spokesman, responded to questions from The Times-Dispatch and also cited that CDC guidance, which is to be "used when N95 respirators are so limited that routinely practiced standards of care for all HCP wearing N95 respirators when caring for a COVID-19 patient are no longer possible."
Hodge wrote: "COVID-19 symptomatic patients not undergoing aerosol generating procedures should be wearing masks when providers are in their respective rooms, and this allows staff who work within six feet of COVID-19 symptomatic patients to wear surgical masks themselves."
The nurse who tested positive, however, said she cared for at least three positive patients, none of whom were masked. That included doing examinations on them and checking their vital signs, which required her to be close enough to touch the patients.
She said she asked about masks when she had to care for her first positive patient and was told that she only needed a surgical mask. When she later had two positive patients to care for, she said, she asked again about masks and got the same answer. She said she feared catching the virus and giving it to her son, who has an underlying medical condition.
She is now isolated from her family at home, she said, suffering from fever, chills, shortness of breath and severe body aches.
Hodge said about 1,200 of the hospital's 4,000 employees are authorized to work from home, and most of those are.
Minto said in an interview that in addition to the concerns about lack of PPE, employees who are positive or are quarantined at home because they came into contact with a positive employee are being required to use their own leave time.
"They're treating them with very little compassion. They have not provided them with any resources to get safety and weather leave," she said.
The American Federation of Government Employees is also raising questions about how hospital employees are notified when they have been in contact with an employee who tested positive.
"Every effort is made to include the employees that potentially had significant exposure to the identified employee," Hodge wrote. "A list of possible employees is developed and each of these employees is notified."
The Times-Dispatch spoke with a union representative who was in contact with a positive employee and has yet to be notified. The representative spoke on condition of anonymity out of fear of retaliation. The union representative learned of the positive employee after the positive employee shared the information with someone else.