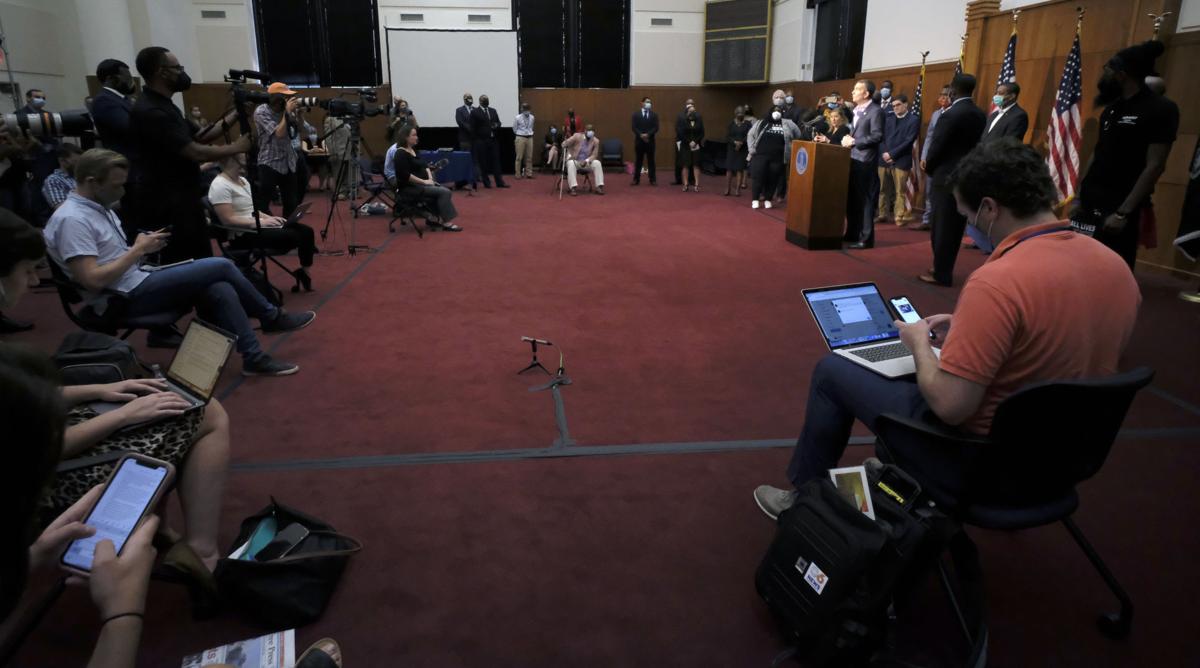 Virginia students are set to learn this week when and how they might be able to return to school in the fall.
Gov. Ralph Northam is expected on Tuesday to address school reopening, something he had initially planned to do last week. The announcement will give more guidance to school districts and colleges across the state that have been moving forward with their own plans to return.
Northam became just the second governor to close schools for the rest of the academic year when he did so on March 23, with shuttered schools transitioning to virtual education. He said last month that he's hopeful schools will be able to reopen in the fall as COVID-19 continues its spread while, according to researchers from the University of Virginia, not yet reaching its peak for new daily cases.
Specific guidelines will be released after Northam releases his plans for reopening schools, said Virginia Department of Education spokesman Charles Pyle. School leaders across the state are expecting an approach similar to how Northam reopened businesses, with separate phases each loosening some restrictions and the state setting the "floor" for constraints.
Some schools across the country and the world have already reopened, providing a glimpse into what the fall could look like if students return in Virginia. Teachers walking around with pool noodles to enforce social distancing. Temperature screenings for students and staff. Rotating days in the classroom.
"Schools are going to look very different," said John Bailey, a researcher at the American Enterprise Institute, which last month published a comprehensive blueprint for school reopening. "We still have this looming threat of a second or third wave of the virus that could cause schools to close even longer."
School systems across Virginia await the state's guidance, which they say will help craft what schools look like when they reopen.
"Our plan will be largely dependent upon the official guidance we receive from the governor, the Virginia Department of Education and the Virginia Department of Health, which we anticipate we will be receiving soon," said Hanover County Public Schools spokesman Chris Whitley. "This will help to inform our decisions and further develop our plans, which will take significant time, effort and careful thought."
The county school system created a panel that is looking at three opening scenarios (on-time, delayed and staggered) along with three instructional scenarios (in-person, virtual and a mix of the two) and other factors, such as how to socially distance in classrooms and buses, among other things.
"While we are eager for our students and staff to return, we must do it safely and responsibly," Whitley said.
Richmond Public Schools plans to survey families this week about reopening, Superintendent Jason Kamras said.
Neither of the district's two options — all virtual or a hybrid of virtual learning and in-person instruction — bring every student back at the same time. Kamras said school leaders are emphasizing the fact that Richmond, which remains in the first reopening phase along with Northern Virginia as the rest of the state entered Phase Two, has been hit harder than most other localities.
"I personally have significant concerns about socially distanced education. In many ways, that is the antithesis of what a well-rounded education is," Kamras said. "As a city, we have taken a more cautious approach, which I completely support. I think folks should expect the same for our schools."
Henrico County Public Schools has five options on the table, with the format ultimately depending on the pandemic. In a news release, the school system said new safety measures would be adopted for the on-campus plans and that students' learning pace would be adjusted to fill in the gaps of what they missed in the spring.
The five options include students returning to campuses; students continuing remote learning; students coming back to campuses for weeks or months at a time with stints of remote learning; some students coming to school with others learning remotely on alternate days; and the same hybrid idea, just without alternating days.
Those situations are similar to what Chesterfield County schools chief Merv Daugherty told families late last month that the county school system is considering.
Daugherty said the district is looking at giving every student a system-issued laptop or tablet next year while also giving free wireless internet or hot spots to families who don't already have access.
"We will continue to tackle challenges and take advantage of opportunities as they come our way, and we will keep you updated as soon as decisions are made," he said. "We continue to appreciate your patience as we navigate this uncharted path. Together, we will come through this stronger as individuals and as a community."
School districts in the Richmond area aren't the only ones trying to figure out reopening plans.
In Radford, where only six people have been infected by the virus according to state data, Superintendent Robert Graham hopes to have the school year start in early August, with 12 to 15 students on each school bus and in each classroom. Still, it would not be a complete reopening.
None of the three plans on the table for Radford City Public Schools brings every student back at once.
"It's just been a gamut of scenarios," said Graham, adding that the district could add several days to its calendar to make up for lost learning. "I would like students to return on the day we'd set, but I know that can't happen."
In harder-hit Fairfax County in Northern Virginia, which has more COVID-19 cases and deaths than any locality in the state, the county school system will present specific details on its three scenarios — where students will start the school year remotely; where students return to school with social distancing in place; and where schools open on time, but students and staff who are unable to return will attend through virtual learning — to its School Board on June 15.
"Obviously, there are many unanswered questions right now," said Lucy Caldwell, a spokeswoman for the district, the largest in the state.
Across the country and world, school leaders have been creative in their reopening. At a school in Montana, for example, teachers are using pool noodles to enforce 6-foot social distancing. In Denmark, desks are set 6 feet apart and recesses are staggered to avoid crowds.
One item not on the checklist for reopening in Virginia is Standards of Learning testing, which proponents said would give the state and school systems the chance to identify gaps in learning that are likely to grow even larger during the closures with not all students having access to the internet.
The tests, normally given in the spring, were canceled because of the statewide school closures and, after initially considering the idea, the state Department of Education told school leaders in April that it would not have the tests upon students' return.
What will happen — and how schools could look — remains to be seen.
(804) 649-6012
Twitter: @jmattingly306