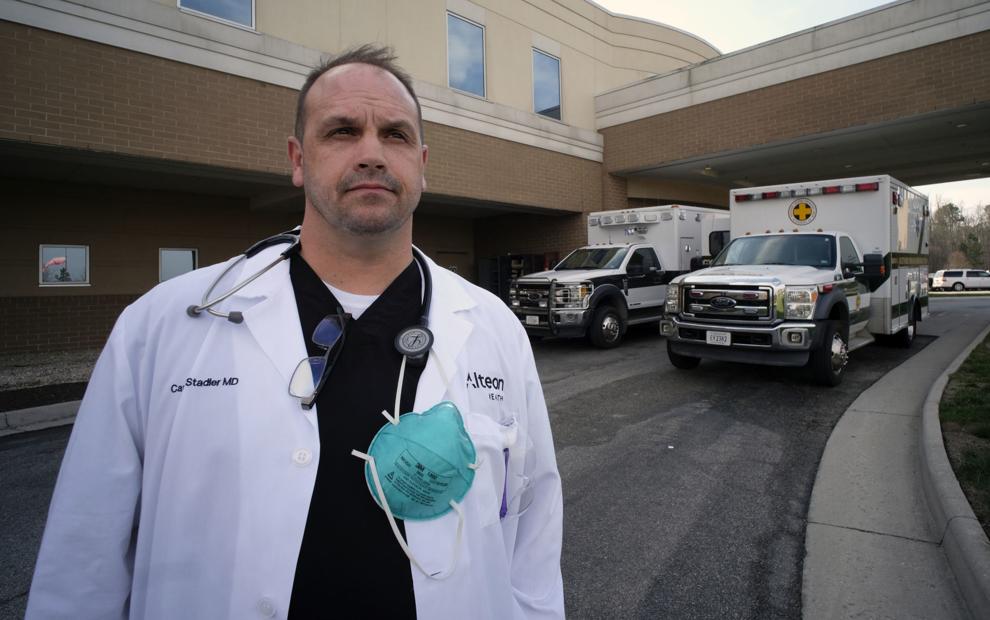 Dr. Carlton Stadler stepped through the door of his western Henrico County home, peeled off his black scrubs and walked straight to the shower in hopes of not spreading the coronavirus to his wife and five children.
He doesn't wear shoes in the house, and his work clothes are washed separately.
Stadler is an emergency room physician, and each day he goes to work, he's at risk of becoming infected. In an effort to avoid transmitting the virus to their families, some ER doctors won't kiss their spouses. Others are sleeping in hotel rooms.
An ER doctor in New Jersey died after contracting COVID-19, and another in Washington state was reported in critical condition, according to the American College of Emergency Physicians. More than 60 doctors have died in Italy.
The risk of infection has affected their personal lives, and the protective equipment they wear — and the shortage of it — has changed the way they work. ER doctors are soldiers in a war, they say.
"There is fear," Stadler said. "That initial fear is very real, and because [doctors] do know so much, they know what transmission possibilities are."
Stadler's in-laws, who used to live with them, moved to Farmville a few weeks ago. He and his wife discussed what would happen if he gets sick; he would quarantine in the master bedroom, since it has its own bathroom and a separate entrance.
And they discussed what would happen if he died. He doesn't want to persist in a terminal condition, breathing through a ventilator. Last month, he called to make sure his life insurance policy was up to date. He told his wife where she could find the paperwork, and they confirmed the payout was enough to cover the family's needs.
"It's a sobering and sad — but also interesting — conversation," said Stadler, 47. "One you never thought you would have in your 40s with a loved one."
Most of the ER employees contacted for this story asked that their hospitals not be named, fearing retribution from administration. An ER doctor in Washington said he was fired after he publicly criticized his hospital for a lack of supplies and not enough protection offered to its staff.
For Dr. Leigh-Ann Webb, an ER doctor, mitigating the risk of spreading the virus means she can't see her sister, who has lupus, or her mother, who recently finished cancer treatment. Both are immunocompromised, meaning the virus would be more likely to kill them.
Webb can't let her 8-year-old daughter or her 4-year-old son see them, either. The children could transmit the virus without ever showing symptoms.
So Webb, 38, will FaceTime with her sister almost daily, and her sister will lead an art lesson for Webb's daughter. Webb's mother came to visit but kept her distance. Webb sat with her family on the balcony of their town house, while her mother got out of the car and greeted them from the sidewalk. Not letting her kids hug their grandma has been tough.
For a month now, Webb has self-quarantined, not leaving her home for any destination besides work. She orders groceries on Instacart and waits six days for their arrival. A trip to Walt Disney World was canceled, and a family that used to get out all the time is now stuck at home. But the kids have adapted, discovering a fondness for Google Earth and seeing the Eiffel Tower.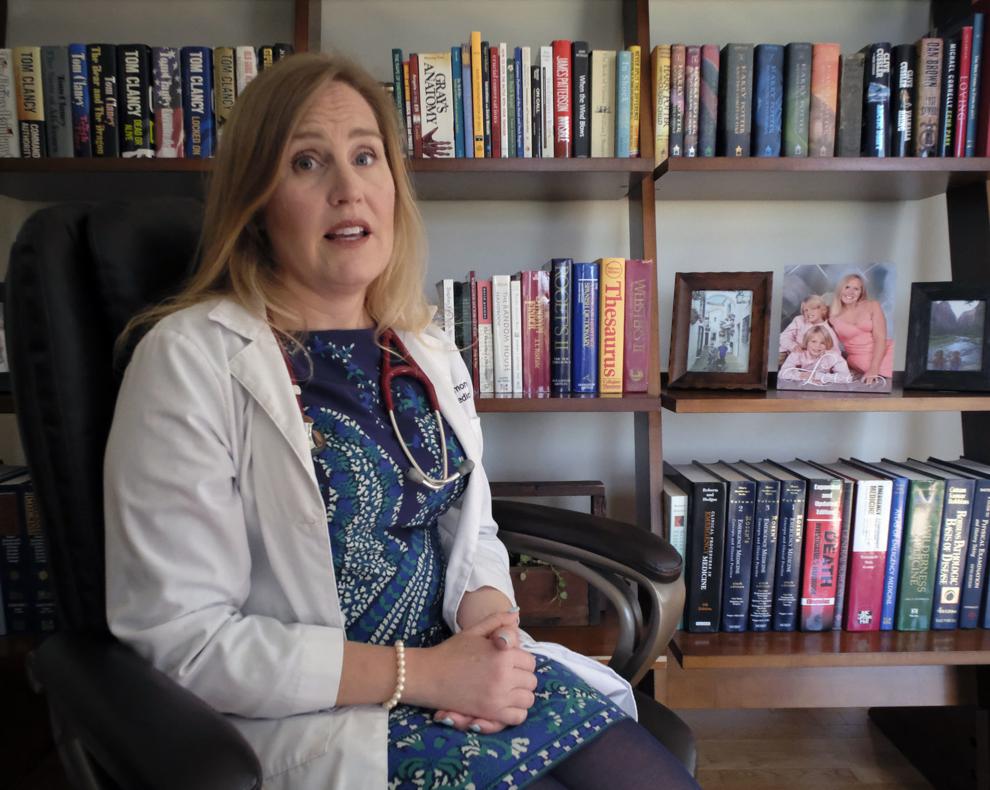 Dr. Sandy Simons, another ER physician, knows that if she contracts the virus and is forced to quarantine, she would have to send her kids to live with their father.
Simons, an ER physician at Richmond Community Hospital in Church Hill, is divorced with two teenage sons who split time equally between their mother and father, who also lives in town. She worries that when her sons leave her home, they could transmit the virus to their father or others.
Like many doctors, Simons, 44, has started to think about writing a last will and testament. She doesn't have one yet, but she figures that if she gets sick, she'll have enough time to complete it. Death doesn't feel like an immediate threat. At least not yet.
"It's not real right now," she said. "If I get sick, it might be more real."
There are safeguards in place to prevent doctors from contracting the virus. When they treat suspected COVID-19 patients, they wear personal protective equipment, or PPE, which often includes a gown, gloves, an N95 mask, hair protection and goggles or a face shield.
Breathing through the mask can be exhausting. Goggles often leave red rings imprinted around providers' eyes. Doctors wash and disinfect their hands constantly, which dries their skin and cracks their knuckles. One doctor estimated that a clinician will wash or sanitize his or her hands 84 times in a nine-hour shift.
But PPE doesn't make a doctor impenetrable. If there's coronavirus on the outside of a mask, and the doctor touches it, he or she can become contaminated. Doctors now believe the virus can be breathed in when a patient receives a nebulizer breathing treatment or undergoes an intubation.
Some doctors choose to wear their N95 masks for the entirety of their shift, including Dr. Scott Hickey, who said he was told not to do so by hospital management. Gov. Ralph Northam said there's a shortage of protective equipment in the state, and there's a worry that masks will run out.
Health care workers treating one COVID-19 patient in a hospital could go through 240 items of protective equipment a day, said Northam, himself a physician. Hickey, also an ER doctor, said he has an obligation to his family and patients to take no risks.
For now, there's enough protective gear for doctors in greater Richmond. The question is, will it last? Projections show cases in Virginia surging in May. The health care industry has focused so much on maximizing revenue and minimizing costs that there isn't a bulk supply of the tools doctors need for an emergency, said Hickey, who is the president of the Virginia College of Emergency Physicians.
At his hospital, there are employees tasked with making sure doctors and other staffers wear the appropriate amount of PPE, known as PPE czars. When they approached him, they skirted around the fact that he wasn't following the hospital's rules, he said. Hickey responded that he planned to continue wearing his N95 mask, end of discussion. He worries that some hospitals don't have the safety of their staff at heart.
"There's a lot of angst and anxiety right now between clinicians and clinical staff and hospital administrations," Hickey said. "I think that's been fairly consistent across the health systems."
When Hickey spoke with the Richmond Times-Dispatch on March 25, he was 11 days out from his first exposure to a COVID-19 patient. He was wearing his protective gear at the time, and he is asymptomatic, so he doesn't worry. Still, he had three more days left until he could consider himself in the clear. Every time he sees a new COVID-19 patient, the clock resets.
One problem with protective equipment, Simons said, is that it restricts her ability to communicate with her patients. One was hard of hearing and couldn't read Simons' lips because she was wearing a mask. So Simons had to slow down and speak louder than usual. Other doctors wear reflective goggles that obstruct seeing their eyes. Simons deliberately wears transparent eye protection so patients can read her expression.
Once her shift begins, Webb takes the mask off her face only if she absolutely must so she doesn't risk contaminating herself. Since the outbreak began, she's stopped eating during shifts. She'll consume a large meal before she goes to work, and she'll fill up on water and coffee. A couple of granola bars are kept nearby as a backup. She's more careful than most of her colleagues, she said.
"I'm ultraconservative," she said. "I think I'm rare."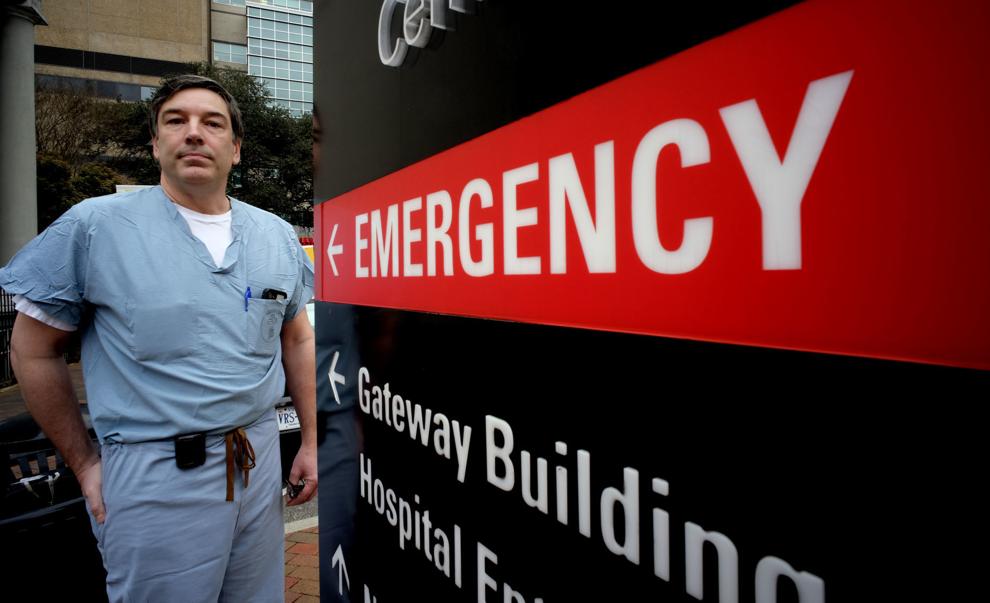 Last weekend, a box of N95 masks was delivered to a local ER by a construction superintendent. Chris Hogan, another local ER doctor, said he hopes the $2 trillion stimulus package signed by President Donald Trump will encourage more businesses to produce the protective gear doctors need. No matter how dire the situation might become, Hogan said he's obligated to keep showing up for work and to keep treating the ill.
"For me, being a physician, it's a social contract," Hogan said. "I have an obligation to care for people."
Doctors aren't the only ones who put themselves at risk by simply going to work. Nurses, physician assistants, janitors, and food service and registration staff keep emergency rooms running, too.
Haylee Seidenberg, 24, grew up in Henrico and is an ER nurse in Charleston, S.C. She works the night shift, even though she has Type 1 diabetes and considers herself a higher risk for exposure.
Her grandmother offered to pay her bills if she quit her job, but Seidenberg isn't considering it.
When the sun rises and Seidenberg goes home, she hugs her dog, a golden retriever-lab mix named Alice, and she talks on the phone with her father. She listens to podcasts and watches "The Office" to get her mind off work.
It wasn't until Webb was in medical school that she was drawn to emergency medicine. She loved its fast pace. She loved that a patient would come to the hospital with no diagnosis, and it was her job to determine one. She never considered becoming an ER doctor might one day put her own health at risk.
There's a tension, she said, between feeling proud of the work she does fighting the virus on the front lines, and the risk she faces by going to work. Even worse, there's the risk she could spread it to her family.