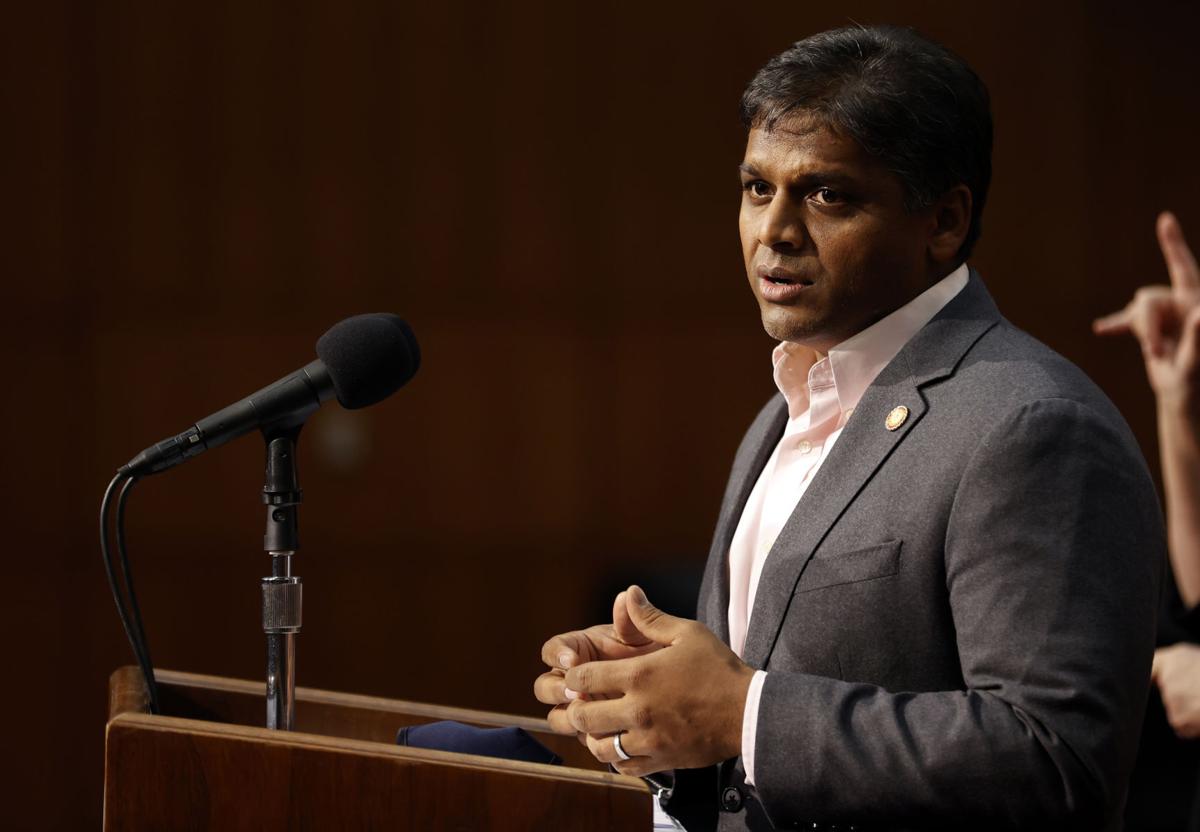 In the next week, health care workers in Virginia are set to put more COVID-19 vaccines in people's arms than ever before. State health officials expect at least 360,000 people to receive a shot.
By the end of June, everyone who wants a vaccine should be able to receive a first shot, said Dr. Danny Avula, the state's director for vaccine distribution, on Friday.
But that may not be enough to reach herd immunity. Experts estimate that about 75% of the population needs to develop antibodies to squelch the virus. According to recent national data, only 68% to 70% of people polled intend to take the vaccine.
That means that by the summer, the work of state health department will shift. It will pivot from figuring out how to deliver shots as quickly and equitably as possible to convincing naysayers to accept inoculation. It will be a new stage in the fight against the coronavirus.
To achieve herd immunity, Virginia needs to vaccinate 5 million people, Avula estimates. The population of Virginia is about 8.5 million, but there are 1.7 million children who do not need immediate vaccination.
An increasing number of shots are on their way to Virginia. The federal government has upped the number of Pfizer and Moderna vaccines to Virginia by 80% in the past month. Johnson & Johnson seemingly will bring even more. An independent advisory group endorsed the Johnson & Johnson vaccine Friday, and the Food and Drug Administration is expected to authorize it for emergency use soon.
By the third week of April, Virginia might be finished vaccinating the 1b population, which includes grocery store workers, public transportation workers and everyone age 65 and up, Avula said. By the end of June, there should be enough supply to vaccinate 5 million people.
The question is, will 5 million people take it?
"I think as we head into the summer, the whole puzzle will shift from 'How do we get it?' to 'How do we convince people to get vaccinated?'" Avula said.
Already, people in Richmond seemingly have turned down the vaccine. VCU Health began giving shots to its 13,000 employees in late December. By February, 69% had received a first shot, a spokeswoman said.
There are two reasons why Avula is optimistic people will change their minds about taking the vaccine. First, millions of Americans have received it, endured only mild side effects and bolstered their immune systems. Clinical trials for all three vaccines determined their vaccine was 100% effective in preventing hospitalization and death six or seven weeks after receiving a first shot. Johnson & Johnson reported an 85% efficacy rate for preventing serious disease immediately after receiving the shot.
Locally, all three health systems in greater Richmond reported fewer health care workers have tested positive since vaccine rollout began.
It seems Americans are slowly coming around. According to the Pew Research Center, in September, only 51% of respondents indicated they planned to receive a shot. By November, that number had grown to 60%.
Secondly, the longer the virus spreads, the more likely new variants will surface. The state health department determined the B.1.1.7 variant, which first emerged in the United Kingdom last year and is considered more infectious, has arrived in central Virginia. The University of Virginia also reported it on campus. Experts worry variants could elude the vaccine.
"New variants are likely to eventually evade vaccines, so if we don't stop this now, we will be dealing with COVID-19 restrictions on our lives for a very long time," said Lisa M. Lee, a professor of public health at Virginia Tech.
The arrival of Johnson & Johnson's vaccine will reduce the amount of time it takes for the country to reach herd immunity, Lee said. Johnson & Johnson requires just one shot and doesn't need to be stored in ultra-cold temperatures.
"Preliminary analyses indicate an additional benefit of it reducing the likelihood of viral transmission, meaning that people who received the vaccine are protected both from getting sick and from getting infected with the virus," Lee said.
Vaccine updates
Virginia vaccinated 71,000 people Wednesday, a single-day high.
Virginia has administered at least one shot to 14% of the state, or about 1.2 million people. Of those, 590,000 are fully vaccinated.
Virginia currently averages 33,000 shots per day. Because snow delayed the implementation of shots last week, supply built up, Avula said. He expects the number of shots delivered to increase to more than 50,000 per day next week.
He expects the state to give 180,000 first shots and 130,000 second doses, which are large increases from a month ago. He also expects pharmacies to receive 52,000 doses next week through the Federal Retail Pharmacy Partnership.
Walmart has begun distributing vaccines at eight sites across the state, including John Tyler Community College in Chesterfield. Recipients must register and cannot walk up without an appointment.
Assuming the Johnson & Johnson vaccine is approved, authorities should deliver 69,000 doses to Virginia next week. Those numbers won't be sustained, Avula said. The state will receive fewer doses in the second and third weeks of March, but will pick up by the fourth week as Johnson & Johnson ramps up production.
By the numbers
The number of cases in Virginia continues to decline. The seven-day moving average of cases has fallen 71% to 1,703 since peaking in early January.
The state Department of Health has reported about 573,000 total cases.
More than 500 deaths have been reported this week, totaling 8,197 deaths since the pandemic's beginning. While the number of cases has diminished, it takes about two weeks for the number of deaths to mirror the trend in cases. The processing of death certificates has slowed reporting, the health department said.
As of Thursday, there were 22 cases per 100,000 residents in the state, down from a high of 72 in January. There are 1,481 people hospitalized, a 140-person drop since Tuesday. The state's percent positivity of tests is 8%.
Richmond-area figures
Richmond has reported 14,747 cases, 678 hospitalizations and 179 deaths. Henrico has reported 21,234 cases, 870 hospitalizations and 455 deaths.
Chesterfield has reported 23,402 cases, 780 hospitalizations and 287 deaths. Hanover has reported 6,620 cases, 252 hospitalizations and 121 deaths.