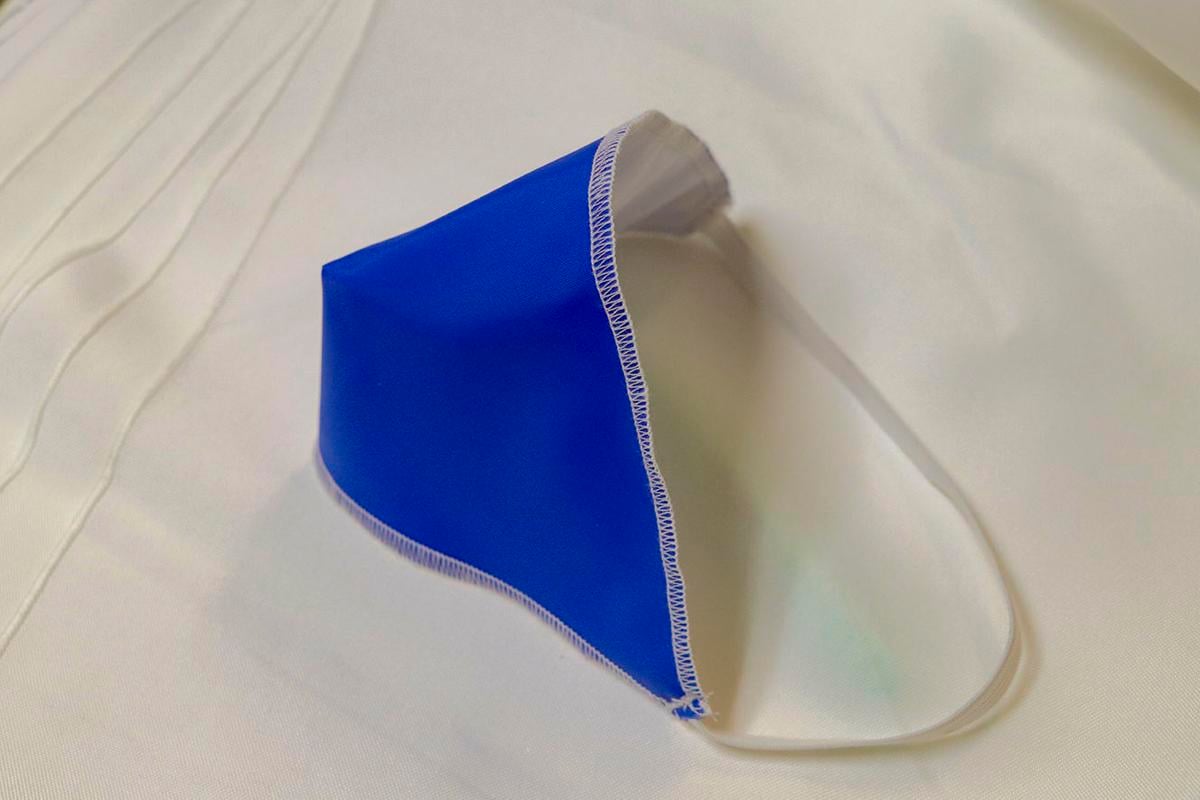 In less than two months, half a million face masks were manufactured by a handful of offenders for use by 30,000 inmates, thousands of corrections officers and other staff of the Virginia Department of Corrections.
At $6.26 a dozen, the face guards have also been purchased by dozens of state agencies, local governments and jails thus far, generating more than $210,000 in sales, according to Virginia Correctional Enterprises, a company that pays the inmates 55 cents to 80 cents an hour for the work.
The VCE inmate/employees also manufacture other types of protective clothing and cleaning supplies used to help curb the spread of COVID-19 behind bars. In addition to protecting health, the Department of Corrections believes work for VCE teaches skills and helps released inmates from committing new crimes.
Inmates take pride in their efforts against the virus, but some are not happy about the circumstances surrounding their work and living conditions, and with what outside critics allege is little more than slave labor.
Shemar Wiggins, 23, a prisoner at the Halifax Correctional Unit, wrote an email to The Times-Dispatch last week with the names of 11 other co-workers said to endorse his complaints.
"My coworkers and me have been making sneeze and cough guards (face mask) for the department of corrections going on 7 weeks and counting," he explained. "On various occasions we worked 12 hours, 10 hours, 9 hours for 13 days straight and 12 days straight," he wrote.
According to Wiggins, "We get up in the morning for count, get rushed to breakfast get rushed to work, get worked hard all day and then get rushed back to the building and still don't eat at the proper time. We're trying to be law abiding citizens doing humanit[arian] work."
Wiggins, who makes 80 cents an hour, does not believe the inmates are being treated fairly or safely.
"We do what we do to help our fellow inmates. Some VCE staff do what they do to help make the company look good," he contends.
He complained that as long as inmates keep catching the virus, VCE will have to keep making masks. "The only question we have is when or will the virus get into this facility?" He asked, if the virus gets into VCE shops, "who will make these masks?"
"The whole situation is taking a toll on some [of] us mentally especially with the new amendment the governor passed which will not make a big enough impact," he complained.
Wiggins was referring to a budget amendment proposed by Gov. Ralph Northam and passed by the General Assembly permitting the Department of Corrections to release some inmates with less than a year to serve to thin out the inmate population.
Serving nine years for a robbery and a firearms conviction, Wiggins is not due to be released until January 2022, and therefore is not eligible under the plan.
According to the Department of Corrections, as of Thursday four inmates have died, 12 have been hospitalized and 631 inmates and 71 staff members have thus far tested positive for COVID-19 despite severe measures taken to stop the spread in a population that is often tightly confined.
Among other things, all inmates — in more than 40 facilities, some single or double-celled, others dormitory-style — are required to wear their VCE masks at all times unless instructed to remove it by a staff member.
The department says the VCE sneeze/cough guard mask helps prevent the spread of the virus but should not be worn in place of medical-grade, personal protective equipment masks in situations where more protection is required.
The masks have also been given to every staff member, and they are required to wear the masks unless wearing another form of PPE mask.
The Department of Corrections said the masks made by Wiggins and others have also been ordered by 34 state and local government agencies, including the Office of the Medical Examiner, the Virginia State Police and the Virginia National Guard.
VCE said the masks are made from 2-ply cotton/poly poplin with an outer layer of nylon. The fabric is spread and cut and then "serged" to close the nose area and the outside edge, leaving a gap on the outside to insert the elastic band that holds the mask on. The elastic is inserted into an open side seam and a sewing machine is used to secure it. The threads are trimmed and the masks are then inspected and packed for shipping.
In addition to the Halifax unit, the masks are being made in apparel plants at the Haynesville and Augusta correctional centers and the Fluvanna Correctional Center for Women. Inmates at the Wood Upholstery Plant at Lunenburg Correctional Center have also pitched in.
Approximately 250 workers in the four apparel plants were involved in production, in addition to 37 workers at Lunenburg, said Gregory Carter, a DOC spokesman.
Roughly 150 offenders at Fluvanna, Augusta and Haynesville are also making washable protective gowns, he said.
As many as 35 offenders at the Indian Creek Correctional Center are repackaging bulk cleaning supplies into smaller units to fill orders and 12 offenders at the Dillwyn Correctional Center metal plant were making face shields for use by DOC staff. That operation has since moved to the Nottoway Correctional Center's wood plant.
VCE also manufactures ventilated headboards using a CDC-approved design and makes cleaning supplies approved by the EPA for use in combating coronavirus, the department says.
Claire Guthrie Gastañaga, executive director of the ACLU of Virginia, said, there is no Virginia law authorizing forced labor as a sanction for criminal activity. "No judge sentences someone to hard labor nor could they," she said.
"Yet, the Virginia Correctional Enterprises system, backed up by prison discipline for refusal to participate, is clearly a system of forced labor," said Gastañaga. She added that, "We continue to believe that people in our prisons are being forced to make protective gear for others that they have had trouble getting VDOC to provide for them."
The group also said it is concerned that prisoners who refuse to work VCE jobs out of fear for their own safety might be disciplined in ways that disqualify them from release under the criteria being used for the governor's budget amendment, she contends.
The ACLU argues that the failure to reduce the populations in Virginia prisons and jails means that prisoners live and work in facilities where COVID-19 is present and where they cannot maintain social distance or engage in self-protective hand-washing and other activities.
Gastañaga contends that, "The incredibly slow and unduly bureaucratic process for implementing the governor's amendment means that even people who should already have been released continue to remain in prisons where exposure to the coronavirus can result in a term of years that is due to end being converted to a death sentence."
Inmate labor should not be exploited and anyone working in prisons and jails should only being do so willingly and in return for fair wages, she said.
A DOC spokeswoman declined to comment on the ACLU's allegation, citing unidentified "active litigation."
The Halifax Correctional Unit, where Wiggins is held, is a small facility with roughly 240 inmates and where, he said, social distancing is a challenge.
The family of another inmate working for VCE told the Coalition for Justice that officers often do not wear masks or gloves when required and that they have to wait hours to take a shower after work.
Wiggins wrote that there are 58 people in his dorm with no shower, one sink, two telephones, one microwave and two toilets — one serves as a urinal and the other for defecation.
He wrote that on days they work late there is little chance to use the telephones to call family. "We was either to go to work or use the phones but going to work is a mandatory and a refusal to go to work will result in to a institutional charge."
According to Wiggins, workers have quit VCE to have the time to use the telephones and shower but they were threatened with disciplinary action for doing so.
"We was told by the VCE staff that the Governor was requesting we make ... large amounts of [masks] to make us work harder and made us believe we was getting recognized for our act of humanity to make the deadline on the orders," Wiggins wrote.
He added, "I don't know if the governor actually called them, but I do know when they read us a list of emails from [officials] saying they appreciate what we're doing — none was from him."
Wiggins also complained that the inmates are treated as if they are a COVID-19 threat to the staff when the real threat is the other way around. "Some staff [pat] us down without gloves and pass out trays without gloves," he wrote.
He complained, "We are on the front line working with individuals that go home everyday that could possibly pass us the virus."
Said Wiggins, "We wasn't given a death sentence."