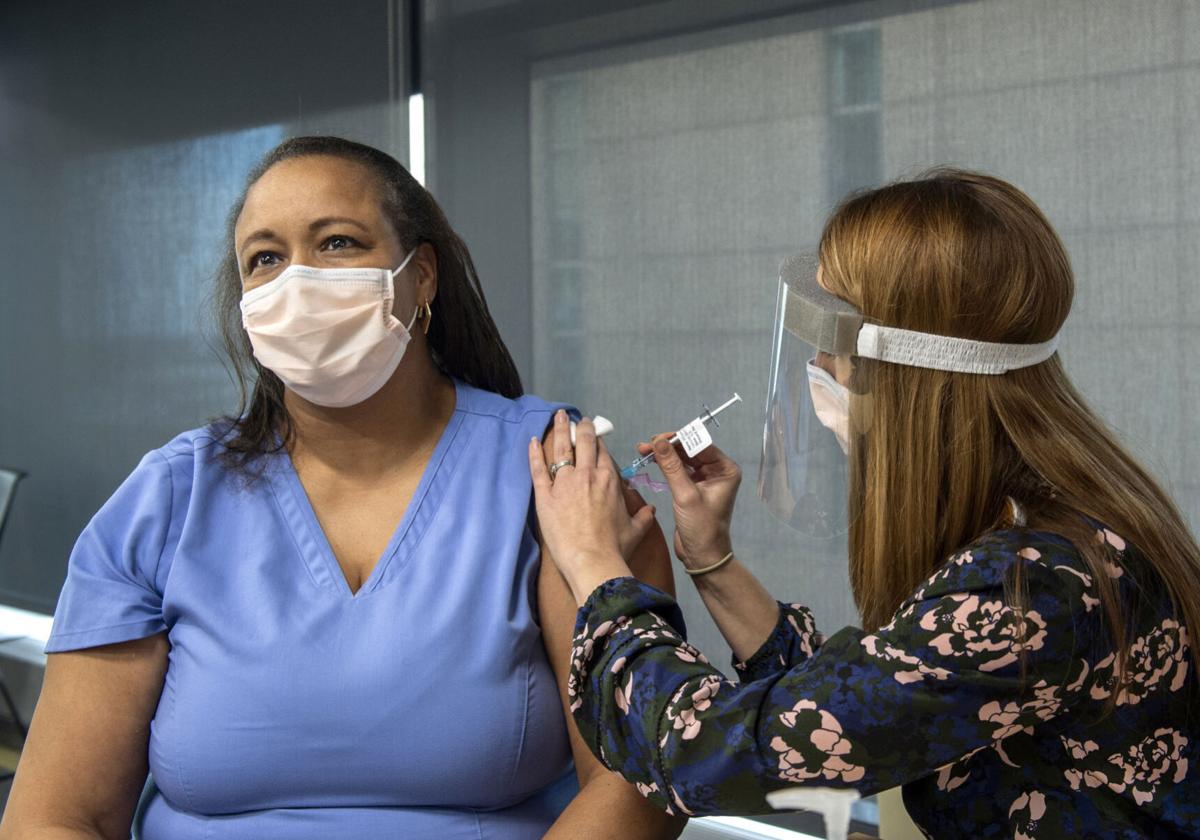 Hospitals in greater Richmond are reporting a drop in coronavirus cases among health care workers since vaccines were made available to them in mid-December.
Since the pandemic's start, nearly 23,000 health care workers in Virginia have tested positive. At Virginia Commonwealth University Health System, employee infections spiked in December.
Then vaccinations began Dec. 16, and within five days, the number of positive coronavirus cases among staffers began to subside. Within a month, it had dropped by half, according to four doctors and one nurse who authored a letter to the medical journal Infection Control & Hospital Epidemiology.
"We share our vaccine story to encourage more vaccine-hesitant health care workers to receive immunizations — and earlier," the VCU health care providers wrote.
Richmond's two other major hospital chains, Bon Secours and HCA Virginia, also reported declines.
The third wave of the coronavirus was especially detrimental in Virginia. The number of hospitalizations tripled from October to January, peaking Jan. 14, when there were 3,196 people being treated for COVID-19 in Virginia hospitals.
At VCU Health, the number of infected staffers soared from an average of four in November to 16 by late December.
On Dec. 16, VCU injected its first vaccine into the arm of Audrey Roberson, a nurse manager of the medical respiratory intensive care unit. Within days, thousands of health care workers and their support staffs at VCU, Bon Secours and HCA received their first shot.
Six days later, the infection rate of VCU health care workers decreased 25%. By Jan. 19, 60% of VCU employees had received their first shot, and the number of sick employees had dropped 50% from its peak a month earlier. That means the vaccine seemingly made an impact before employees received their second dose.
The Pfizer vaccine trials reported recipients received a level of protection from the virus as early as 12 days after administration of the first dose. At VCU, 14 days after an employee received an inoculation, he or she was less likely to test positive than an employee who did not receive the vaccine, the letter writers wrote.
The Moderna vaccine arrived at VCU on Dec. 28. The hospital system offered immunizations to all of its 13,000 employees. As of this week, 60% have received both shots, and 69% have received one shot, the health system reported. Nearing its goal, VCU wants to vaccinate at least 70% of its employees.
At HCA, the seven-day average of associates calling out because of COVID has dropped 78% since the beginning of the year, spokesman Jeff Caldwell said. Other factors may have contributed besides the vaccine, Caldwell said, including a decline in overall hospitalizations, general fluctuation in COVID cases and the continued implementation of safety measures such as hand washing and masking.
"It's hard to pinpoint one specific cause when numbers change, but we are pleased with the direction of the trend at this time," Caldwell said.
A Bon Secours spokeswoman declined to say how large of a decrease the hospital system has seen.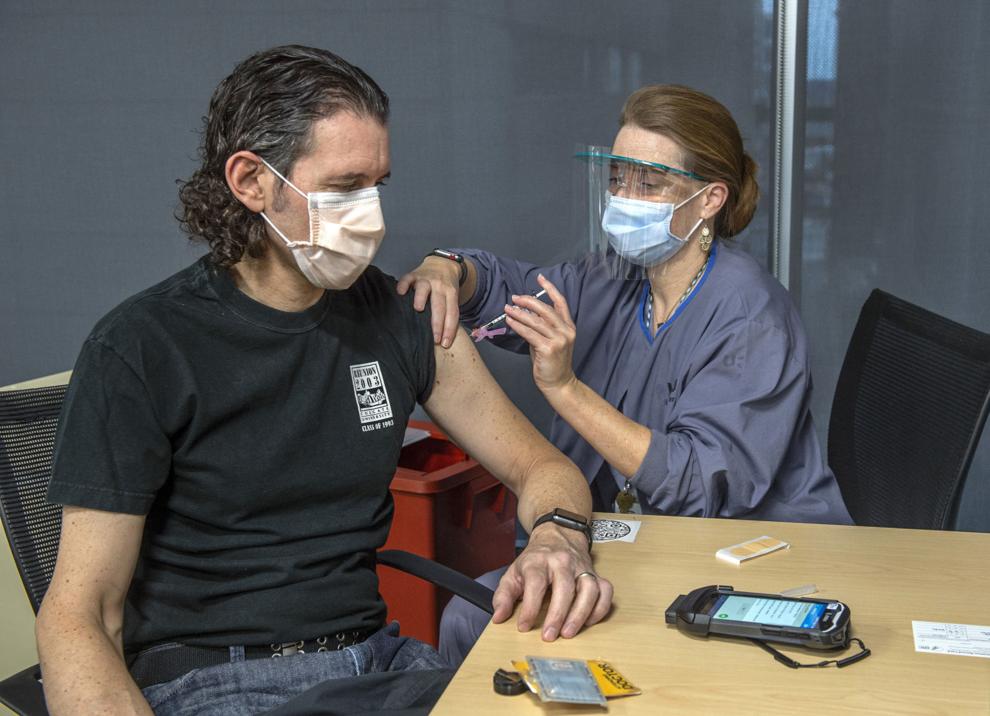 As the number of infected VCU employees declined, the number of hospitalizations there went up. Hospitalizations at VCU peaked around Jan. 9.
VCU Health instituted a number of safety measures in December and January as hospitalizations rose. In mid-December, it reduced the number of adult visitors from two to one. In January, it restricted all visitors.
The health system mandated face shields and surgical masks for all patient encounters, and it restricted cafeteria seating. It required employees to take their temperature and confirm they displayed no symptoms before entering the building. It required employees use level 3 surgical masks in all areas. It moved half of ambulatory visits to telehealth appointments.
Because VCU made numerous changes to its protocols, it's difficult to attribute the drop in employee infections completely to the vaccine, said VCU Health spokeswoman Alex Nowak.
"While vaccines contribute to the decline in COVID infections among health care workers, it is too early to definitively confirm they are the sole reason for the decline," Nowak said.
The authors of the VCU letter, Dr. Erin Dunbar, Dr. Emily Godbout, registered nurse Rachel Pryor, Dr. Henry Rozycki and Dr. Gonzalo Bearman, wrote that these recommendations likely further optimized health care worker safety. There are many stories out there about how the vaccine causes short-term sickness and fatigue. Countering those stories with good reaction stories is important, they wrote.
"Reaching herd immunity through vaccination is a crucial next step in ending this pandemic," they wrote.