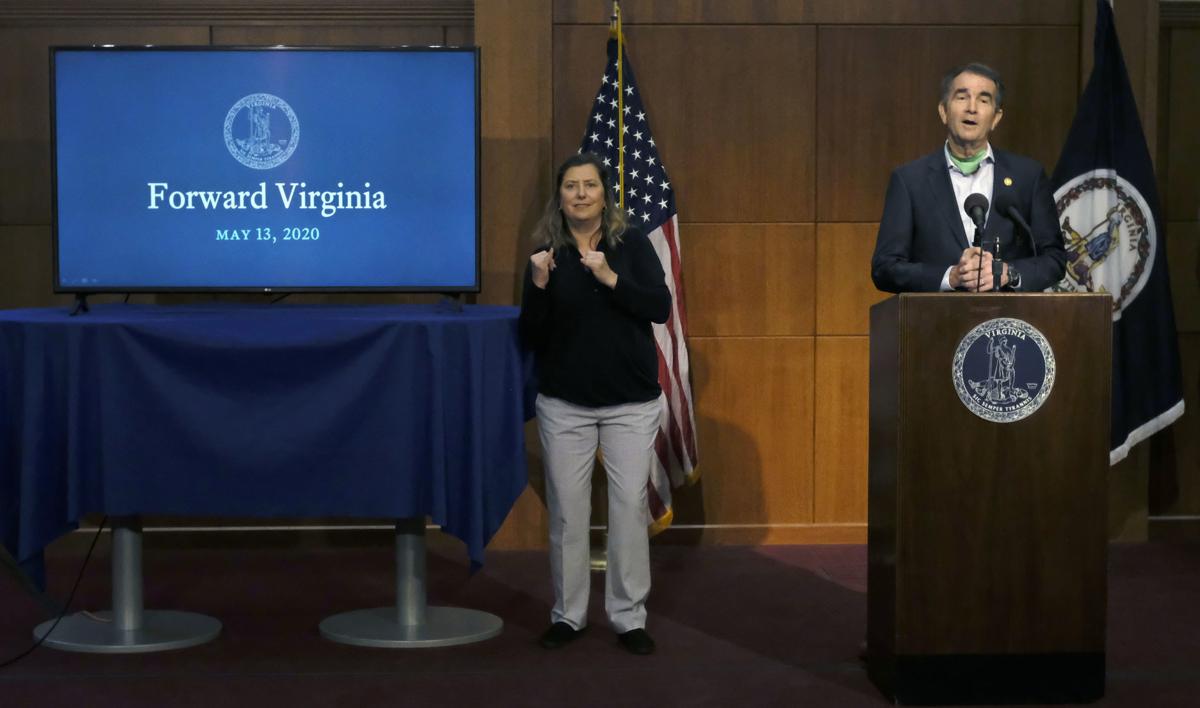 As most of Virginia readies for its Phase One opening Friday, some businesses are wondering what went into deciding what can open and what can't.
Gov. Ralph Northam announced at the close of last week that personal care businesses — such as barber shops, spas and tattoo parlors — could open with some restrictions, while museums, bowling alleys and other entertainment venues would have to remain closed. Gyms, restaurants and breweries can reopen, but in outdoor spaces only.
"My initial reaction is confusion," Christian Morganti, regional manager for four Richmond-area Gold's Gym franchises, said last week. "Because I don't understand, given the amount of precautions that our gym, and probably many others, are willing to take, how we aren't allowed to open."
(Merrill C. "Sandy" Hall, owner of Gold's Gym facilities in Henrico County, Chesterfield County and other parts of Virginia, unsuccessfully challenged the governor's shutdown order in court.)
Northam announced May 4 that Virginia could start reopening by the end of this week if coronavirus health trends continued. But the governor's office did not disclose until Friday which types of businesses would be permitted to open in Phase One.
The 27 pages of specific requirements for businesses that could reopen (barbers, tattoo parlors, massage centers and campgrounds) were not uploaded to the state's website until 4:30 p.m. Friday. Roughly two hours later, those guidelines were removed from the state's website and not uploaded again until the next day.
Grant Neely, Northam's chief communications officer, said Tuesday evening that he is "aware of no substantive change" to the guidelines, and that the delay in posting them — and their removal from the website — was because of the "inherent complexity of preparing an 11-page Executive Order and more than 30 pages of additional guidance."
But who helped shape the guidance?
"The governor has consistently made it clear that any decision about when and how to ease restrictions will be guided first and foremost by public health. He is very appreciative of the work of the task force, which was just one of many organizations and groups helping to further inform this decision," Neely said. "In addition, the administration has consulted local government leaders, labor groups, trade associations, and other business leaders from across the commonwealth."
Northam on Tuesday issued an executive order to let populous Northern Virginia, the region hit hardest by the pandemic, delay entering the first phase of its reopening by two weeks. The city of Richmond is considering asking Northam for an exemption similar to what Northern Virginia received. Northam says that as of Wednesday afternoon no leader outside of Northern Virginia had asked him for a delay.
The specific guidelines came as a surprise to at least two members of the state's 24-person COVID-19 Business Task Force. The governor formed the group in April to help "plan a safe, consistent, successful path forward," according to a news release last month from the governor's office.
"The recommendations were to socially distance tables, total sanitization protocols before and after guests, no bar service, no standing, and reservations strongly encouraged. It was also discussed that there would be no gathering inside the premises, no party sizes larger than 8, and all servers to wear masks and gloves," said task force member Bruce Thompson of Gold Key PHR, which includes multiple hotels and restaurants in Virginia Beach and Norfolk.
"Outside dining was never mentioned, much less restricting dining to only outside. That was a total surprise to the task force members."
Richmond-based task force member Kevin Liu — co-owner of Carytown Cupcakes, The Tin Pan music venue in Henrico and The Jasper cocktail bar — said he, too, was surprised by the outdoor-only dining restriction, as it was not included in the task force's official recommendations.
"We were unsure whether it made a difference if customers were indoor or outdoor, and therefore we developed guidelines that would apply to all dining, regardless of indoor/outdoor," Liu said. "[But] if new information has shown that indoor dining is significantly more dangerous than outdoor, then I would understand and agree with the Phase One restriction to outdoor dining only."
The governor's office did not disclose who made the outdoor-only dining recommendation or any others. Northam said Friday that he has spoken to restaurant owners extensively about the restrictions for Phase One.
"Collectively, we have made that decision," Northam said at his Friday news conference. "Rather than relitigate that here, that's the decision we've made."
Northam said at his Monday briefing: "It falls back to people being comfortable going into that restaurant, knowing that they're going to be safe." He added that the restaurant employees should be able to feel safe, in addition to customers, noting that the business task force helped shape some of these decisions.
Eric Terry, president of the Virginia Restaurant, Lodging & Travel Association, which represents the interests of Virginia restaurants and hotels, said he, too, was surprised by some of the guidelines. He said he is concerned about the impact those restrictions — both the continued closure of public beaches and the outdoor-only dining restriction — will have on the state's hospitality industry.
"We had put forth language with the governor's office and the Virginia Department of Health. There was never any discussion about doing just outdoor seating," Terry said.
In a letter to Northam dated Monday, the Virginia Restaurant, Lodging & Travel Association asked the governor to open the beaches and allow limited indoor dining in Phase One.
"We encourage you to allow restaurants to have the option to offer indoor dining with physical distancing," Terry wrote. "Furthermore, we were perplexed that you did not allow beaches to open as other nearby states — including Maryland and North Carolina — are doing. We implore you to allow beaches to reopen in Phase One."
He wrote that jurisdictions like Virginia Beach have "outlined a process that helps protect public health."
Terry noted in his letter that the Phase One guidelines position restaurants that don't have outdoor seating as "losers" in the state's reopening plan.
"We have concerns that big box stores have been able to continue to remain open and operate very safely; however, restaurants — which are predominately small businesses — have seen greater restrictions than many big businesses. We ask that you show us how restaurants are less safe than these other businesses including 'non-essential retail' which is allowed to open at 50% capacity," Terry wrote.
"While we don't think that restaurants should be forced to open, we do believe they should have the option to do so."
The Virginia Restaurant, Lodging & Travel Association is also asking the state to move up its July 1 release of grant money for Virginia businesses paid for by a tax on electronic "skill games."
"This is far too late to help hospitality and tourism businesses many of which rely on a strong travel season during the summer months," Terry wrote.
Still, restaurants might see some relief. The Virginia Alcoholic Beverage Control Authority announced Wednesday that it will temporarily offer restaurants an accelerated process to sell alcohol in expanded outdoor dining areas, that could include parking lots and sidewalks, with locality approval.
(804) 649-6321
Twitter: @KarriPeifer