The news escalated at a staggering pace over the past three weeks.
For perspective on the rapid changes to our community, here's a timeline of major announcements and developments in Virginia as the coronavirus pandemic spread across the state.  
This list was updated on March 23, and will evolve based on new information in the days ahead.
NOTE: the number of cases reported each day by the Virginia Department of Health are valid as of 5 p.m. the previous day. 
---
January
- Virginia established an Incident Management Team for the novel coronavirus. The respiratory disease was officially named COVID-19 by the World Health Organization on Feb. 11. 
---
Sunday, Jan. 26
- Virginia Department of Health first investigated three possible coronavirus cases which ultimately tested negative. 
---
Monday, Jan. 27
- VDH began posting a count of "patients under investigation" on the agency's coronavirus monitoring webpage.
---
Friday, Feb. 7
- State Health Commissioner Norman Oliver declared the novel coronavirus  a "Communicable Disease of Public Health Threat" for Virginia. 
---
Thursday, Feb. 27
- Richmond-area businesses noted economic impact due to disrupted travel and overseas supply chains, while medical suppliers saw increased demand.
- State Health Commissioner Oliver advised clinicians to stay abreast of COVID-19 and requests volunteers for the Virginia Medical Reserve Corps. 
---
Friday, Feb. 28
- With the number of confirmed cases at 62 elsewhere in the U.S., Va. braced for the virus' arrival. Northam administration estimated pandemic preparedness will cost $9.7 million.
- VDH said eight possible cases so far tested negative and monitored 279 at-risk travelers. No confirmed cases.
- Patient in Fairfax case, announced March 8, reportedly began to experience respiratory systems following travel to Egypt.
---
Monday, March 2
- Gov. Northam described the state's COVID-19 preparedness steps in a letter to state employees; as of this week potential cases were tested by Virginia's Division of Consolidated Laboratory Services rather than the CDC. 
---
Tuesday, March 3
- First case confirmed in a state bordering Virginia: North Carolina.
- UVA canceled spring break study abroad programs; other Virginia universities recalled students this week in response to CDC guidance. 
---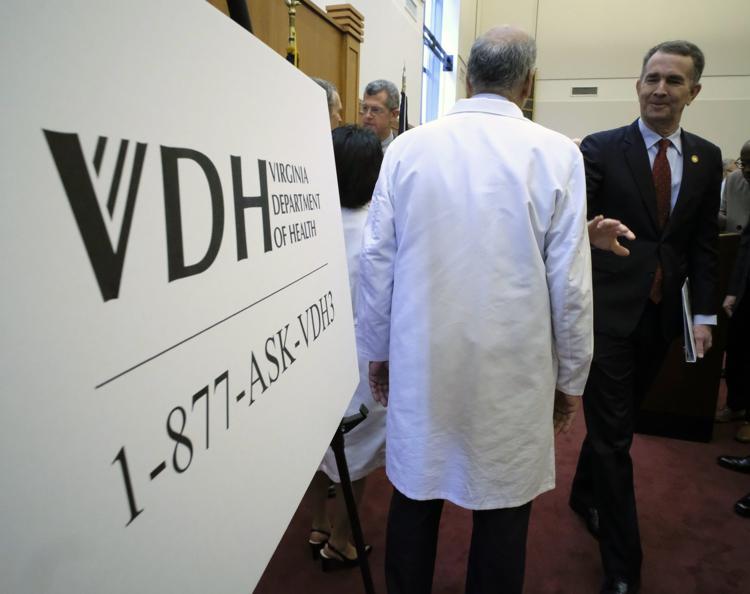 Wednesday, March 4
- 17 people in Virginia had been tested; health officials said the state had no confirmed cases.
- Northam outlined coronavirus response plans in a media briefing.
---
Thursday, March 5
- Initial cases were confirmed for more neighboring states: Tennessee and Maryland. 
---
Friday, March 6
- First reported case in Kentucky.
---
Saturday, March 7
- The Pentagon makes the first announcement of a COVID-19 case in Virginia, a Marine stationed at Fort Belvoir and exposed while abroad.
- First case confirmed in the District of Columbia.
---
Sunday, March 8
- Virginia's second case of coronavirus announced in city of Fairfax, the man was exposed on a Nile River cruise; 44 Virginians had been tested.
- Virginia state Senate killed a proposal for paid sick time. 
---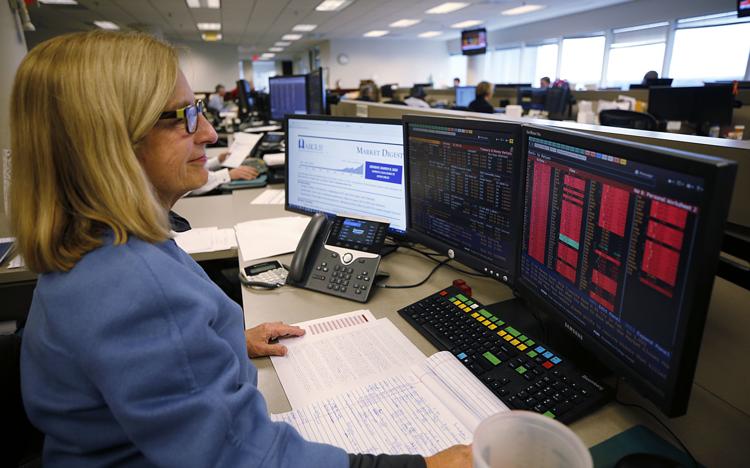 Monday, March 9
- Virginia coronavirus cases up to 5 after people diagnosed in Arlington, Spotsylvania, Fairfax.
- McGuire Veterans Affairs Medical Center and Richmond-area nursing homes began screening guests or restricting access this week.
---
Tuesday, March 10
- Three new coronavirus cases in Virginia brought the known statewide total to 8, with the first cases for Loudoun County and Virginia Beach. 
- Organizers announced they are canceling the Virginia Festival of the Book, set for March 18-22 in Charlottesville.
- Sen. Tim Kaine cosponsored emergency legislation to give workers paid sick days immediately.
- Rep. Don Beyer, D-8th, announced self-quarantine after dining with a friend since diagnosed with COVID-19.
---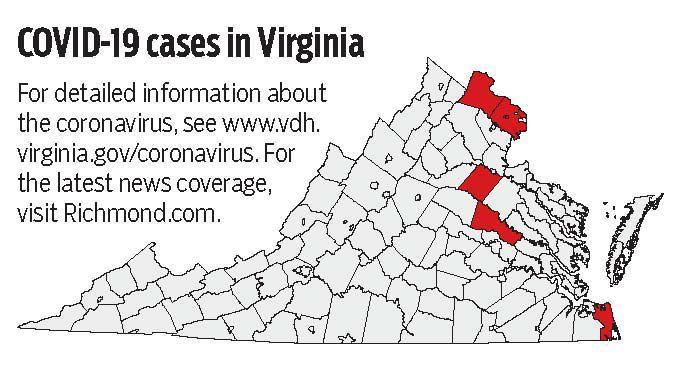 Wednesday, March 11
- First central Virginia coronavirus cases identified in Hanover County and at Longwood University in Farmville, bringing state's known total to ten.
- Several Virginia universities including VCU and UR decided to cancel in-person classes following an extended spring break.
- Richmond-area public school systems remained on normal schedules but prepared families for possible changes.
- Capital One and Genworth encouraged employees to work remotely.
- The World Health Organization declared COVID-19 a pandemic. 
---
Thursday, March 12
- Confirmed cases in Virginia nearly doubled to 17, with six people hospitalized.
- Northam declared a state of emergency and ban on state employee travel. 
- Richmond and Henrico public schools announced a two-week closure, starting Monday.
- Chesterfield County public schools canceled classes for Friday; Hanover County said schools will be closed Monday and Tuesday.
- The ACC and Atlantic 10 suspend play at their basketball tournaments; the NCAA announced it has canceled its tournament.
- Richmond Mayor Levar Stoney urged large events to cancel or postpone; Richmond City Council canceled meetings through March 22.
- St. Patrick's Day weekend festivals are called off, including the Irish Festival in Church Hill, Shamrock the Block, St. Paddy's Palooza, and Blarney Bash.
- Ukrop's Monument Avenue 10K scheduled for March 28 is postponed until Sept. 26; Richmond Forum postponed Michelle Obama and Bryan Stevenson events.
- Virginia General Assembly adopted the state's two-year budget.
- Richmond DPU announced it will suspend disconnections of water and wastewater for non-payment.
---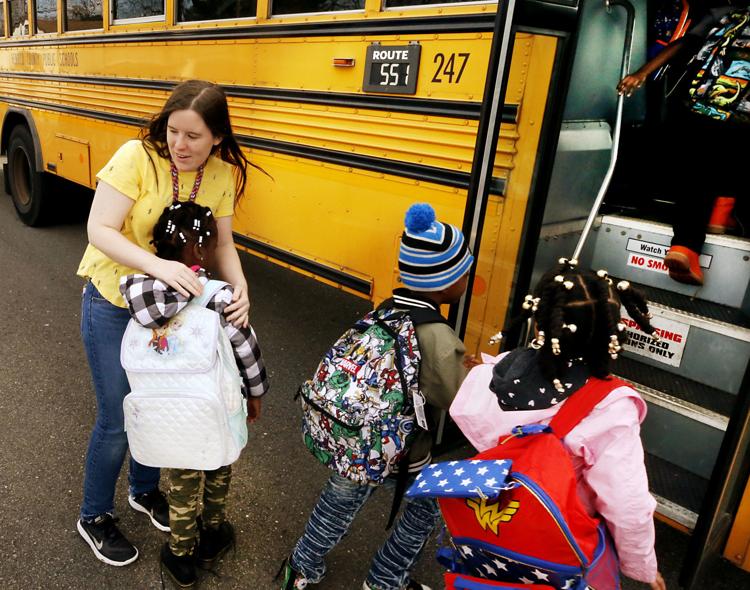 Friday, March 13
- Number of known cases statewide rose to 30, according to VDH.
- Northam ordered schools in Virginia to close for at least two weeks starting Monday, March 16.
- Richmond-area localities declared local states of emergency.
- Dominion Energy suspended service disconnections for non-payment.
- Virginia Department of Corrections canceled prison visitations until further notice.
- More spring events announced postponements, including Greek Festival, French Film Festival and RVA Street Art Festival along with the Something in the Water music festival in Virginia Beach.
- Richmond Public Library, local museums and performing arts venues announced extended closures.
- Central Virginia houses of worship modified weekend schedules and added precautionary measures.
- Many grocery stores in the Richmond region sold out of toilet paper, hand sanitizer and cleaning products.
---
Saturday, March 14
- Virginia saw the first death from coronavirus in James City County; the first Chesterfield resident tested positive as the statewide count increased to 41.
- The Byrd Theatre temporarily closed.
- Publix started to close stories earlier in the evening.
---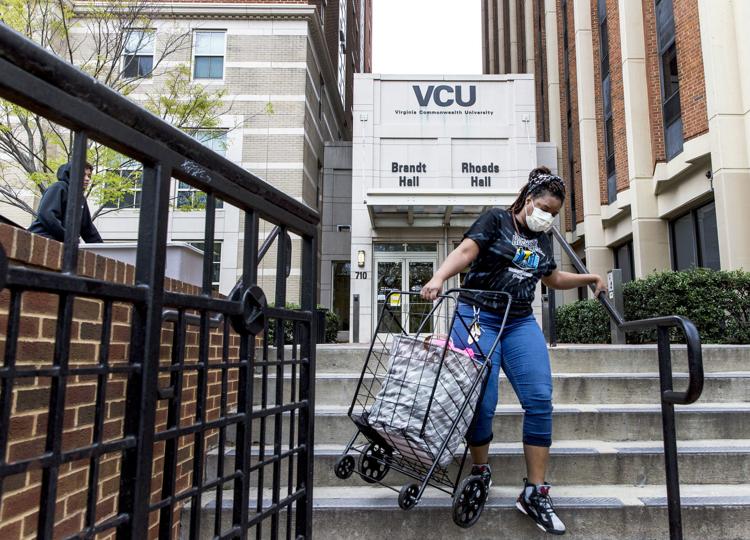 Sunday, March 15
- Number of positive tests in Virginia climbed to 45, state officials said there's capacity to test 370 to 470 individuals.
- Northam announced a statewide ban on all events over 100 people, called for businesses to engage in social distancing and urged residents to stay home as much as possible.
- More retailers cut back on hours to help with cleaning and restocking, including Walmart, Kroger, Wegmans and Trader Joe's.
- YMCA of Greater Richmond suspended childcare services for the upcoming week, but planned to stay open.
---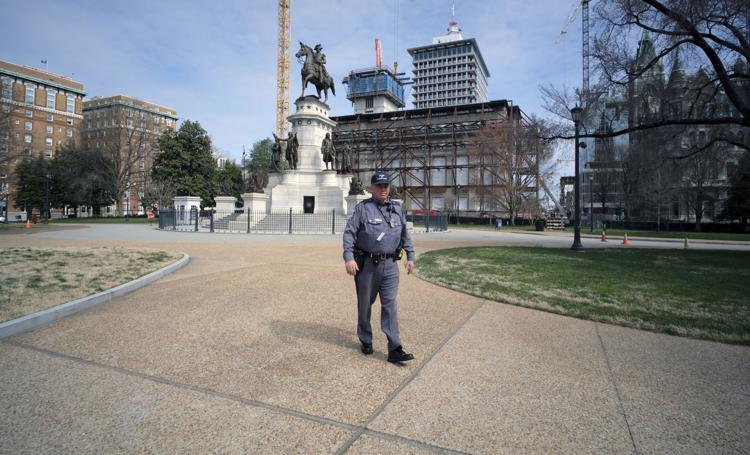 Monday, March 16
- Virginia reported 51 cases of coronavirus and the state's second death in the Peninsula Health District; first known cases confirmed for Henrico County and Charlottesville.
- Statewide K-12 school closures took effect; Richmond Public Schools announced closure would continue until at least April 13.
- VCU Health treated its first hospitalized patient for COVID-19, routine hospital visitation is suspended.
- Special meeting of Richmond City Council affirmed the emergency declaration; Council Vice President Chris Hilbert participated by phone due to precautionary self-quarantine.
- Greater Richmond Continuum of Care mobilized an emergency shelter plan for people living in a homeless encampment.
- The Virginia State Capitol and the Pocahontas Building closed to the public for the rest of March beginning at 5 p.m.
- Judicial emergency issued for all district and circuit courts, in effect until April 6.
- Senate Minority Leader Tommy Norment urged Northam to call a special session of the General Assembly to address the economic fallout of the pandemic.
- State Corporation Commission issued a 60-day moratorium on utility disconnections due to nonpayment.
- Virginia's prison system suspended accepting new inmates from local jails for 30 days; reported no confirmed cases among 30,000 inmates or staff.
- Richmond area malls reduced hours; movie theaters temporarily closed.
- Richmond planned financial help for restaurants affected by closures and restricted operation.
- In reversal, Liberty University announced a move to online classes following spring break.
- University of Richmond postponed the spring commencement ceremony.
---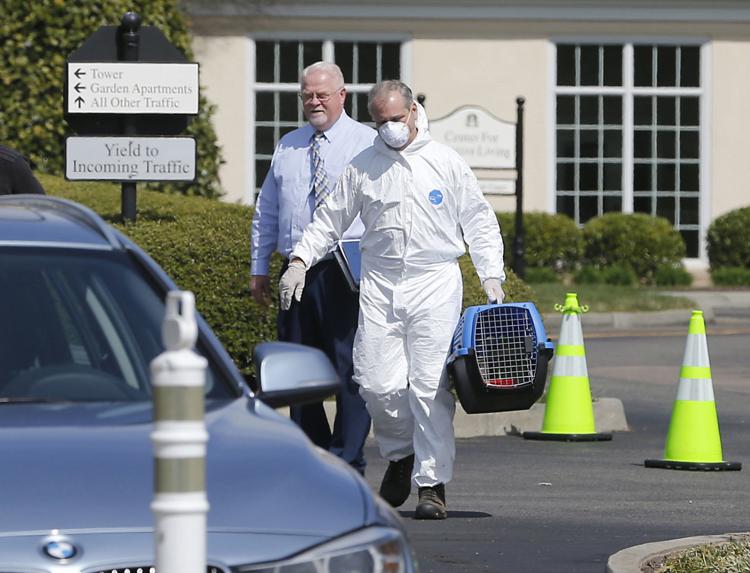 Tuesday, March 17
- Statewide coronavirus cases at 67 amid signs of community spread; Richmond area up to 8 cases.
- Northam said state will ban gatherings of 10 or more people, ordered Department of Motor Vehicles to shut down in-person services.
- Resident at Westminster Canterbury Richmond retirement community diagnosed with coronavirus.
- YMCA of Greater Richmond closed all 16 locations until further notice starting at 4 p.m.
- Virginia looked to cancel state SOL testing.
- Statewide tornado drill called off.
- University of Virginia canceled Final Exercises and all events on Grounds.
- First case reported in West Virginia as coronavirus officially reached all 50 U.S. states.
---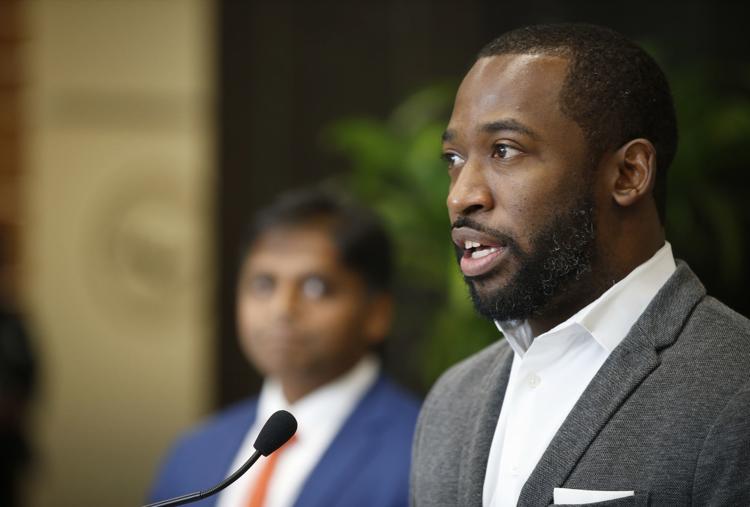 Wednesday, March 18
- Virginia cases of coronavirus up to 77 people, including four Richmond residents. 
- GRTC suspended fare collection until further notice to help with social distancing.
- VCU Health and some Richmond-area doctors and dentists prepared for the expected rise in cases by rescheduling non-emergency care.
- In a letter, Lt. Gov. Justin Fairfax asked Northam to call a special session of the General Assembly and implement more extensive closures of schools and businesses.   
- Bishop Barry Knestout, head of the Catholic Diocese of Richmond, entered precautionary self-quarantine. A negative test result was announced March 23. 
- Capital One Cafe and C&F Bank branches temporarily closed.
- VCU postponed May commencement to December and announced it will issue refunds and credits for housing and dining.
---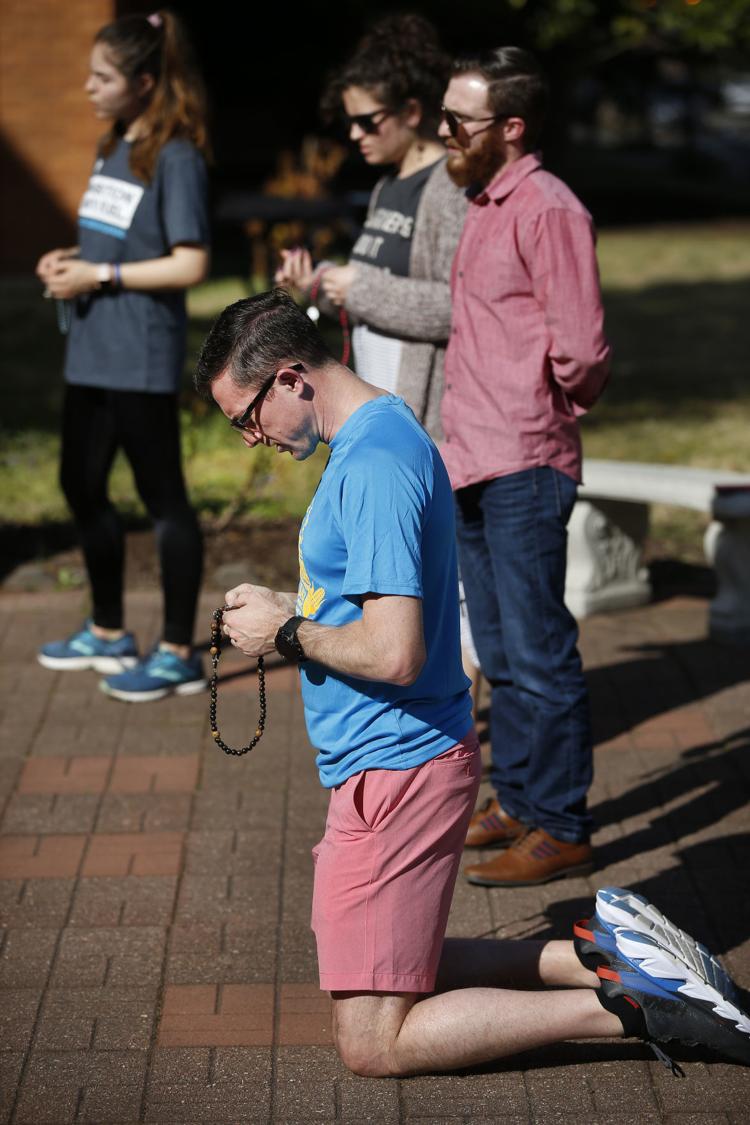 Thursday, March 19
- State officials reported 94 cases, 19 hospitalized and 1,923 having been tested; in Fairfax County, another assisted-living community reported a case.
- First positive COVID-19 case in Southwest Virginia announced by a Roanoke hospital.
- Northam announced new response guidance for child care, small business relief, criminal justice and Medicaid.
- VCU Medical Center started to screen visitors for symptoms of COVID-19.
- University of Virginia Health System debuted its own COVID-19 test.
- Philip Morris suspended operations at South Richmond plant after a second employee tested positive.
- Republican Party of Virginia postponed state convention scheduled for May 1-2.
- Deadline for paying Virginia income taxes delayed by 30 days from May 1 to June 1.
---
Friday, March 20
- Official case count numbered 114 in Va., with 6 in Richmond and 7 in Henrico.
- The Lynchburg area and the Southside Health District reported their first coronavirus cases.
- YMCA of Greater Richmond announced a partnership with the city to provide emergency childcare for medical workers, starting Monday.
- Altria Group CEO Howard A. Willard III took temporary leave after coronavirus diagnosis.
- Richmond-area breweries shift to online, pickup and delivery sales; two distilleries make hand sanitizer.
---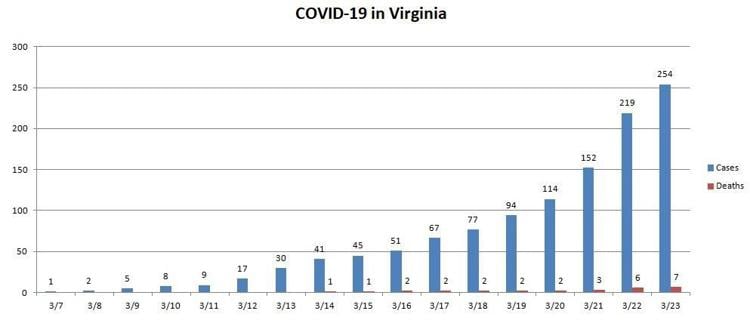 Saturday, March 21
- 152 reported cases in Va.; the state's third coronavirus-related death reported in Fairfax County.  
- Weekly unemployment claims in Virginia topped 30,000, with more expected. 
- Executive order from Northam authorized increases in hospital bed capacity. 
---
Sunday, March 22
- Virginia health officials announced 219 cases; three new COVID-19 deaths from the Peninsula region raised the statewide total to six fatalities. 
---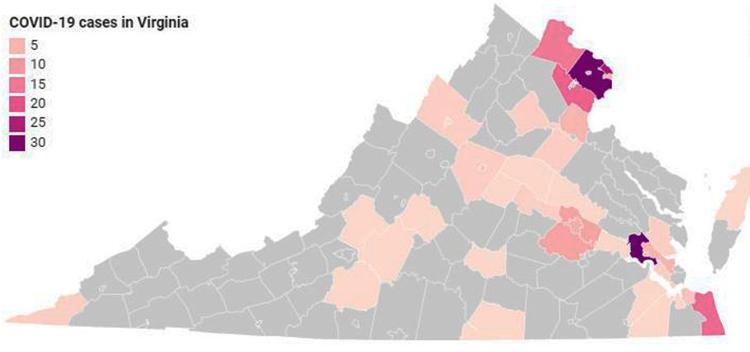 Monday, March 23
- Coronavirus cases rose to 254 and now appeared in 40 of the state's localities; the death toll rose to seven. 
- Northam ordered all K-12 schools closed for the rest of the academic year and stepped up restrictions for businesses.