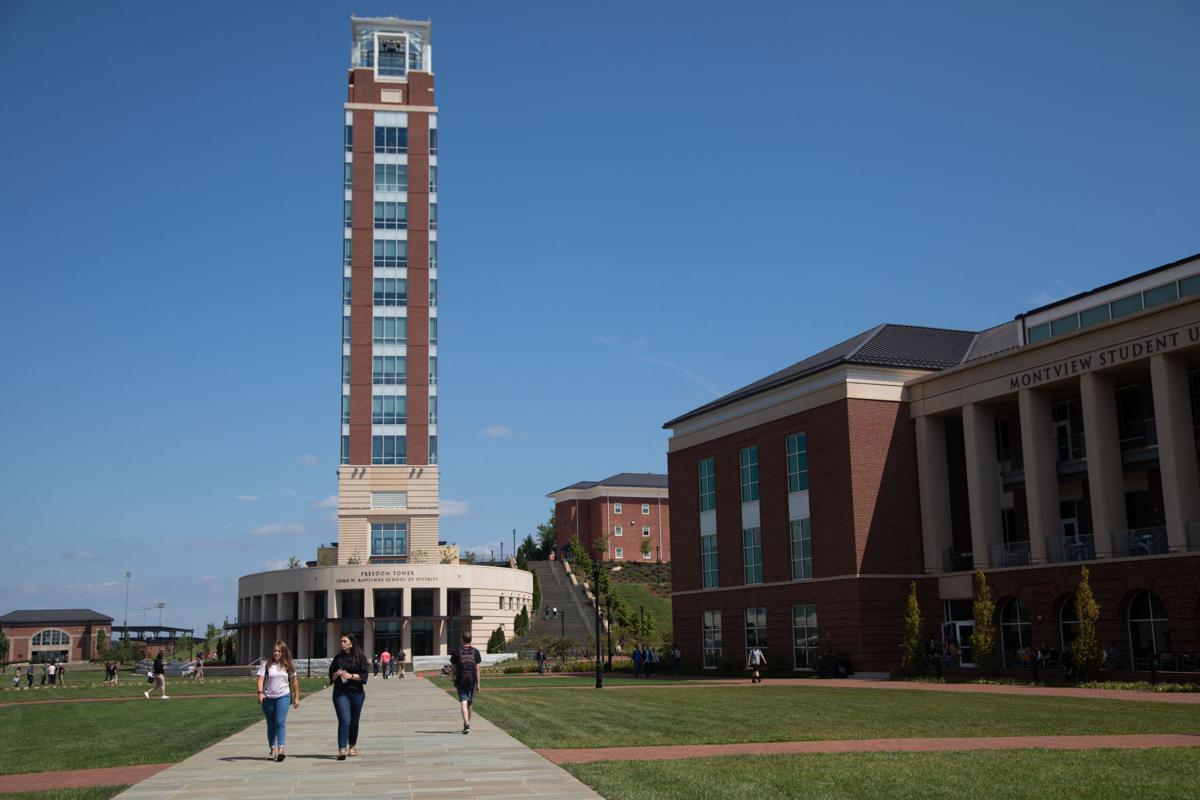 LYNCHBURG — Two Liberty University employees have tested positive for COVID-19, two were awaiting test results and seven have been asked to self-quarantine, the university has announced.
The diagnoses mark the first coronavirus cases among the thousands of people who work at Liberty, the largest employer in the Lynchburg region.
The university said Wednesday night that the two employees underwent testing for the virus at least two weeks after they began working from home. School officials did not describe the employees' current conditions.
"Public health officials do not deem these workers to have been a threat to the Liberty workplace or the campus community under these circumstances," the university said in a statement.
It is unclear where the employees work specifically or in what capacity. A university representative did not immediately return a request.
Liberty employs about 8,000 people, including more than 2,500 full- and part-time faculty members, according to the university.
Not all Liberty employees work on the school's 7,000-acre-plus campus. Some are employed in call centers and offices scattered across the city; a university-owned mall adjacent to campus; and a flight school at the nearby Lynchburg Regional Airport, among other facilities. Others, such as some online instructors, work outside of Virginia remotely.
The university has allowed faculty members to conduct classes and hold office hours from home, but other employees, including dining workers, don't qualify for remote work.
On March 29, the university reported the first — and, as of Thursday, the only — case of the virus among the school's student body. The student, who since has recovered, is enrolled in Liberty's online program and lives off-campus in Lynchburg.
At the time of the announcement, school officials said the student, a former athlete, visited a campus doctor before being diagnosed. The university now said the student consulted the campus clinic by phone and was directed to a Centra Health facility for testing.
On Wednesday, the university said in addition to two employees, one Liberty student is awaiting test results. In all, eight students and 16 employees had been tested for the virus. Of those, six students and 12 employees received negative results.
Liberty said in the event that an on-campus student tests positive for the virus, the student would remain in quarantine "until they are no longer symptomatic and have been confirmed by a health professional as no longer a threat to the health of others."
For weeks, Liberty has faced criticism allowing students to return to residence halls amid the public health crisis. As of Wednesday, 1,060 students remained on campus, down from a peak of about 1,900. Normally, about 8,000 students live on campus.