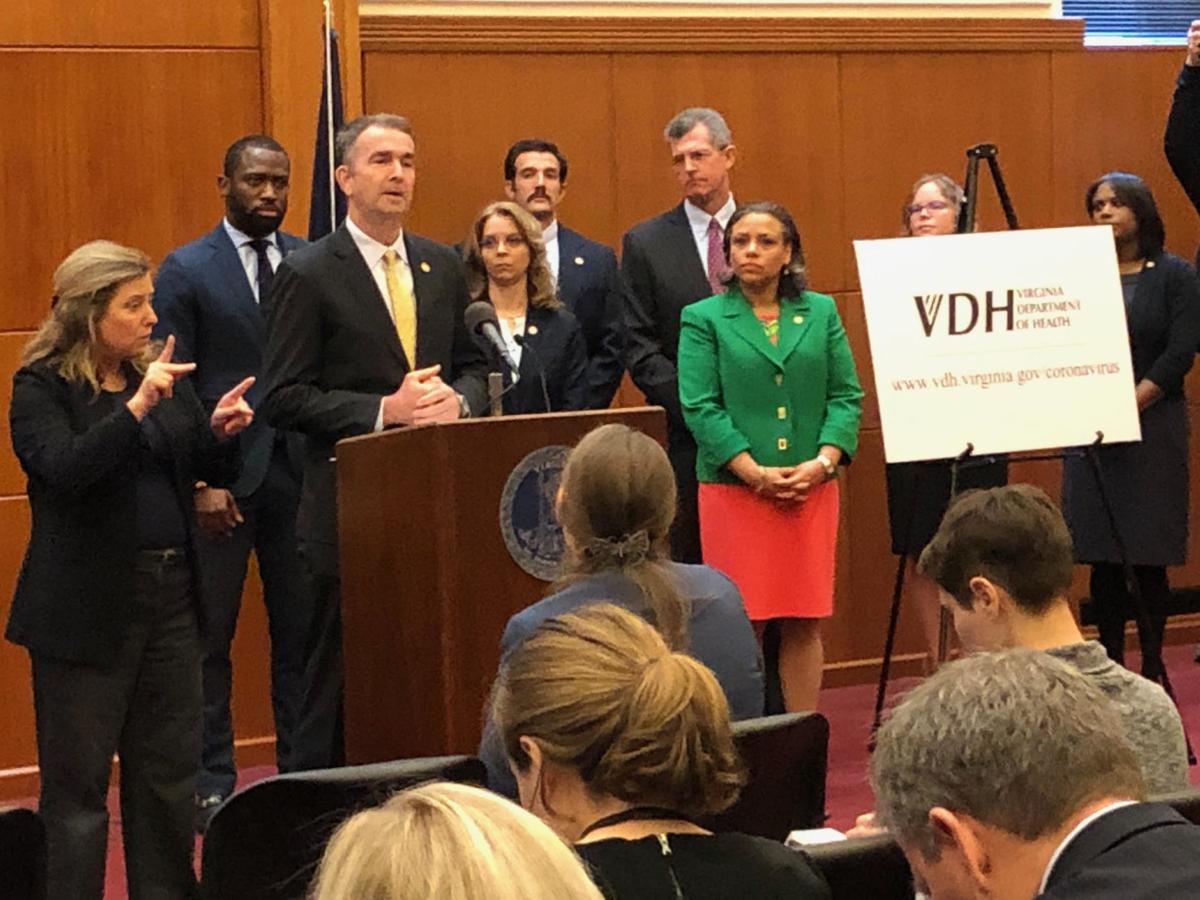 A Hanover County teenager has tested positive for COVID-19, marking the first known case of the coronavirus in the metropolitan Richmond area. The teen was the state's ninth case of COVID-19. 
With the World Health Organization declaring the spread of the virus a global pandemic Wednesday, Gov. Ralph Northam held off on declaring a state of emergency to leverage resources and ease regulations to treat patients and slow its spread, but said he is "prepared to do so if needed."
Late Wednesday, Longwood University in Farmville announced that a student had tested positive for the coronavirus. That would be Virginia's 10th case.
The student is self-quarantining, university President W. Taylor Reveley IV said in a statement. Campus events and in-person classes will be canceled through at least March 18.
"Based on their conversations with the student earlier this week about their brief time on campus following spring break, [the Virginia Department of Health] continues to believe even with the presumptive positive test there remains a low generalized risk to our community," he said.
Health officials warned that more cases will be reported in the coming days. Universities, local governments and businesses are making arrangements so students and employees can work remotely and limit potential exposure.
"I know that you have to be flexible enough to adapt your approach as the situation warrants," Northam said at a news conference Wednesday. "We're planning for every scenario, and ensuring that our government agencies, our schools, our hospitals and our commonwealth are prepared thoroughly and able to respond quickly."
The Hanover teenager who tested positive for the coronavirus had recently returned from traveling overseas, the Virginia Department of Health said Wednesday. Officials would not say where exactly the teen had been.
"We just received the test results this morning so we are actively investigating that," State Epidemiologist Lilian Peake said Wednesday, "but we do know that the person had traveled to a country that has a Level 3 alert."
The countries with a Level 3 travel alert, per the U.S. Centers for Disease Control and Prevention, are China, Iran, South Korea and Italy.
Officials with the Chickahominy Health District, which covers Hanover, the town of Ashland and the counties of Goochland, New Kent and Charles City, said the Hanover teen had returned home March 4 and began showing virus symptoms four days later.
"Discovering a case of COVID-19 in our community does not come as a surprise given international travel from an affected area," said the Chickahominy Health District's director, Dr. Thomas Franck. "We are fortunate that the resident followed our public health advice in accordance with the latest guidelines by staying home and limiting contact with others; consequently, we believe the risk to the general community remains low."
In a presentation to the Hanover Board of Supervisors on Wednesday, Deputy County Manager James P. Taylor said officials from Richmond, Hanover and the counties of Henrico and Chesterfield recently formed an emergency management team to prepare for the spread of the virus.
"We're reviewing our emergency operations plans. We've been doing that since this started back in February," Taylor said. "We're reviewing our pandemic flu plans and continuity-of-operations plans."
Hanover officials said the incident management team will make sure that all the localities are working together if the virus becomes widespread.
"Some hospitals could get overwhelmed, so we're helping each other to deal with that kind of scenario," Hanover Fire Chief Jethro Piland said.
Peake, the state epidemiologist, and Caitlin Hodge, a population health manager for the Hanover-area health district, said there's no evidence that the virus has become widespread in the region.
"The good news is this was travel-related, so it doesn't have anything to do with community spread," Hodge said of the Hanover case.
Four of the people in Virginia who tested positive for COVID-19 are believed to have been exposed while on a cruise on the Nile River in Egypt.
Three cases are also related to international travel: the Hanover teenager, an Arlington County resident and a Marine stationed at Quantico. Two other cases involve a Spotsylvania County resident and a Loudoun County resident.
The cases are classified as "presumptive positives" until they are officially confirmed by the CDC.
Peake said Tuesday that the state has approved testing at commercial labs, and hospitals can send tests to private labs at the health care providers' discretion.
The state epidemiologist said people who are concerned that they might have COVID-19 should contact their health care provider in advance to see if the facility has testing capabilities and to find out where to go if it does not. Two of the state's cases were reported after the infected people were tested at a Virginia Beach hospital.
---
PHOTOS: Coronavirus fears causing empty shelves, long lines at Richmond-area stores
(804) 649-6254
Twitter: @MelLeonor_
(804) 649-6178