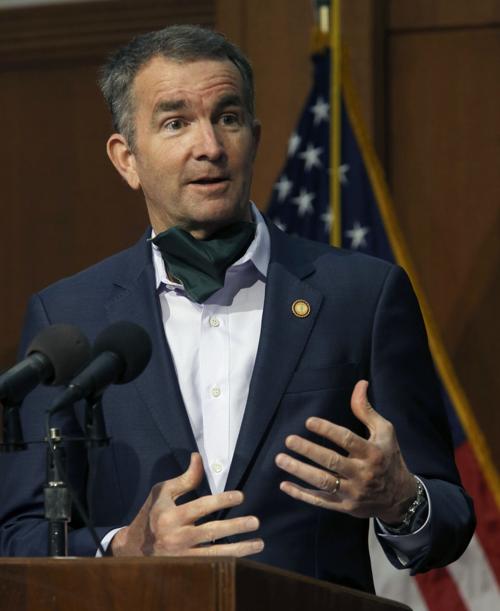 Virginia will move to the second phase of the state's COVID-19 reopening on Friday, with the exception of Richmond and Northern Virginia.
Restaurants and bars will be able to open their businesses for indoor dining at 50% capacity, while gyms may open at 30% capacity. The state will allow some recreation and entertainment venues to reopen, such as pools, museums and outdoor concert venues. But indoor concert venues and overnight camps will remain closed.
The state will also raise the limit on social gatherings from 10 people to 50, though the guidelines call for social distancing of 6 feet to continue.
Gov. Ralph Northam announced Tuesday that COVID-19 trends in the state support moving forward with a phased reopening. Northam said the state is averaging around 10,000 tests per day and hospitals are reporting adequate supplies of protective equipment.
"Now based on that data, I feel comfortable allowing most of Virginia to move on to Phase Two this Friday," Northam said.
Northern Virginia and Richmond — which along with Accomack County delayed reopening — will remain in Phase One.
"They only moved onto Phase One last Friday, and we need more time to look at their metrics," Northam said.
Accomack County on the Eastern Shore will move to Phase Two, Northam said, after extensive testing showed an outbreak there was under control.
Northam said that in Phase Two, Virginians should continue to follow social distancing, teleworking and face mask guidelines, and encouraged the state to continue under the recommendation of "safer at home."
"We are still in this pandemic," he said.
The Phase Two guidance instructs all employers to screen their employees for COVID-19 before shifts. All employers are also asked to limit the occupancy of their workplaces to ensure physical distancing by encouraging telework whenever possible and staggering shifts.
All employers are also asked to disinfect high-contact areas at least every two hours, or after each use by different individuals. They should also build in additional breaks for employees to wash their hands regularly.
Restaurants, gyms and retail businesses are asked to post signs at their entrances that no one with a fever or COVID-19 symptoms, or a recent exposure, is allowed to enter.
Retail businesses are also asked to help customers maintain social distancing, including by using floor markings in areas where customers tend to congregate, like the checkout line.
Gyms are asked to screen all patrons before letting them in by asking whether they have a fever or COVID-19 symptoms. Personal trainers have to remain 10 feet away from their clients.
Gyms must ban the use of any equipment that can't be thoroughly disinfected, like climbing ropes and some exercise bands.
Indoor and outdoor swimming pools can open for lap swimming, diving, exercise and instruction only. Indoor and outdoor sports can go on, as long as there is 10 feet of distance between coaches, players and spectators.
Guidelines for religious establishments remain the same: Churches can reopen at 50% capacity.
The Virginia Department of Health reported Tuesday that the statewide total for COVID-19 cases is 46,239 — an increase of 841 from the 45,398 reported Monday.
While overall case numbers have increased with more testing, VDH data show the percentage of positive results are continuing a decline that started in the middle of April.
The 46,239 cases reported Tuesday consist of 44,069 confirmed cases and 2,170 probable cases. Also, there are 1,407 COVID-19 deaths in Virginia — 1,300 confirmed and 107 probable. That's an increase of 15 from the 1,392 reported Sunday.
VDH defines probable COVID-19 cases as people who are symptomatic with a known exposure to COVID-19, but whose cases have not been confirmed with a positive test.
VDH data shows most cases (79%) are occurring in adults between the ages of 20 and 69, with people in their 40s accounting for the largest percentage of cases (18.6%). The majority of deaths (76.8%) are among Virginians over the age of 70.
In the Richmond area, there are 5,315 cases: 1,919 in Henrico County, 1,627 in Chesterfield County, 1,434 in Richmond and 335 in Hanover County. Also, the region has 220 deaths attributed to the virus: 135 in Henrico, 37 in Chesterfield, 24 in Richmond and 24 in Hanover.
Fairfax County, the state's most populous locality with more than 1.1 million people, has the most cases with 11,426 and 391 deaths.
VDH said there are 367 outbreaks in the state, 214 in long-term care facilities. These facilities also account for 796 of the state's deaths attributed to the virus.
State health officials have said there's a lag in the reporting of statewide numbers on the VDH website. Figures on the website might not include cases or deaths reported by localities or local health districts.
(804) 649-6254
Twitter: @MelLeonor_
Richmond.com Editor Paul Whelan contributed to this report.