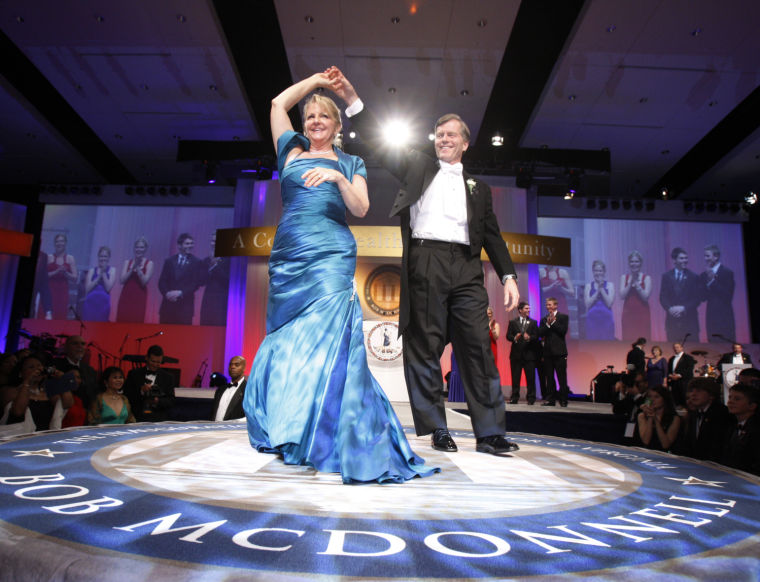 The federal indictment Tuesday of former Gov. Bob McDonnell and his wife, Maureen, seems more an exercise in voyeurism than law enforcement. It's that unseemly. It's also historic, shattering Virginia's reputation for honest, well-mannered government. A governor in irons is an image associated with Maryland, Tennessee, Louisiana, Connecticut and Illinois.
After alleging that the McDonnells — who are forcefully denying all charges — gave false statements, conspired to commit fraud, obstructed justice and sought favors in return for official action, the U.S. Department of Justice lists 28 supposedly ill-gotten goodies that it expects the former first couple, if convicted, to forfeit:
"The sum of not less than $140,805.46; black Rebecca Minkoff shoes; black Louis Vuitton shoes; white Louis Vuitton shoes; cream Louis Vuitton shoes; cream Louis Vuitton wallet; silver Rolex watch engraved with '71st Governor of Virginia;' yellow Peter Som dress; blue Armani jacket and two matching dresses."
Also, "Two pairs of FootJoy golf shoes; one button-down Ralph Lauren shirt … one Ping University of Virginia golf bag; one Ping Kinloch golf bag; one Sun Mountain Notre Dame golf bag; two sets of golf clubs; one Heather Mackenzie water color and frame; two iPhones; and 30 boxes of Anatabloc."
A disputed dietary supplement, Anatabloc is the brainchild of Jonnie R. Williams Sr., flamboyant former chief of financially troubled Star Scientific Inc. Williams saw gold in Anatabloc. To realize any riches required legitimizing his product, affixing to it the imprimatur of respected scientists and public officials. And that meant Williams needed friends in high places.
So did Bob and Maureen McDonnell, but for different reasons.
The 43-page indictment depicts the McDonnells as practically destitute — tapped out by the expense of educating five children; of later marrying off two daughters; by investing in pricey resort real estate that would become a black hole; of keeping up appearances. Their difficulties were in full flower even before Bob McDonnell was sworn in as governor in January 2010.
In an email Dec. 21, 2009, to a McDonnell aide, Maureen McDonnell didn't mince words about family financial woes:
"I need to talk you about Inaugural clothing budget. I need answers and Bob is screaming about the thousands I'm charging up in credit card debt. We are broke, have an unconscionable amount in credit card debt already, and this Inaugural is killing us!! I need answers and I need help, and I need to get this done."
And she did, asking Williams to purchase an Oscar de la Renta dress she would wear to her husband's inauguration. Though she later told Williams she could not accept it — seeking a "rain check," according to the indictment — her request was an early display of entitlement that would flare over four years, ultimately capturing the attention of federal investigators.
It might have been avoided, the indictment suggests, had she listened to the people on whom the governor relied to protect his image as the earnest public official. Or as McDonnell, a man of profound Catholic faith describes himself, a "servant-leader."
The indictment says the aide, with whom Maureen McDonnell later became upset, "expressed concerns regarding the prospect of [Williams] purchasing [her] inaugural dress and ultimately informed her that [Williams'] purchase of a designer dress for the inauguration was inappropriate and should not be done."
For Williams, the McDonnells' vulnerability was an opportunity.
Over Bob McDonnell's four-year term, the family allegedly sought — and Williams obliged them — with creature comforts lavish, garish and lucrative: clothing, jewelry, holidays at his lakeside house, access to his Ferrari, rounds of golf at his posh club and cash on favorable terms to settle their debts and purchase shares in his company.
Much of this went unreported under Virginia's porous and inexact ethics laws, which legislators now vow to strengthen, having learned through the McDonnell scandal that self-policing does not work.
Until the McDonnell indictments, federal criminal entanglements were a rarity for Virginia elective officials.
Phil Hamilton, a powerful member of the House of Delegates, was convicted in 2011 in a job-funding scheme. Chuck Robb, a former governor and U.S. senator, escaped indictment in 1993 in connection with illegal eavesdropping on rival Doug Wilder. Before that, two influential Hampton Roads legislators, Johnny Joannou and Willard Moody, were cleared in a ticket-fixing ruse.
In the indictment Tuesday, a picture emerges of McDonnell as a politician who rationalizes his behavior. This is a man who apparently told himself that — because Williams had become an intimate and because gifts from friends do not have to be disclosed under state law — he could conceal from the public beneficence that it would almost certainly deem indefensible.
And it was behind that screen, the indictment argues, that an elaborate scheme unfolded — one in which the government of Virginia, following enthusiastic assurances by Maureen McDonnell to Williams, pledged to support his money-losing company.
In a written statement and in a live television appearance, Bob McDonnell said that he had done for Star Scientific what Virginia governors routinely do for business in a state where the line separating commerce and commonwealth often is blurred.
Now a jury could decide whether business as usual actually is unusual.
Contact Jeff E. Schapiro at (804) 649-6814. His column appears Wednesday and Sunday. Watch his video column Thursday on TimesDispatch.com. Follow him on Twitter.com/ @RTDSchapiro. Listen to his analysis 8:33 a.m. Friday on WCVE (88.9 FM).