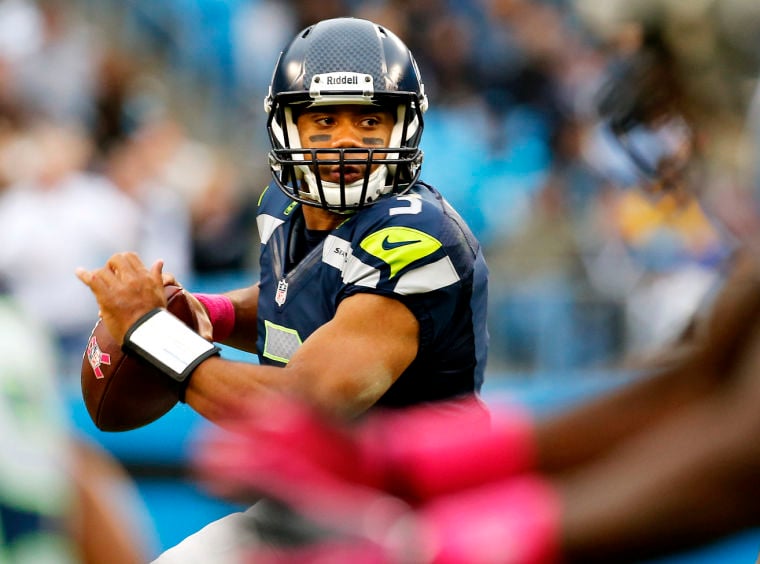 "When you have a vision … make it a reality … one day at a time. Then it will become someone else's dream." — Russell Wilson
The story begins on a farm in Kentucky, with a freed slave in the days after the Civil War.
It will end with an NFL quarterback from Richmond performing in front of millions of fans, a commercial for Levi's jeans, and leadership skills that are praised by some of the country's most famous football coaches.
Russell Wilson's story is being told because of his sporting success, but it is fundamentally about the power of education. His father, Harrison Wilson III, was nearly an NFL player himself, but also was a University of Virginia law school graduate and was committed to his son's schooling.
So when Russell began to stand out on the football field against private school competition at Collegiate School, and offers came for him to transfer to bigger high schools at higher levels, Cougars coach Charlie McFall had no reason to worry.
"Russell's dad came over one time and said, 'Charlie, I didn't put Russell at Collegiate for sports. I put him there to get an education, and that's No. 1. Sports will come,' " McFall said.
That attitude had been passed down through generations.
Russell Wilson's grandfather is Dr. Harrison B. Wilson, retired president of Norfolk State University.
Dr. Wilson's grandfather was a slave to a Confederate colonel and was freed after the Civil War. At age 18, he moved to Kentucky and started a farm.
He instilled the promise and idea of education in his 15 children, who in turn passed it on.
"It was interesting that while he had a big farm and had money, they didn't think of that as being as important as an education," Dr. Wilson said in tapes that are part of Old Dominion University's collection of oral histories. "Most of us worked our way through college."
Russell's father followed a similar path, playing football and baseball at Dartmouth during his undergrad years.
He also had an uncommon drive, waking his sons up at 6 a.m. to practice sports before school. Even after suffering a diabetes-related stroke in 2008, he pressed on.
Russell's older brother, Harrison Wilson IV, remembers driving his dad to Ukrop's in the days after the stroke.
"We were talking about something, and he looked at me and said, 'I just want to be a success,' " Wilson IV remembers. "It was so simple and poignant. In my dad's perception of where he was and what he was doing, he felt like he had so much more to do.
"And how that relates to my brother is that he's not going to let a single day pass where he can't check boxes off at the end of the day.
"Something he understands that a lot of people don't — and understood at age 18 — is he knew exactly what he wanted to do. My dad, that's the nature he was and the person he was."
* * * * *
Harrison Wilson III died on June 9, 2010, one day after Russell was picked by the Colorado Rockies in the Major League Baseball draft.
Before each game, Russell will write a word on his wristband, a theme for the day.
"When my dad was sick, I started doing it to keep a reminder of what's really important, and to remember to play the game the right way," he said.
Now the starting quarterback for the Seattle Seahawks, last week's word was "poise." He had been having a rough stretch, and fans were beginning to call for backup quarterback Matt Flynn.
If that bothered Wilson in any way, it wasn't noticeable. He led his team to a 16-12 victory at Carolina, overcoming two interceptions and throwing the game-winning touchdown pass.
"He does not let stuff waver him," Seahawks coach Pete Carroll said. "It's because he has this extraordinary belief, and I wish we all had that. That's what makes us all do our best in the most difficult circumstances."
Teammates describe the way he won over the locker room shortly after arriving.
It's the same thing he did at each of his previous stops. After graduating from N.C. State in three years, he left to pursue baseball. He then went to Wisconsin for his fourth year of football and was named team captain three weeks after arriving.
* * * * *
Wilson's fame in the nation's most popular sports league has led to a number of opportunities, including an ad for Levi's jeans, where he tells his story.
Rick French is CEO at French/West/Vaughan, which handles PR for Wilson. French said Wilson intentionally wanted to limit his endorsements this offseason while he focused on football, but French sees a bright future ahead.
"He's got a unique set of skill sets," French said. "Obviously he's a terrific football player, and he's a really, really good human being, and he's got a very inspiring story."
There were football pundits who didn't give Russell, who stands 5 feet 11 inches tall, a chance to succeed at the pro level. Drew Brees had been the NFL's shortest starting quarterback, at 6 feet even.
Monday Night Football commentator Jon Gruden said if Wilson were taller, he would have been a first-round draft pick. Instead, he had to win his job from Flynn, who had just signed a big contract.
"He told us from day one he intended to start for that team this year," French said. "It's similar to what happened at N.C. State. People looking from the outside might have thought it was a long shot, but he is a really driven guy."
The Levi's ad focuses instead on the impact Wilson's dad had on him.
It's an impact that is benefiting the Seattle community. Each week on his day off, Wilson visits the Seattle Children's Hospital. This week he added a second stop at Fort Lewis, visiting soldiers.
Seahawks radio announcer and Hall of Fame quarterback Warren Moon has been impressed with what Wilson has been able to accomplish in such a short time.
"He's one of the hardest workers I've ever seen at this level," Moon said. "When we get on the plane after games, he's the first guy to come up and get the film. And when we land at the facility, he'll go in and watch some more.
"Now he's having success as far as leading the team. They'll love you, because that's what they want at that position, somebody they can rally around that will help them win. He's shown he can do it at the highest levels, and he's only going to get better."
* * * * *
Officially, Harrison Wilson III never played a down in the NFL, getting cut by San Diego after his final preseason game.
Those who know the Wilsons know otherwise.
Watching Russell play for Seattle, it's easy to forget this is the son and not the father, to look at No. 3 and see Harrison's traits — his leadership, smarts and poise — on display. This is no accident.
After games, Russell won't conduct interviews until he has changed into a freshly pressed shirt and tie, something his dad taught him.
Now a new parent in Chicago, Harrison IV has reflected on what the bond between his dad and Russell means.
"I wish I could go back and have some of that drive and focus," said Harrison IV, an account manager for Stryker, a medical technology company.
"As an older brother, you don't necessarily look up to your younger brother, but in a lot of ways I do look up to him."
The two leaned on each other after their dad's death, and in the days since.
They know they will be the next to pass on a commitment to education that spans generations.