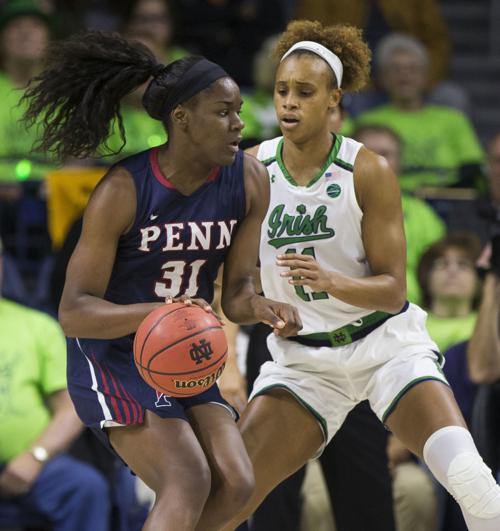 Tina Thompson says this year's Virginia women's basketball team is better prepared to win games than in any of her previous three seasons as the team's coach.
After three consecutive losing seasons and a winless record last year — UVA played five games before the team opted out of the season because of COVID-19 concerns — the time is now for Thompson's team to make progress. She dived into the transfer portal this offseason to remake a roster in need of depth, athleticism and talent.
"I am kind of a witness or a living proof that you can get a whole team almost out of the transfer portal," Thompson said.
The Cavaliers list 16 players on their roster. Seven of those began their careers at other programs.
Forward London Clarkson, who joined the team last season from Florida State but didn't see the floor because the season was curtailed, is expected to play a key role this year. Penn graduate transfer Eleah Parker is a two-time Ivy League defensive player of the year. She gives the team a 6-foot-4 frame in the post.
Clarkson and graduate student guard Amandine Toi, UVA's player representatives at ACC basketball media day, raved about forward Camryn Taylor on Wednesday. Taylor is a Marquette transfer who averaged 12 points and 6.9 rebounds for the Eagles in 2020-21.
"Her athleticism is just crazy," Toi said.
Toi called the forward "a beast."
For the first time in Thompson's tenure, UVA expects to have a legitimate post presence.
At guard, the Cavaliers return Toi and Carole Miller, a junior. The two backcourt players are trusted by Thompson and have experience playing at Virginia. They'll compete for time with several other guards, including transfer additions Taylor Valladay (Marquette), Corina Carter (New Mexico) and McKenna Dale (Brown), who has the most size of the trio. Valladay and Carter offer defensive and ballhandling skills.
In addition to transfers, UVA added a coach this offseason.
James Posey, an NBA champion player who spent recent years as an NBA assistant coach, joined UVA as an assistant coach this offseason. He replaced Monica Wright Rogers, who took an NBA job working in basketball operations.
The Cavaliers like what Posey brings to the team.
"He's my favorite," Clarkson said. "I love all of my coaches, but James Posey? I don't know what it is, but when he tells me something, I'm like, 'I get you.' It's just so easy to get."
Thompson echoed Clarkson's thoughts, saying Posey breaks down complex concepts into simple terms.
Between the transfer additions and adding Posey to the staff, UVA believes it's better positioned to win games.
It's an important year for Thompson, who signed a five-year contract to lead the program in April 2018. While the men's team has competed for ACC and national titles, the women's program has lagged well behind in recent years.
The players and coaches are tired of losing . "I want to compete, I don't want to be on the court just to be on the court," Toi said.
While the Cavaliers aren't a likely ACC title contender, they believe better results — perhaps a winning season — are on the horizon.
"I've been here a long time, I've seen it all," said Toi, who has been with the program since the 2017 season. "I think this year is the most competitive environment I've been in."