GREENVILLE, S.C. — Alexis Morris hit two foul shots with 10 seconds to play as third-seeded LSU reached the Elite Eight for the first time since 2008 by beating No. 2 Utah 66-63 on Friday.
Down 64-63, the Utes had a chance to get back in front, but Jenna Johnson — a near 75% foul shooter — missed both attempts with 4.7 seconds to go. Utah's Dasia Young had her hands on the rebound, but LSU's Sa'Maya Smith took it away.
Morris added two more foul shots for a three-point lead. The Utes had a final chance, but Young's 3-point try from the left corner hit the side of the backboard as time expired.
LaDazhia Williams scored a season-high 24 points and Angel Reese had her 31st double-double of the season with 17 points and 12 rebounds for LSU (31-2). Morris finished with 15 points.
Playing out of Greenville Region 2, coach Kim Mulkey's team will face ninth-seeded Miami on Sunday night for a spot in the Final Four.
LSU hadn't advance this far since reaching the Final Four 15 years ago. This is Mulkey's second season coaching the Tigers.
Williams, a fifth-year grad transfer who played at South Carolina and Missouri, was dominant down low as she made 11 of 14 shots and finished a point shy of her career best.
Gianna Kneepkens led Utah (27-5) with 20 points. Alissa Pili, a second-team AP All-American, had 14 points, but took just eight shots as LSU denied her the ball.
The Tigers came out fast as Reese and Morris helped build a 13-6 lead.
But Utah, the Pac 12 regular-season champions, was on its own mission to win three games in an NCAA Tournament for the first time since 2006. The Utes put together a 19-5 run behind the outside shooting of Kennady McQueen and Kneepkens.
Kneepkens' jumper with five minutes left pushed Utah's lead to 25-18 with LSU starters Kateri Poole and Reese on the bench with two fouls apiece.
Reese, Poole and fellow LSU starter Flau'jae Johnson fouled out in the final minutes.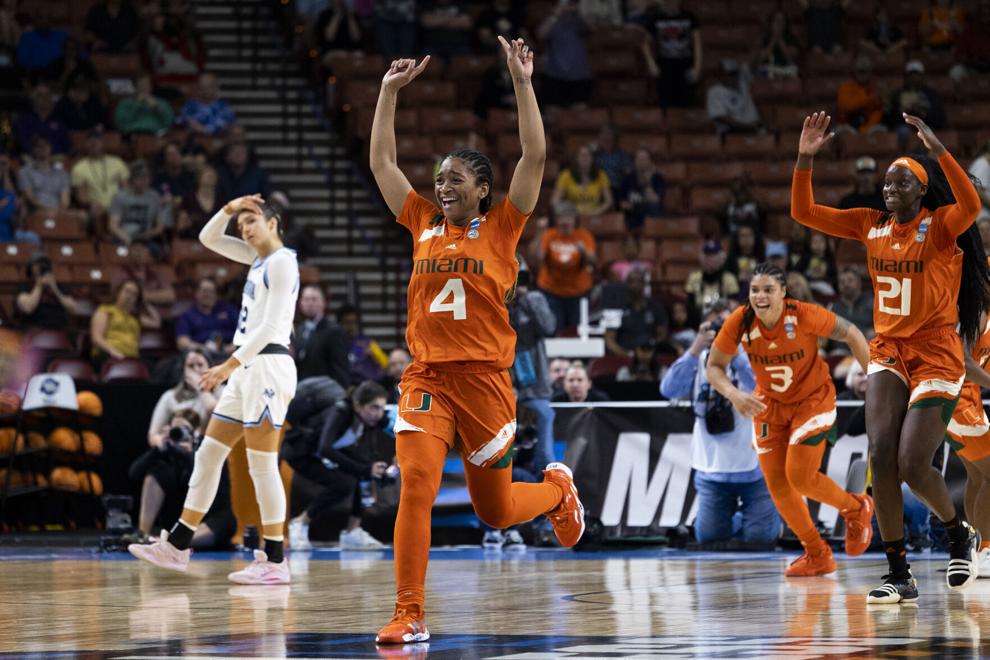 MIAMI 70, VILLANOVA 65: Jasmyne Roberts scored a career-high 26 points to help ninth-seeded Miami (22-12) overcome blowing a 21-point lead and complete the upset over No. 4 Villanova (30-7) for the program's first trip to the Elite Eight.
Roberts' performance included the stickback for the go-ahead, three-point play with 38.8 seconds left. The Hurricanes were in the Sweet 16 for only the second time, the other coming in 1992.
Maddy Siegrist, the nation's scoring leader, had 31 points, 13 rebounds and five steals for Villanova. It marked her third 30-point outing in as many tournament games, pushing her to the No. 2 single-season scoring total in Division I history.
SEATTLE 4
IOWA 87, COLORADO 77: Caitlin Clark scored 31 points and second-seeded Iowa shook disappointing losses the past two seasons to reach the Elite Eight with a win over No .3 Colorado.
After two straight tournaments where Clark's season ended in the round of 16 and the round of 32, the first-team All-American was the catalyst for Iowa's big second half push that gave the Hawkeyes a chance next Sunday to earn their second Final Four berth in school history.
Frida Formann led Colorado with 21 points, but 19 of those came in the first half when her shooting carried the Buffaloes.
LOUISVILLE 72, OLE MISS 62: Hailey Van Lith scored 21 points to help fifth-seeded Louisville (26-11) beat No. 8 Mississippi (25-9).
It's the fifth consecutive year that Louisville reached at least the Elite Eight. The loss ended a great run for Mississippi, which upset No. 1 Stanford in the second round to reach its first Sweet 16 since 2007.
Marquesha Davis and Myah Taylor each scored 19 points to lead Ole Miss.