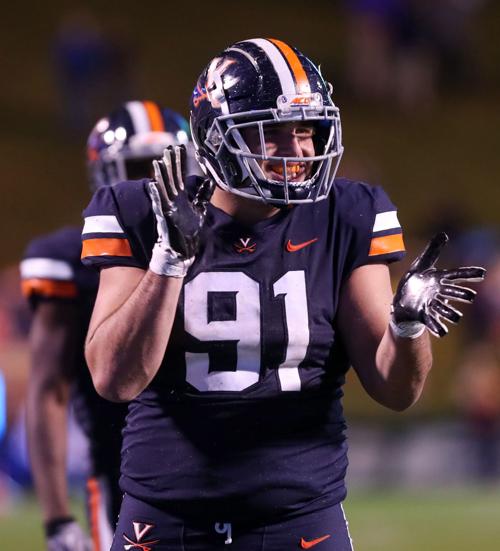 CHARLOTTESVILLE — While Abilene Christian may not be a national brand or a household name in Virginia, UVA coach Bronco Mendenhall said he's known about the Wildcats' program — the one that visits Scott Stadium on Saturday — since his days as an assistant at Northern Arizona and New Mexico.
"On the East Coast, there might be many that haven't traveled the plains of West Texas, seeing the horses and the cows and the farms and all the things out there. But I have," said Mendenhall. "In fact, I used to take my wife in the car recruiting in the spring, driving from Albuquerque, all the way through those areas. … For me it was basically blissful. And I couldn't stay out there long enough. I just wish I was on horseback."
Every week, Mendenhall tells his players they're preparing for "the next nameless and faceless opponent."
This week, that description is exceedingly apt.
UVA (3-4) hosts Abilene Christian (1-4), an FCS school located about three hours west of Dallas. The Wildcats have been playing football for 99 years but this will their first game against a school from Virginia and just its second against a current ACC member.
Abilene played Florida State three times in the 1950s, when the Seminoles were an independent.
All that makes Mendenhall's normal pitch — asking his team to focus on its own preparation and execution — work especially well this week. It's an emphasis he said he's taken from reading about former UCLA basketball coach John Wooden.
"The focus is us," he said. "That's what I mean by that, not in relation to the opponent. Because that's just the core philosophy that I have kind of extracted from John Wooden. Have the focus entirely be on us. The context is the next game."
Virginia has won back-to-back games going into Saturday's contest, a game that will be played in front of just 250 fans after the governor's latest executive order on COVID-19 safety dropped the attendance limit from 1,000.
The COVID-altered ACC schedule called for teams to play 10 conference games, plus one nonleague game. Virginia's original plus-one — VMI — opted not to play this fall, and the league wanted UVA to replace the Keydets on the schedule.
"There weren't many that could play or would play or had this date available to play," said Mendenhall. "I have no connection with Abilene Christian or their program or their staff. We were really looking for also things that would guarantee that they would be compliant and would test at the level that we needed to besides having the date. So, a lot of filters were in place and there weren't many options available."
In the Wildcats, Virginia found an infinitely beatable foe — UVA is a 39½-point favorite in the game — to visit Scott Stadium as it tries to make a run for a winning record down the back end of the season.
But co-defensive coordinator Nick Howell said Abilene Christian is capable, with a solid quarterback and a well-designed passing game.
"When you play teams, obvious there can be varying degrees of talent," said Howell. "What you don't see in college football, you never turn the film on and say wow, these guys' scheme is not well thought out and they don't know what they're doing."
Howell said the Wildcats' offense has elements of Louisville's offense and the jet sweep, play-action-heavy scheme Pittsburgh ran a few years back, under former offensive coordinator Matt Canada, abilities that could challenge a UVA defense that has lost two starting defensive linemen in the past three weeks and has been playing without two starting safeties.
"They have some really good stuff on the perimeter where they're going to get blockers on defenders and try to get to the perimeter, and they have a really good play-action pass game," said Howell. "Their scheme is really well thought out. … There's things on there that give you a problem schematically."
Howell and Mendenhall's players have gotten the message.
"We always take every game seriously," said senior defensive end Mandy Alonso. "Coach always says in meetings, you don't really care who we're playing. You just gotta prepare the same way each week, week in and week out. It's basically on us that we have to prepare."