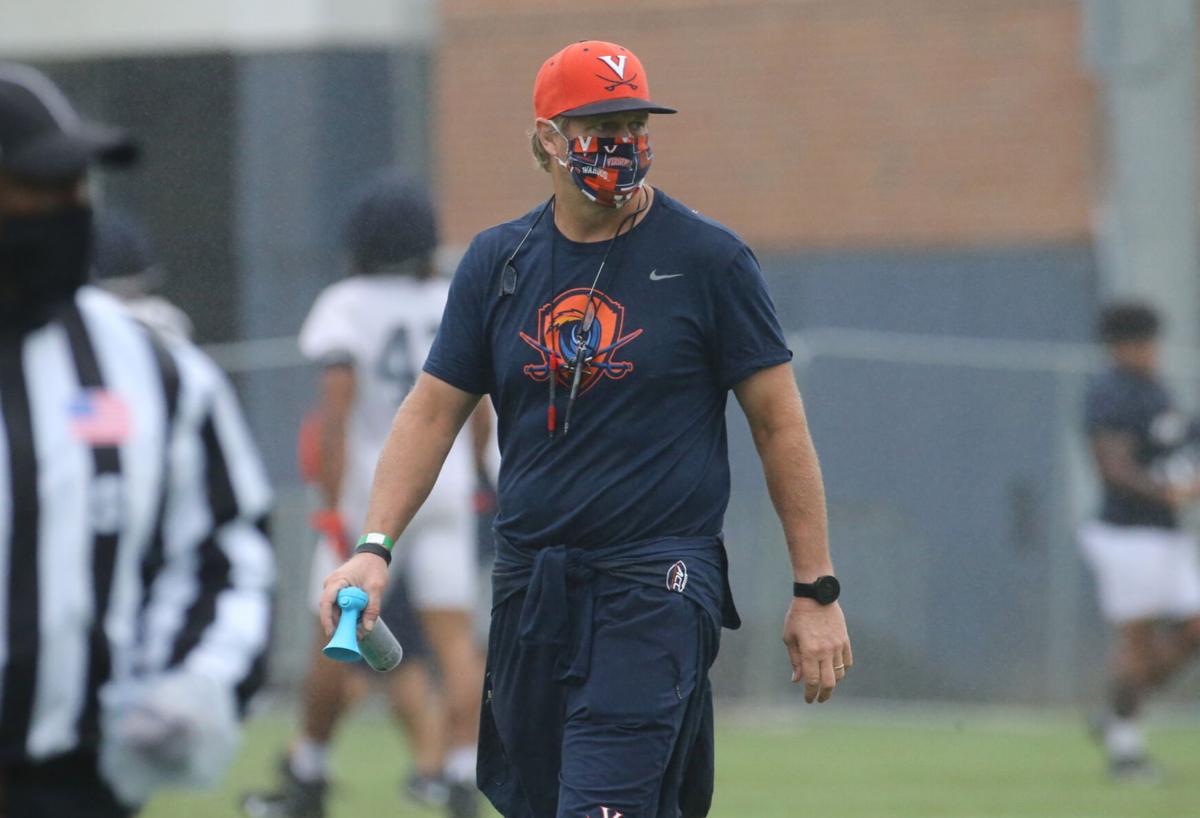 The ACC on Tuesday changed COVID-19 testing for football that Virginia coach Bronco Mendenhall called unacceptable and caused his team a wasted trip to Florida State last weekend.
Throughout this season, the ACC was the lone Power Five conference to administer third-party PCR (nasal) virus tests the day before football games. The league's medical advisory group proposed the standard during the summer, and the ACC's 15 university presidents approved the measure to assure the safest game-day environment possible.
But the results of those tests, processed by a lab in North Carolina, were often not available until late Friday night or early Saturday morning, forcing teams to travel without knowing if they, or the opponent, had enough virus-free players to stage a game.
The testing protocol was not an issue for 65 contests over more than two months, but game-day cancellations of Clemson-Florida State on Nov. 21 and Virginia-Florida State on Nov. 28 sparked frustration from myriad parties and prompted Tuesday's change.
"Each team will be required to have a PCR test administered on Thursday," the ACC said in a news release, "with a result prior to the visiting team traveling to the game locale. The chief medical officers from each team will confirm results and attest that there is every expectation that the game will be played.
"While the medical advisory group has not identified evidence of virus transmission during competition, this adjustment will mitigate the chances of unnecessary interaction between team members and outside individuals that are inevitable during travel."
UVA and FSU were unable to play after one positive Friday test within the Seminoles' program, subsequent contract tracing Saturday morning and previous injuries left them with only 44 scholarship players, barely half the NCAA's maximum of 85. Moreover, some FSU position groups were nearly wiped out.
The Cavaliers had delayed their Friday charter flight to Florida to assure their roster was game-ready but awakened Saturday to the news. During his weekly news conference Monday, Mendenhall blamed ACC protocols, concerns that UVA athletics director Carla Williams shared with the conference office.
Mendenhall added that he had no interest in returning to FSU to play later this season — Dec. 19 would have been the lone available date — and Tuesday the ACC scheduled the Seminoles to face Wake Forest that day.
"What's typical right now in the ACC is a lot of teams don't find out the results until Saturday morning, which is, in my opinion, unacceptable," Mendenhall said. "And so there's ways to mitigate that. We have a lot of smart people making decisions and [who] are certainly capable."
About 29 hours later, the conference announced the change, which brings the ACC in alignment with the Southeastern Conference, which also administers a PCR test Thursday. The Big Ten, Big 12 and Pacific 12 use rapid antigen tests, which are generally less accurate, for their final pregame assessments.
The ACC on Tuesday also unveiled several adjustments to its football schedule for Dec. 12 and 19. The changes do not affect Virginia Tech or Virginia, other than affirming the UVA-FSU cancellation, which means the Cavaliers will play 10 regular-season games instead of the previously scheduled 11.
That's fine by Mendenhall.
"I'm anxious to play Boston College [on Saturday] and then Virginia Tech [on Dec. 12]," he said Monday. "And then hopefully, we play well enough to be considered for postseason, and we go from there."
Seasons for Notre Dame and Clemson also were trimmed to 10 contests by Tuesday's changes, making both idle Dec. 12 before their presumed ACC championship rematch Dec. 19 in Charlotte, N.C. The Fighting Irish have clinched a berth in the title game, and the Tigers can secure their spot with a victory Saturday at Virginia Tech.