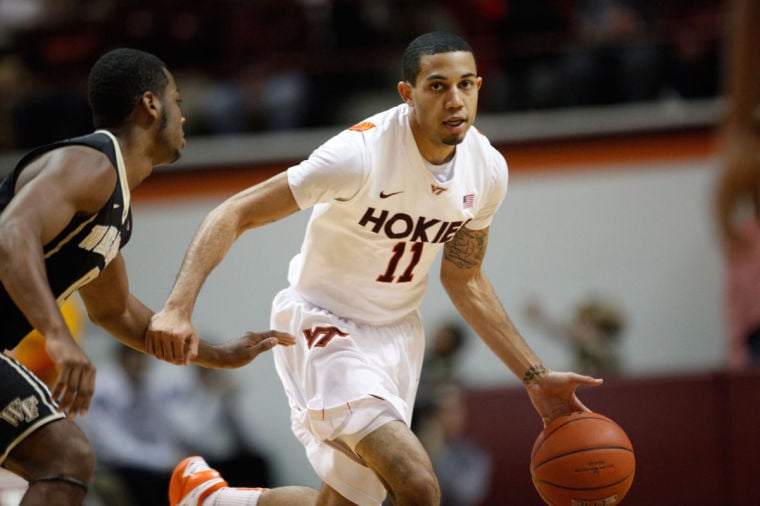 BLACKSBURG Erick Green wasn't going to say no.
That was the strategy that Green, a former Virginia Tech basketball star, and his agent took as Green began receiving invitations to work out for NBA teams.
So Green went to 17 individual workouts since May. His final workout was Monday morning in Brooklyn, N.Y., where he met and practiced for the Nets.
"My strategy was, the more people that see him, the more people will like him," agent Alex Saratsis, of Octagon, said this week.
Green, the ACC player of the year last season, is projected by most experts to be a second-round selection in today's NBA draft. Saratsis said he expects Green to be picked either late in the first round or early in the second.
"Really, nobody knows what's going to happen," Green said by phone from Brooklyn on Monday. "It's an open draft. On draft day, I just hope to hear my name called. I am confident but at the same time, I'm hoping and praying to be picked."
Virginia Tech hasn't had a player taken in the first round since Utah selected Dell Curry, who also was represented by Octagon, 15th overall in 1986.
A Hokie hasn't been picked since 2008 when Deron Washington went to Detroit in the second round, 59 th overall.
Green, who has graduated from Tech, expects to change all that tonight.
He said he's been fairly "consistent" during his 17 workouts. He said most workouts were organized the same way, with drills and skill work first and then 3-on-3 games with other draft hopefuls.
Green has played in those games against N.C. State's Lorenzo Brown, St. Mary's Matt Dellavedova, Detroit's Ray McCallum and South Dakota State's Nate Wolters.
Green, 6-foot-3 and 178 pounds, said his goal has been to show NBA teams he's versatile, not just a scoring machine. He wants to prove he can be a true point guard and an all-around player.
That was one of his goals this spring when he spent time in Bowie, Md., working out with his AAU coach, Keith Stevens of Team Takeover, and fellow Takeover alum Victor Oladipo of Indiana.
"I can be more than a scorer," said Green, whose 25 points per game for the Hokies last season led the nation. "Ballhandling, making plays, playing defense. A lot of teams have been impressed with my defense. On film they see my scoring. In person, they're impressed with my defense."
But Saratsis doesn't want Green to downplay his scoring ability, since it is the most NBA-ready part of Green's game.
"My approach with him was, he's got the best mid-range game of anyone coming into the draft," Saratsis said. "His ability to shoot the ball midrange, to get shots one on one, it translates to the NBA."
Green is among seven players from the ACC expected to be drafted tonight. Maryland center Alex Len is projected to be a lottery pick, going in the first 10 selections. Some experts have predicted he'll go first overall.
Len will be the only ACC player invited to the draft's green room tonight.
Miami guard Shane Larkin, Duke forward Mason Plumlee and North Carolina forward Reggie Bullock also are projected to go in the first round.
Green and N.C. State's Brown and forward C.J. Leslie are expected to go in the second round.
Green said trips to Denver, San Antonio and Los Angeles, afforded him time to hang out and see new cities. Others, such as his trip to Brooklyn, were all business, with Green flying in the night before, working out and leaving.
He's had the chance to meet current NBA players like Clippers' guard Chris Paul and Mavericks' forward Dirk Nowitzki.
"It's been great," Green said. "It's been a heckuva an experience. A little tiring traveling city to city, but it's been a great experience."
Green said he'll spend draft night at his family's Winchester home and have a cookout with family and friends. Then he'll find out which city will be his new home.