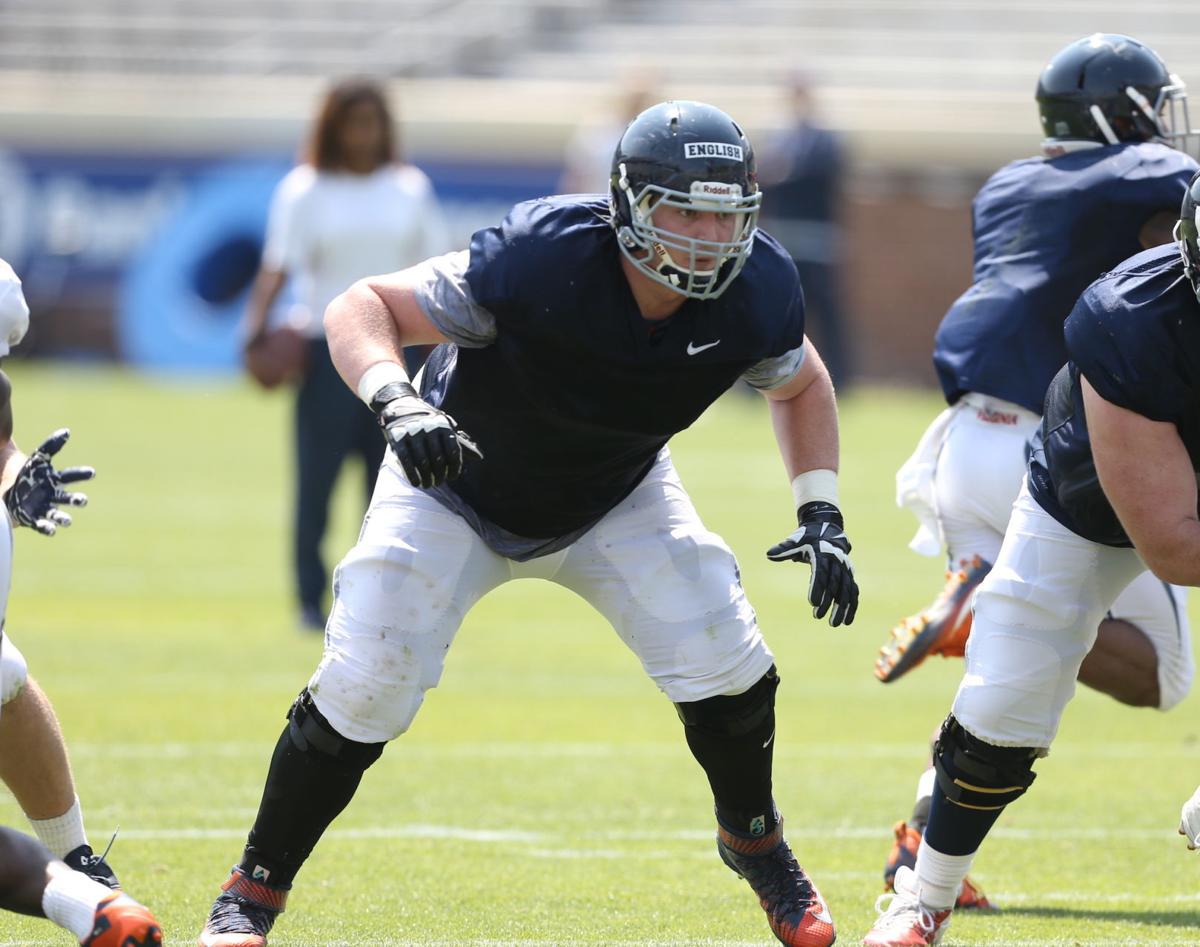 CHARLOTTESVILLE — Virginia suspended senior Jack English, the team's likely starter at left tackle, for the season opener against William & Mary for an undisclosed violation of team rules.
The 6-foot-5, 305-pound former St. Christopher's School standout said he has been focusing on helping his teammates prepare for the first game and getting himself ready to play in the second. English is still practicing with the team.
"It's been something we've known about for the last month at least," English said after practice Monday. "Obviously it was a mistake on my part. I'm doing everything I can right now to prepare the guys who will be playing."
English has been a starter at U.Va. for the past two seasons, including starting 11 games at left tackle last season.
"It's really tough," English said. "I'm just really juiced up for this year to get started. To have to be sitting for the first one is really tough, but I know these guys can handle it."
Neither English nor Virginia coach Bronco Mendenhall, who announced the suspension Monday, would discuss what English did to receive the punishment.
"Just violation of team rules," Mendenhall said. "That's as far as I'll go."
Virginia has been working with redshirt freshman Dillon Reinkensmyer, a backup center, redshirt freshman Osiris Crutchfield, a converted defensive lineman, and Ryan Nelson, a true freshman, to fill English's spot for the Sept. 2 opener against the Tribe.
"I think it's disappointing, but I think it's another opportunity for him to grow and put a chip on his shoulder," senior quarterback Kurt Benkert said. "And it's another opportunity for a young guy to step up and get game experience. But we're also looking forward to when he's able to play again. He's a good player."
U.Va. offensive line coach Garett Tujague insisted after practice Monday that no position in the starting lineup has been settled.
"Go out and have an idea and then that changes in a meeting, somebody can't answer a question," Tujague said. "Then you find the guy that can and go out here, a guy messes up. You just keep working so no one feels comfortable. You've got to earn it every day."
The Cavaliers most often have junior Jake Fieler at center, Oklahoma State transfer Brandon Pertile at right tackle and Notre Dame transfer John Montelus at left guard with the first-team offense.
The right guard spot has been a competition between sophomore R.J. Proctor and senior Jack McDonald, who returned to practice Monday after missing most of preseason camp with a knee injury.
"He came back in today and worked some individual (drills)," Tujague said of McDonald, who started 11 games at right guard last season. "It's good to have that experience back out there. Hopefully by the end of the week, he'll be doing some team stuff.
Also Monday, Mendenhall said senior defensive end Jack Powers will miss the season — ending his college career — because of a lingering wrist injury.