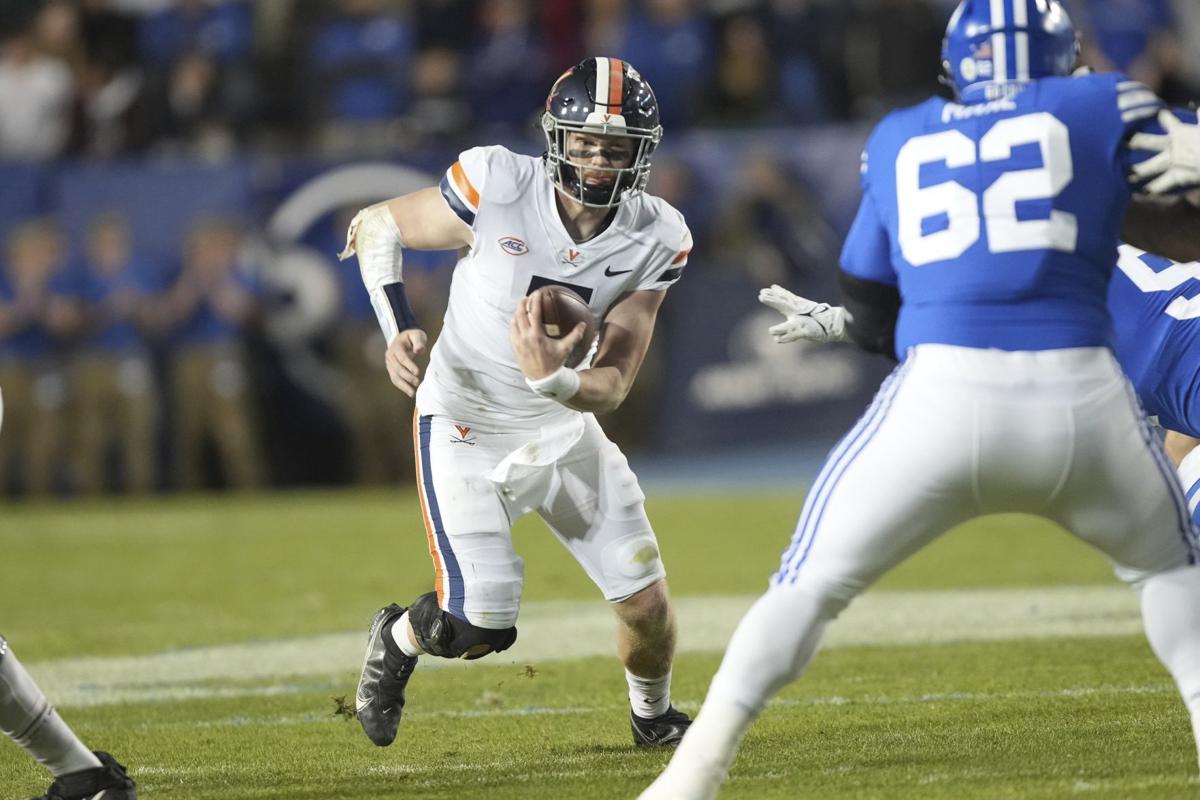 CHARLOTTESVILLE — Chris Glaser has been at Virginia long enough that he sees a bit of history being repeated as the Cavaliers come off their open date and head into their final three regular-season football games of 2021.
"Everything's right in front of us. We control our own destiny," said Glaser, a fifth-year senior offensive guard. "It kind of feels like the 2019 season. It's very reminiscent of that."
That year, one of the finest in program history, UVA needed a key road win at North Carolina in early November to go on to win the ACC Coastal Division and earn a trip to the Orange Bowl. And, in late November, it ended its 15-game losing streak against rival Virginia Tech.
This season, the Cavaliers (6-3) host No. 7 Notre Dame on Saturday night in their final nonconference game, then end the year at Pittsburgh on Nov. 20 and home against the Hokies on Nov. 27. With wins in both ACC games, UVA would claim its second division title in the past three years (the ACC did not use divisions in 2020 because of the pandemic's impact on scheduling).
"We're in a position right now to take the ACC Coastal and even take over the ACC," senior safety Joey Blount said. "We're in a position to do that. We've earned that position and we need to finish out these last three games right and make sure that what we want to do with our season we can make happen. It's all in our hands."
In 2019, the Cavaliers had a home nonconference game against Liberty in the middle of its November stretch run for the title. This season, the schedule had UVA playing a nonleague game against BYU in Provo, Utah, on Oct. 30 and then hosting the Fighting Irish (7-1) to open November before returning to the ACC race.
It bizarrely sets up a nationally televised meeting with Notre Dame, the most marquee name on Virginia's schedule, as a potential trap game, one the team could overlook with the more impactful games against Pitt and Virginia Tech looming.
After getting walloped 66-49 at BYU, that isn't the way UVA's veterans are looking at things.
"I see it as all the same," senior defensive end Mandy Alonso said. "But I can understand, once we get to Pitt week, it's going to be a different level. That is the Coastal championship. And then after that, it's Tech, and that's the state championship. And then if we get to the ACC [championship game], we play for the ACC. We need to beat Notre Dame and then we have three championship games in a row."
If Pittsburgh remains in the Top 25, UVA will face three straight ranked foes in the regular season for the first time since closing out the year against Georgia Tech, Virginia Tech and Miami in 2005.
One other less-than-positive similarity to 2019 also looms over the end of the regular season.
That year, star quarterback Bryce Perkins dealt with a painful throat infection that affected his speech and breathing in the Liberty and Tech games.
His condition got so bad during the win over the Hokies that he had to be hospitalized after the game.
This year? Star quarterback Brennan Armstrong, who leads the nation in passing yardage, suffered an apparent rib injury during the BYU loss. His status for the remaining games remains unclear, but Armstrong attended the opening of a Charlottesville restaurant on Saturday and told a local television station, "I'll be fine. I'm walking around, moving around. So I'm out here doing this, so I'm all right."
But Armstrong added, "We're going to be good no matter who's out there. Our offense is explosive. Our defense is going to do their thing. I'm not worried about it at all."
His teammates are taking the same approach.
"Whoever's out there, we're going to have to rally and get this win," Alonso said. "Whoever's on the field, by any means necessary."