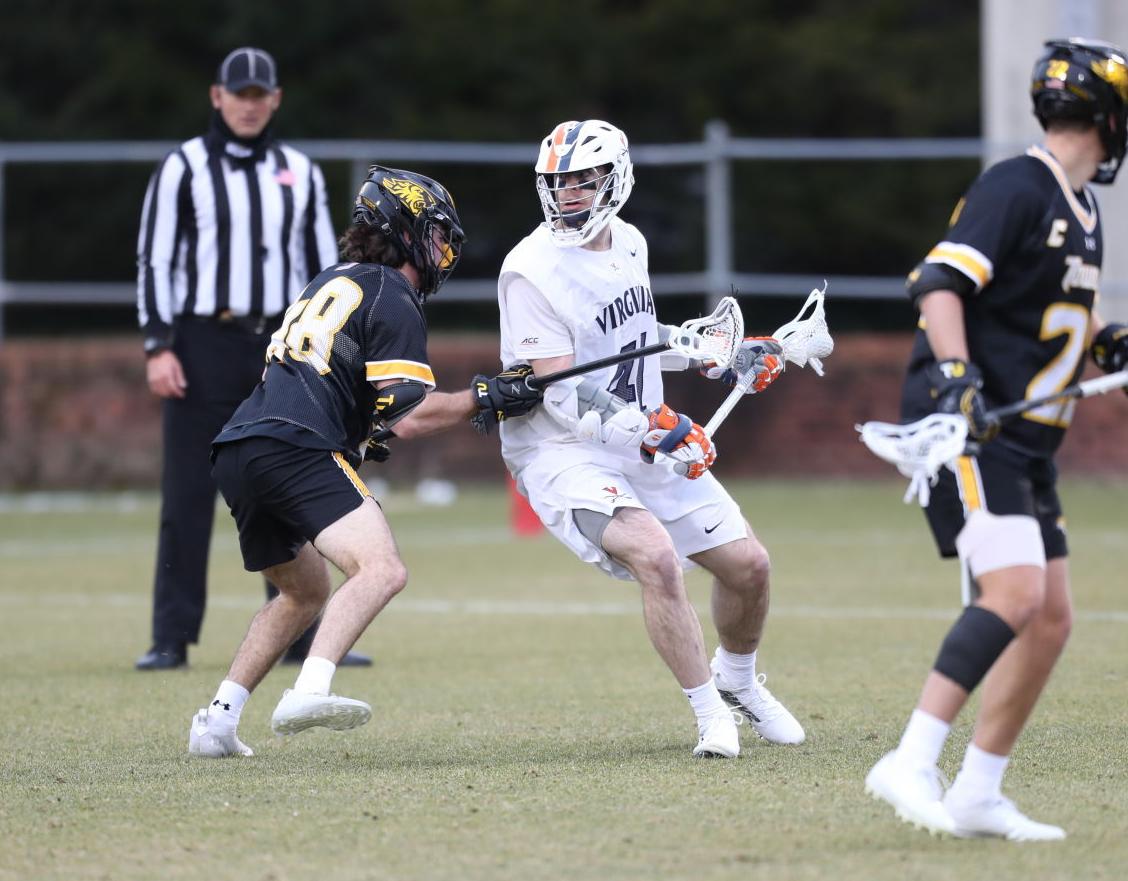 CHARLOTTESVILLE — As Virginia's lacrosse team broke into groups during practice this week, transfer Charlie Bertrand felt slighted. With a game at Syracuse on the schedule for Saturday, coach Lars Tiffany named each group after a central New York high school power.
Absent from Tiffany's selections? Bertrand's alma mater.
"He's like, 'What about Baldwinsville?'" said Tiffany.
It wasn't the first time Tiffany had overlooked Bertrand. When Bertrand was playing at Baldwinsville, Tiffany — who grew up in the same region — was coaching at Brown. He didn't recruit Bertrand.
"I'm really kicking myself," said Tiffany. "How did I not know about a guy who was from my hometown area in upstate New York who ends up being a 3.9 GPA mechanical engineer at Merrimack, how am I not all over him for Brown University?"
Tiffany doesn't need to kick himself too hard, because he wasn't alone. Bertrand said Merrimack, then a Division II program, was the only one to offer him. That worked well for Bertrand, as the school was one of the most successful at its level and offered the mechanical engineering program Bertrand wanted to pursue educationally.
"I definitely wanted to play at the highest level I could," said Bertrand. "But I also wanted to play for a team that could compete and win championships. Merrimack was kind of that perfect situation for me."
That proved true for four years, as Bertrand became a two-time Division II player of the year and two-time Division II national champion. He scored 210 goals in 58 games. But when COVID-19 cut the 2020 season short, Bertrand decided to pursue a higher opportunity and seek a transfer to a Division I power.
He said he looked at a number of schools but when Tiffany and Virginia, the 2019 national champion, offered him a scholarship, he knew where he was headed.
How would the 6-foot-3, 220-pound attackman fit in with an already loaded Virginia offense?
He answered that by scoring four goals in his debut, No. 3 Virginia's season-opening win over Towson. In all, Bertrand has tallied seven goals and four assists in three games heading into Saturday's game at No. 10 Syracuse.
The production hasn't surprised his fellow Cavaliers, who said they've been wowed by his offensive skills since he arrived at UVA.
"He's incredible," said teammate Ian Laviano. "Every day in practice our jaws are dropping with some kind of new move or behind the back shot."
While Bertrand played exclusively the left attack spot at Merrimack, at Virginia, he's already been used at attack, wing and midfield.
"It's been a whole new challenge for me," said Bertrand. "I think it's really good for myself to show up every day taking a new role and embracing it and doing as much as I can with it."
Bertrand has also been fit off the field. Teammates said he came in with the confidence and voice of a fifth-year player without exuding any arrogance. In fact, the returning Cavaliers were so impressed with the transfer, they asked Tiffany to add him to the team's leadership council.
Bertrand said that the talent and athleticism level at Virginia is higher, particularly the depth of talent on his new team, but said he sees similarities in the mindset and culture.
"If it's Division II, III or I, obviously there's different levels of skill between those three divisions," he said.
"But I think the culture, in terms of stepping on the field that first day of practice and that first game with a vision in your mind of being in the national championship, (you're) trying to bring that energy to practice every day."