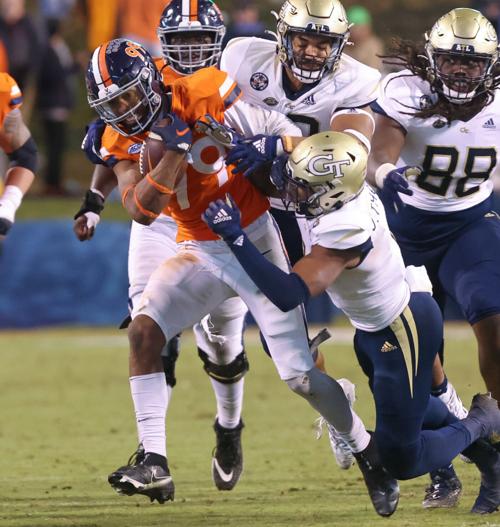 CHARLOTTESVILLE — Virginia offensive coordinator Robert Anae learned long ago that all the outside factors surrounding football games rarely, if ever, have a significant impact on the games.
So as he worked this week to prepare UVA for its Saturday night date with No. 25 BYU, Anae called concerns over the raised elevation in Provo, Utah, and the unusually late 10:15 p.m. kickoff game "laughable."
"I once knew a head coach that worried about the temperature of the orange juice pregame," said Anae. "The orange juice was a little too warm to play well. Put more ice in the orange juice."
Saturday night's meeting won't be short on juice. This will be the first game back at BYU for Anae, head coach Bronco Mendenhall and most of the Virginia staff since that group left Provo to take over the Cavaliers before the 2016 season.
It will be UVA's first trip to BYU since a wildly entertaining 41-33 loss there in 2014, a game where the altitude didn't appear to impact the Cavaliers.
The average elevation in Charlottesville is listed as 594 feet above sea level. Provo checks in at 4,551 feet. Oxygen levels in the air go down at higher altitudes, so playing at a higher elevation can lead to a feeling of shortness of breath for athletes.
(In the ACC, Virginia Tech in Blacksburg has the highest elevation at 2,080 feet above sea level.)
Senior center Olu Oluwatimi has played at elevation, spending the 2017 at the Air Force Academy in Colorado Springs, Colorado (elevation 7,258 feet).
"I think the players will notice, but they should get adjusted," he said. "There was an adjustment when I went to Air Force, initially, but I don't think it'll be a big problem."
Anae and Mendenhall both dismissed the altitude issue this week.
"If I come out of the tunnel with a mask on, then you'll know that I need more help breathing," said Mendenhall, who spent 13 years in Provo, the final 11 seasons as the Cougars head coach. "The more you make of it, the more it is something."
As for that ultra-late kickoff?
"To be clear, I'm normally in bed at 9:30," said Mendenhall, whose team will be playing the latest of its six night games so far this season. "So yeah, I'm going to have to work my sleep schedule a little bit this week."
Of far more concern for UVA (6-2) — seeking its first five-game win streak since 2007 — is a defense that's struggled giving up big plays, including allowing three touchdowns of 35 yards or longer in Saturday's 48-40 win over Georgia Tech.
It's the same issue that plagued the unit last season, when Virginia gave up 37 plays of 30 yards or longer, tied for the second most in FBS football. This year, opponents already have 21 such plays, tied for the 10th most in the nation.
Still, the Cavaliers are riding a four-game ACC winning streak and now play back-to-back nonconference games. The team has an open date after BYU (6-2), then hosts No. 11 Notre Dame.
This also is the first of three straight games against ranked opponents, with a trip to No. 17 Pittsburgh following the dates with Cougars and Irish.
"We're on a winning streak right now," said Oluwatimi. "I guess we get a rest from Coastal play, from the Coastal chaos. But we still have some daunting opponents so we have to stay locked in."
That starts late Saturday night, at a high elevation at BYU. But at least no one's worried about the orange juice.