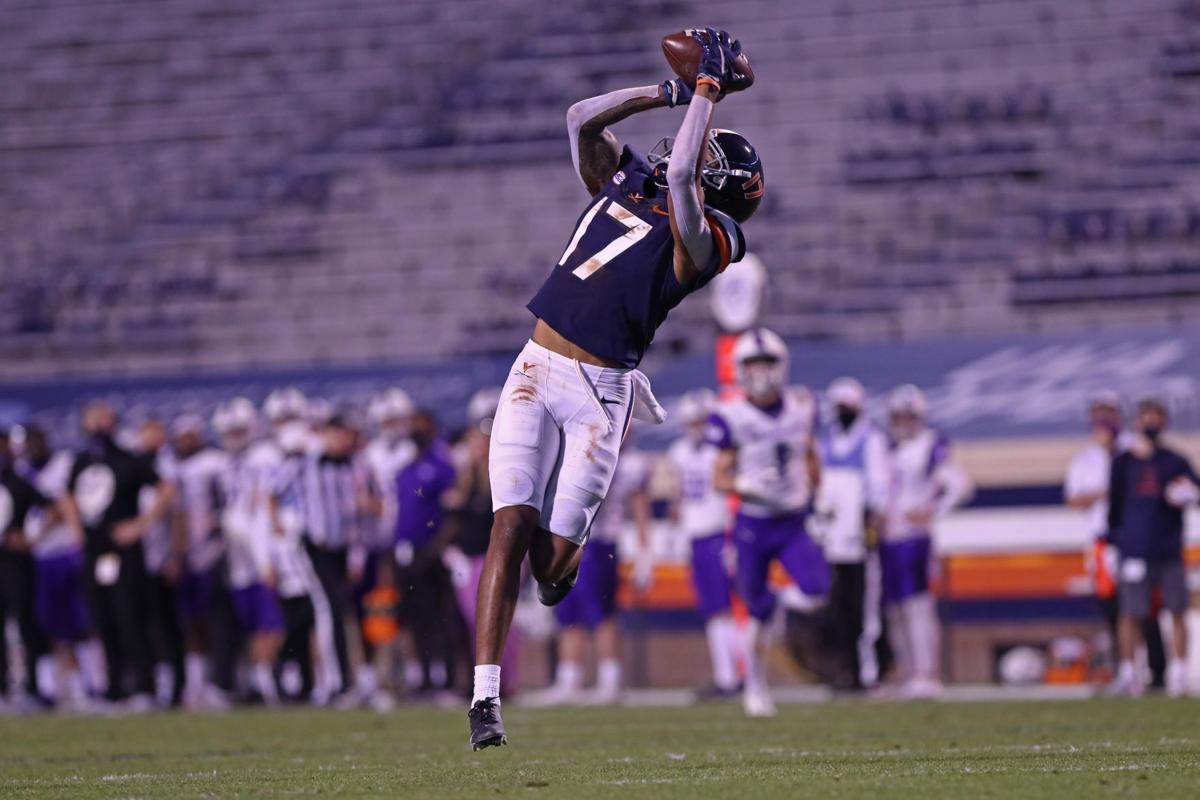 CHARLOTTESVILLE — Few plays in football give Virginia coach Bronco Mendenhall the level of anxiety that comes with 50-50 balls, passes quarterbacks essentially throw up hoping their receiver can make a play against a defensive back, even when they're covered.
They suddenly reduce the ultimate team sport to a man-to-man matchup.
"They make me nervous," Mendenhall said. "They make me nervous when we're throwing them, and it makes me nervous when we're defending them, because, literally, the other 20 players are watching two players play one-on-one."
Still, Virginia's offense has devoted a good amount of time this spring to working on those plays, building chemistry between quarterback Brennan Armstrong and his corps of receivers and working on techniques including getting the ball at the highest possible point and using a receiver's body to ward off defensive backs.
Armstrong said, to be a viable weapon for the offense, those plays need a much higher success rate than 50%.
"Hopefully, it's more like 75-25," said Armstrong, going into his second season as the team's starter. "We're on the same page. A guy's playing a certain way? Boom, back shoulder. Just little things like that, hopefully those 50-50s can turn more into 75-25."
UVA wide receivers coach Marques Hagans thinks that goal sells his group short.
"50-50 does not exist in our room," Hagans said. "90-10 is what we refer to it as."
That facet of the offense took a major hit this spring when wide receiver Lavel Davis Jr. suffered a torn ACL that will likely force him to miss the 2021 season. Mendenhall said the earliest the 6-foot-7 South Carolina native could be back is November.
Davis had a breakout freshman season last year and, with his height and athleticism, figured to be a primary recipient of 50-50 balls.
With Davis out, Virginia's tallest wide receiver is 6-4 sophomore Nathaniel Beal, who has never caught a college pass. Its tallest experienced wideout is 6-3 Ra'Shaun Henry, a transfer from FCS St. Francis, who caught seven passes for 206 yards and four touchdowns for the Cavaliers last year.
The most veteran members for UVA's wide receivers group are on the shorter side, including 5-9 Billy Kemp IV and 5-8 Tavares Kelly Jr.
The team did move 6-2 junior Jaylon Baker from cornerback to wide receiver this spring.
But catching 50-50 balls isn't all about height, and Hagans said he expects all of his players to be able to win the battle for the ball.
"They all better be able to do it," said Hagans, "because it's a way of life, not a type of pass."
Of course, the team's biggest target isn't a wide receiver at all, it's 6-7 transfer tight end Jelani Woods, a two-year starter at Oklahoma State who caught 31 passes for 361 yards and four touchdowns in his Cowboys career.
"Jelani Woods is probably the brightest spot that I've seen in our program this spring," Mendenhall said. "He is big and he's fast and he's physical and he catches the ball well and he's a great blocker, and man, is he thankful to be here. It is a perfect fit for us and him — and did I mention he's really big?"
Woods' size on offense helps negate some of Mendenhall's unease about calling 50-50 plays. The emphasis on them this spring has helped better prepare his defense to guard against them.
Cornerback Nick Grant said offensive players' advantage on the plays stems from the time they spend working on them.
"If two people are going for the ball, the person who practiced it more is going to get the 50-50 ball," Grant said. "So, the secret to combating that is practicing it ourselves. That's all they do all practice."
Once the ball's in the air, and both players are ready to go up for it, what's the key? It's simple, said Grant's fellow corner, Darrius Bratton.
"Go up and make a play," he said.