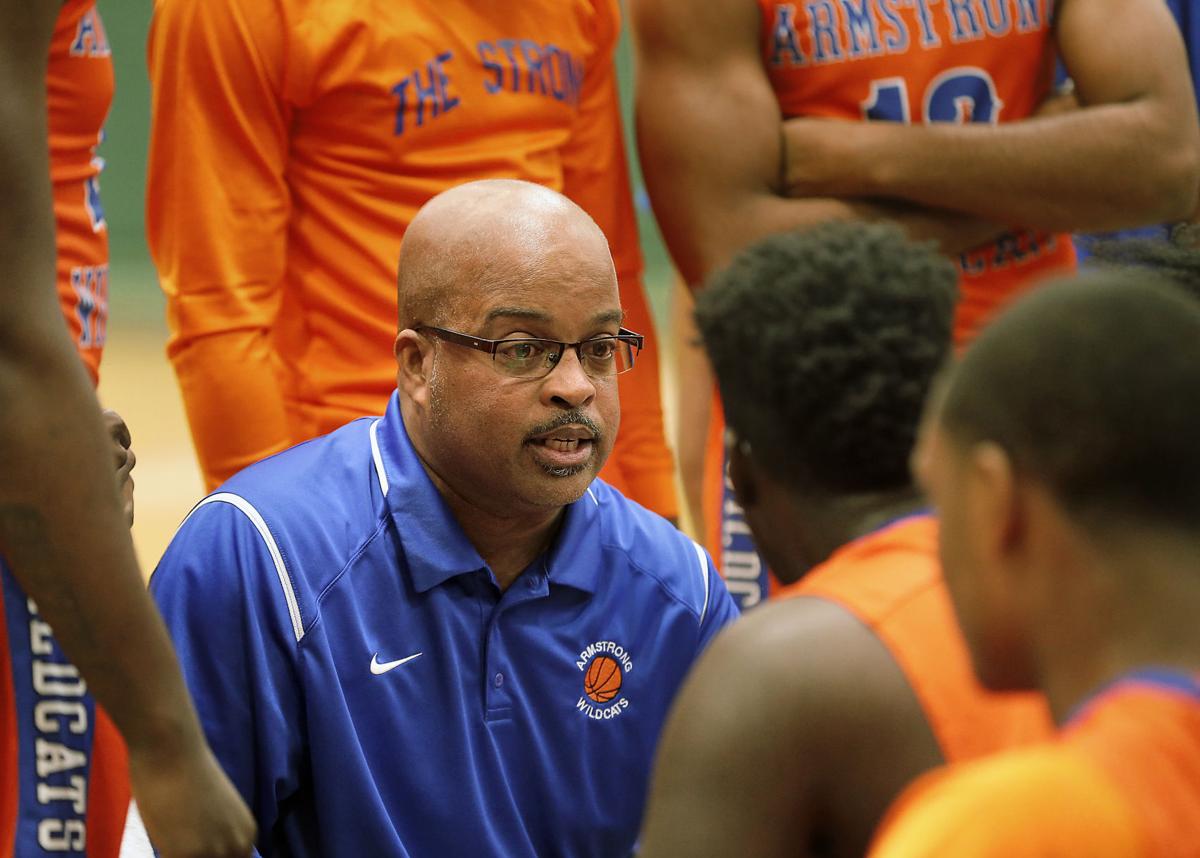 On Monday morning, coming off multiple days of protests against police brutality and racism around the world, Armstrong boys basketball coach Darryl Watts reached out to three fellow coaches in the area.
The group included St. Christopher's assistant boys basketball coach Stephen Lewis, John Marshall boys basketball coach Ty White and Luqman Jaaber, a former standout at Virginia Union who later coached the team (2011-14).
On Watts' mind were the players they serve. They could, at some point, find themselves in a situation where they have to interact with police.
What could coaches do to support and help?
Lewis set up a Zoom meeting for Tuesday afternoon, which featured about 20 coaches in the area.
Among the topics discussed were the desire to provide a voice for their players and an outlet for them to express themselves. They want to help teach them how to handle interactions with police, and deal with the trauma that can come from watching instances of police brutality, like the killing of George Floyd.
A first leap will come Saturday at 11 a.m., in the form of a peaceful protest for coaches at the Arthur Ashe statue on Monument Avenue.
"I think it's important that, although we compete, that when we step away from the courts and the fields, that we provide a united front for our kids to confront such issues as what's going on now. Inequality and police brutality and other social issues," Watts said. "We all represent our schools, but at the end of the day, we're one."
Tuesday's Zoom meeting lasted about an hour and featured mostly high school basketball coaches.
One objective was to formulate something they could do to show togetherness. They know they're a group that interacts with many young people often — more than most.
"So we wanted to be able to show them that we're coming together for them, to help give them a voice and to help basically tell them that we're there for them, we're there to help them through this time," said Lewis, who at St. Christopher's is also the assistant director of athletics, director of sports information, middle school activities coordinator and coach of the seventh-grade football and basketball teams. "A lot of this stuff is traumatic for them I'm sure. So we want to be able to be there for them, to listen to what they feel, how they feel about what's going on."
They established a group, called 804 Coaches for Change, to lead the charge in those efforts. In addition to Saturday's protest, the coaches plan to have biweekly Zoom meetings and will put together programming for their kids on police interactions, among other topics.
"It will be something that we will collaborate on throughout the city, and as far as our youth go, to improve those areas," Watts said.
Watts' team dealt with a challenging incident earlier this year. In the Class 3, Region B championship game at Central Woodstock High School in Shenandoah County at the end of February, Armstrong players and cheerleaders were subjected to a racial slur, taunting and the presence of a Confederate flag.
One of Watts' players had trouble sleeping in the game's aftermath.
"I think, from my standpoint, by this coming on the heels of that and being so fresh, I think it encourages dialogue," Watts said. "And it's kind of a wake-up call."
In the interests of health and safety, and with some school district-specific rules in place on coaches' contact with players now, Saturday's rally will be primarily coaches.
But there may be some college athletes there as well, Lewis said.
On Tuesday's Zoom meeting, coaches were challenged to go back to their athletics directors to encourage coaches at each school to participate. Saturday's protest is open to all coaches at all levels — invitations were sent to those at area colleges and universities as well.
The event will not include a march component, but dialogue at the Arthur Ashe statue. More details are to be finalized in a Thursday afternoon Zoom meeting.
"We want to talk about why we're gathering, why we're together — giving the players a voice," Lewis said. "I think talking about police relations is going to be a big thing."
To Lewis, the best thing the coaches group can do is to bridge the gap between young people and the police.
If they can have them be more comfortable, and not as fearful, it could play a part in helping the community, he said.
"Let's come together and try to help each other, understand each other and stop the senseless killings of folks," Lewis said.
(804) 649-6442
@wayneeppsjr