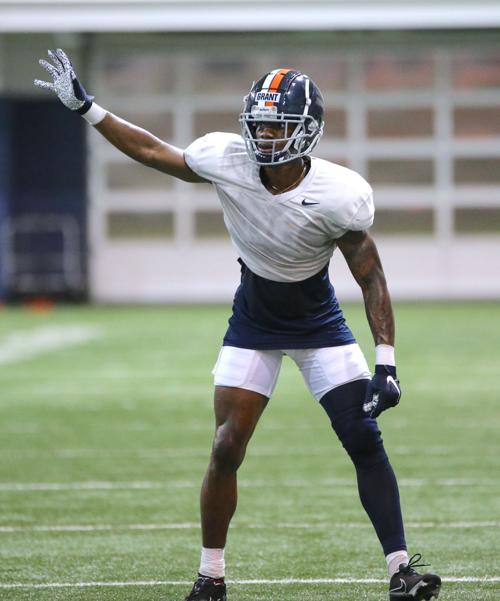 CHARLOTTESVILLE — Nick Grant remembers his first snaps playing safety at Virginia. Grant, normally a corner, filled in at that position in a loss to Pittsburgh in 2018.
"I didn't know what I was doing," Grant said Monday, "and I got embarrassed."
Now a sixth-year senior and 23 years old, Grant is far more comfortable playing all over the defensive backfield. In its season-opening shutout of William & Mary on Saturday night, UVA played most of the time with five defensive backs in a 3-3-5 alignment.
Grant lined up at free safety, next to senior strong safety Joey Blount. Louisville transfer Anthony Johnson and sophomore Fentrell Cypress manned the corner spots and senior De'Vante Cross played nickel back.
That's how the depth chart reads this week for the Cavaliers' Saturday morning home game against Illinois.
"We love flexibility and we love adaptability," coach Bronco Mendenhall said Monday. "So, we try to put the best 11 football players out there really in any configuration we can on any given week."
The approach was effective Saturday against the Tribe, as UVA (1-0) recorded its first shutout since blanking South Carolina in the 2018 Belk Bowl and held W&M to 183 total offensive yards in the 43-0 win. The Cavaliers face a step up in competition this week, going from a night game against an FCS foe to a morning date with a Power Five opponent.
Illinois (1-1) impressed in its opener, beating Nebraska 30-22, but struggled defensively in Game 2, losing 37-30 to UT-San Antonio. The Illini rely heavily on two-tight end sets in both the run and pass games. The running game is designed to attack the perimeter.
When Illinois throws it, redshirt freshman Isaiah Williams is an emerging star with 14 receptions for 142 yards and a touchdown this season.
"They line him up anywhere and try to get him the ball," Grant said. "He's their guy, clearly."
UVA struggled with its secondary play a season ago. Blount dealt with injuries, Cross played out of position at corner and the Cavaliers gave up a slew of long pass plays. This season, Virginia hopes to see tremendous improvement from that group.
The addition of Johnson and development of Cypress, who dealt with injuries his first two years at UVA, opened the door for Mendenhall and his staff to rejigger not just the defensive backfield but the entire defense.
"One of the things that I learned early in my career is you put the best 11 players out on the field that match up best against any given opponent," Mendenhall said. "And so the more and more years that I coach, the more scheme and knowledge and options become available to then deploy or to use the existing best players that we have in our program against any given opponent. That was what you saw on Saturday."
Mendenhall said having players like Grant, Cross and Johnson, who can play multiple spots in the backfield, helps with the team's depth and flexibility there. And that doesn't include cornerback Josh Hayes, a transfer from North Dakota State, who remains sidelined with a lower-leg injury and won't play Saturday against Illinois.
"Recovering. I still don't have an exact time frame or I would pass it on, but he is recovering, is on track," Mendenhall said. "It looks like it's just going to be a little longer than what we thought, but we're still hopeful that he comes back and contributes this season and certainly the beginning of the season."
Also Monday, Mendenhall said tight end Jelani Woods, a transfer from Oklahoma State who caught one pass Saturday and then missed the rest of the game with an undisclosed injury, is "100%" for this week.
"He's good to go. No ill effects," Mendenhall said.